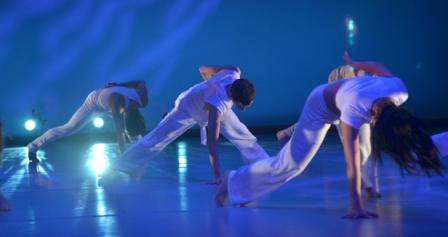 By Pat Shaver
IOWA CITY—Not everyone is born with the best attributes for dance, but everyone should dance, according to George de la Pena.
The benefits of encouraging simple movement as a form of physical health is part of the curriculum in the University of Iowa's Department of Dance.
"Rather than popping some weird pill, dance instead; it's cheaper," said Mr. de la Pena, chair of UI's dance department.
Mr. de la Pena performed with the American Ballet Theatre after graduating from George Balanchine's School of American Ballet. He worked with many choreographers including George Balanchine, Mikhail Baryshnikov, Martha Clarke, Alonzo King, Kenneth MacMillan, Mark Morris, Rudolf Nureyev, Dwight Rhoden, Jerome Robbins, Antony Tudor, Twyla Tharp, Glen Tetley, Doug Varone, Dan Wagoner and many others.
As a child, his mother, who immigrated to the U.S., worked as an accompanist for a ballet company.
"I was surrounded by it. Living in New York City at that point in history dance was very celebrated. I worked with all of the headlines in dance," he said. "It just swept me along. I was pretty much in the rapids of the arts."
In 1978, he was chosen to portray Russian ballet dancer Vaslav Nijinsky in the Paramount Pictures/Herbert Ross film "NIJINSKY." He was also involved in other projects for film and television as an actor, working with artists such as Alan Bates, Blake Edwards, Marsha Norman, Richard Levinson, Stanley Donen, John Turturro, Kathy Bates, Elizabeth McGovern and Patrick Swayze.
Mr. de la Pena also performed in Broadway musicals such as: "Woman of the Year" with Lauren Bacall and Raquel Welch; and the Tony Award-winning revival of "On Your Toes," with Natalia Makarova, among others.
In his fourth year as chair of the dance department, Mr. de la Pena started teaching at the UI in 2004. As a life-long dancer, he notes there is some misconception about the need for dancers.
"There's a perception that we're being playful children rather than appreciating a sophisticated physical practice. It sounds like we're just having fun, but we're doing deep research in movement and it's important in our eyes," he said. "If people did it rather than sat on the couch they would understand its benefits."
Dance students spend their four years in a combination of general academic courses, dance technique classes and academic dance classes focused on history and health, for example. Outside of the classroom students are typically rehearsing or choreographing for various performances.
"Students improve thinking, creative thinking; dance is a way of solving problems that are not standard or formulaic," he said.
As a dance department at a public university, there are more opportunities to experiment with curriculum and technique compared to a private dance college that has a stricter focus, he said.
"We put great store in physical creativity and celebrating life, and not just the happy side, you also celebrate loss, in a sense," he said.
The UI dance department will present its annual Dance Gala at Space Place Theatre North Hall next month. The gala is a way for the department to show the public the quality of its student dancers and faculty and introduce the art form to the community. Performances are 8 p.m. Oct. 17-19, 23-26, and 2 p.m. Oct. 20.
"We see in other cultures that dance is highly prized," he said. "Throughout Europe, it is a beautiful and important part of their culture. I don't think there is one culture that doesn't dance. It's a universal language, it's quite wonderful."
Business of dance
The UI dance department has 115 undergraduate students and 12 graduate students and typically accepts 30-35 new students a year, out of about 180 who audition, he said.
"There is quite a bit of opportunity to teach dance. We teach an awareness of the business of physical practice, but also seeing the art of physical practice," Mr. de la Pena said.
There are plenty of jobs out there for dance majors, he noted.
"There's a very healthy business in training, rehabilitation, dance therapy, art therapy. It's a very valuable tool," he said. "Pilates, yoga, Zumba, all of that falls under the umbrella of dance."
Some of the students in the department look to combine dance with business. The Performing Arts Entrepreneurship certificate combines entrepreneurial coursework in accounting, marketing and financial management with courses focused on arts management and leadership practices in both commercial and non-profit arts organizations.
Other students just want to go on to perform professionally, he said.
Mr. de la Pena notes that dancers are professional athletes.
"How many ways can you move your finger? We look at the investigation of gesture and the investigation of internalizing one's awareness, so that life isn't coming at you without you being completely present," he said.
Technology in dance
The department is embracing the advances in technology and considering ways to highlight digital backdrops in sync with music and dance. Mr. de la Pena said they are also looking into injury prevention through technology and have live-streamed performances to have a more global reach.
"Connecting to the fundamentals of rhythm and movement is critical to having a balanced life," he said. "There's this wonderful societal connection that occurs when we embrace dance. Included in that is physical awareness."
UI Dance Gala
The University of Iowa Dance Department will present its annual Dance Gala at Space Place Theatre North Hall. The gala is a way for the department to show the public the quality of its student dancers and faculty and introduce the art form to the community. Performances are 8 p.m. Oct. 17-19, 23-26, and 2 p.m. Oct. 20. Often a quick sellout, tickets are $20; $15 for senior citizens, $10 for youth (up to 17) and $5 for UI students. Dance Gala 2013 tickets are available through the Hancher Box Office at www.hancher.uiowa.edu/tickets.