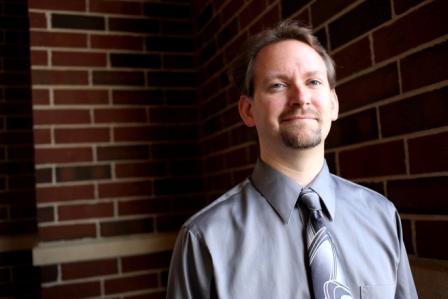 By Pat Shaver
IOWA CITY— Those waiting to hear an announcement about a major retailer coming to the Sycamore Mall will find a very different type of business filling the vacant space left by anchor tenant Von Maur.
Instead, think STEM (science, technology, engineering, mathematics). Kirk Cheyney is planning to fill the space with a Fab Lab, an international concept that was started at Massachusetts Institute of Technology (MIT) in 2007.
"You can't come to my shop and buy a pair of shoes, but you can come and make a pair of shoes," he said. "We already have a lot of places to buy shirts and shoes."
There are about 200 Fab Labs throughout the world, varying in size and operation but sharing a common mission: enabling invention by providing access to tools for digital fabrication. They are all community centers that offer residents tools and equipment to build, create and invent.
Activities in Fab Labs range from technological empowerment to peer-to-peer project-based technical training to local problem-solving to small-scale high-tech business incubation to grass-roots research. Projects being developed and produced in labs include solar and wind-powered turbines, thin-client computers and wireless data networks, analytical instrumentation for agriculture and health care, custom housing and rapid-prototyping of rapid-prototyping machines, according to MIT's website.
Mr. Cheyney's plan for his nonprofit, called the STEAM Room (a play on STEM, adding an "A" for art) includes space for woodworking, plastic machines, a computer lab, robotics tools, metal and welding shop, rooms for painting and wood staining, fabric crafting machines and space for artists. The equipment available for members would include: CNC machines, 3-D printing, welding, plastics, woodwork, metal work, circuit board printing, robotics and other machines and tools.
"When you put artists and engineers together you get things that are that much more amazing," he said. "I want this to turn into a part of our culture, that you couldn't imagine life without it."
STEAM Room is in the beginning stages of fundraising to open the lab. Mr. Cheyney said he hopes to be open by the spring of 2014. First, he needs to renovate the space, Sycamore Mall will contribute about $250,000, he said. The lab will have about $300,000 worth of equipment.
Though a lease hasn't been signed yet, Mr. Cheyney said that he has an agreement with the mall.
"Whether or not I found space at the mall, this was coming to Iowa City," he said. "I talked to the mall owners and they're just as excited as I am."
Sycamore Mall General Manager Kerry Saunders did not return calls for comment on the changes at the mall.
There are several membership levels, the costs haven't been decided, but Mr. Cheyney said a standard membership would cost less than $100 per month.
"Once you see this, you can't not love it," Mr. Cheyney said. "People discover it on their own and see the possibilities and want to be a part of it. That's how you build community."
The lab will also train on how to use those tools safely and provide space to store and display members projects.
"STEM is big right now. Back in the '50s there was the moon race and so many people were excited about science and engineering, it led to so much innovation. Somewhere along the way, we lost that," Mr. Cheyney said.
Members can also rent 50-150 square feet of space for a period of time while they are completing a project. The rentable workspaces account for about two-thirds of the 40,000-square-foot space, he said.
Mr. Cheyney has a degree in biomedical engineering from the University of Iowa. He previously worked at the university doing engineering in human factors.
"I've always wanted to run my own business, mostly because I want to work for myself and help other people," he said.
Tulsa's Fab Lab
At the end of 2012, the Fab Lab in Tulsa, Okla., had about 320 members using about 3,600 square feet of space, said Nathan Pritchett, executive director of the Hardesty Center for Fab Lab in Tulsa. The size is quite different from the 40,000-square-foot lab planned in Iowa City, although the Tulsa lab doesn't offer storage room or rentable space.
The lab there opened in 2011, but efforts to open began in 2008. It can take $50,000-$80,000 to start a lab, Mr. Pritchett said. That could be more depending on the equipment.
"Fab Labs are very localized. In order to call yourself a Fab Lab you just have to meet the Fab Lab charter," he said. "Here, we are similar to a library, except instead of books, we have tools, equipment and technical resources."
The Tulsa area has a population of about 1 million people. The Tulsa Fab Lab has an average of 72 visitors per day.
"In our plans we will never have 1,000 members, rather 400-500 top-quality members," he said.
Baltimore's Fab Lab
The Fab Lab in Baltimore has about 1,600 square feet with 430 registered members, said Kelly Zona, Fab Lab Baltimore director. The lab in Baltimore also does not allow members to store items there.
"When people find out about the lab and they realize what a good resource it is, it seems people are willing to come from all around and go to great lengths to get here," Ms. Zona said.
The lab there opened in January 2010 and is closely tied to the community college, she said.
"We've been growing in terms of memberships and equipment, it seems like now what we need to catch up with a little bit is staffing. Really, behind the scenes, it takes a lot of people to make it work," Ms. Zona said, adding that the lab has three employees.
"For our lab, I would break the users down into roughly three categories with equal amounts. We get a lot of people who are in design professions or are artists; then we get people in technology, engineers and software developers; the last third is what you would call makers, or people that maybe it's not within their professional realm but they just have an idea or something they want to make, they want to tinker," Ms. Zona said.
Sycamore Mall
Von Maur moved to an 80,000-square-foot store in Coralville's Iowa River Landing District in July. The city of Coralville is providing more than $16 million in incentives to Von Maur to move, including money to pay for lease termination fees to Sycamore Mall. The move left a major retail space at Sycamore empty.
In July, Sycamore Mall leaders announced a plan to redesign and conceptualize the space. They are working with Shive-Hattery Architects and Engineers to help shape the mall's transformation. They are working together to evaluate trends through the U.S., with a focus on the local community.
"We'd like to do something that will enhance the shopping of the entire mall. We've been studying concepts from throughout the U.S. of malls going through similar situations we're going through and we plan to incorporate several of those in our plans," John Arlotti, mall vice president, said in July.
In February, the mall announced a new financial agreement was reached with Great Western Bank. Working with a local financial institution will help the mall's redevelopment plans.