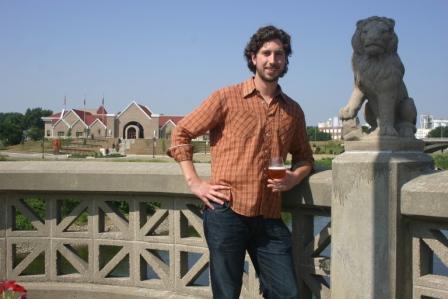 By Angela Holmes
CEDAR RAPIDS – Quinton McClain is proud of the progress his hometown has made in the past decade, especially in the five years since the 2008 flood.
"It has a ways to go, but I've seen a lot of positive change," he said. "People are passionate about bringing back arts and culture."
After graduating from Cedar Rapids Washington High School in 2000, Mr. McClain moved to Fort Collins, Colo., and worked at The Fort Collins Brewery, mastering the art of brewing craft beer.
In 2011, he came back to Cedar Rapids with the intention to start a brewery.
"I knew this area was fertile ground for a craft brewery," he said. "I wanted to figure out the craft beer scene in Cedar Rapids."
Several factors influenced his decision to start a brewery in Eastern Iowa.
In 2010, the Iowa Legislature changed the law to allow Iowa breweries to produce beer at a higher percentage of alcohol by volume. The ability for a brewer to self-distribute without going through the Iowa Alcoholic Beverages Division also made a difference in his decision.
At the time, he also started to hear about the movement toward buying local and getting to know your producer, a major part of the craft beer culture.
He wanted a space downtown or in New Bohemia or Czech Village, which has undergone rapid development since being inundated with floodwater in 2008.
"My generation wants an urban center," he said. "I knew where I wanted to be; there's a lot going on."
Several places had potential, but the Kuncl Mall, 59 16th Ave. SW, in Czech Village, had it all: location, size and historic value.
The building, which most recently housed Joens Bros. Interiors, Maria's Tea Room and Merle Norman Cosmetic Studio, has been vacant for more than a year. The National Czech and Slovak Museum and Library (NCSML) bought the building from George Joens in the spring of 2012 to prevent it from being demolished through the city's flood buyout program.
"We bought it with the intention of leasing or selling it," Gail Naughton, NCSML executive director, said. "It would have been a huge loss to the neighborhood. We were worried it would be a setback to (flood) recovery."
Mr. McClain's parents, George and Janelle McClain, bought the property under the name Dusty Road LLC. They closed on the building Aug. 29 and have started the renovation process.
"We are thrilled," Ms. Naughton said. "The building's been saved, will be restored to its original façade and be used for a business supportive of an active arts and entertainment district."
Mr. McClain has named his business "Lion Bridge Brewing Company," referring to the 16th Avenue bridge connecting the New Bohemia District and Czech Village. The bridge is adorned with concrete lion sculptures.
The project was recently awarded $352,860 in tax credits through the Iowa Economic Development Authority's Brownfield/Grayfield Redevelopment Tax Credit Program. The program features tax credits based on a percentage of eligible expenditures for redevelopment projects on qualifying properties. Total project cost is $1.5 million with taxable capital investment of $1.5 million.
"I'm not sure what we would have done (without the award)," Mr. McClain said.
Brownfield sites are abandoned, idled or underutilized industrial or commercial properties where real or perceived environmental contamination prevents productive expansion or redevelopment. The Kuncl building has asbestos which will be removed, Mr. McClain said.
The building will be renovated by taking out the drop ceilings and stripping paint to reveal the glazed brick walls. The exterior will also receive updates with tuckpointing and renovation of the transom and front windows.
Originally opened in the 1930s as Fritz's Food Market, the building was also a Me Too store.  The main floor has 7,000 square feet with extra space in the basement and a mezzanine for office space.
"It gives a lot of room to play; great for a brewery," Mr. McClain said.
The brewery will be in the back of the building with viewing windows for the public. Initially, there will be seating for about 50. There will also be a patio area outdoors.
Although there will be a few menu items prepared in a kitchen, the beer will take main stage. Mr. McClain brews variations of beer with herbs and spices and fruits and vegetables, devising flavors that would pair with world cuisines. He also brews classic styles.
"You definitely have to know the standards before breaking the rules," he said. "Everything is fair game when it comes to making beer. There are no hard and fast rules about what you can put in the brew. That's what I love about beer."
While there are a few other breweries in the area, craft brewers are more of a community than competitors.
"Everyone has their niches," Mr. McClain said. "Craft beer drinkers drink all craft beers."
He will introduce his beer, Živá Voda, at the upcoming BrewNost at the NCSML. The Czech-inspired ale will be brewed in celebration of the 10th anniversary of BrewNost, an annual fundraiser for the NCSML that pairs beers and appetizers prepared by local restaurants and caterers.
Mr. McClain has a home-brewing system where he brews small batches. He is hoping his alcohol license extends through November, when his large-scale brewing equipment is scheduled to arrive. If everything goes smoothly, he anticipates opening in February.
Initially, the brewery will have small draft accounts, growlers and keg sales. Mr. McClain has no plans of bottling or canning his beer right away.
"I want to let the market and patrons determine what is good," he said. "I can develop recipes based on input."