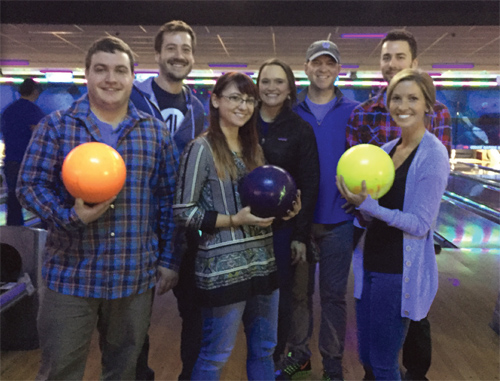 TelePharm staff members hit the lanes in Cedar Rapids Bowling Center in February as part of the Bowl for Kids' Sake fundraiser for Big Brothers Big Sisters of America. The company organizes outings several times a year.  PHOTO/TELEPHARM
TelePharm
Iowa City
www.telepharm.com
First time on Coolest Places to Work list
No. 1 Small Company 2016
By Chase Castle
chase@corridorbusiness.com
TelePharm continues to break into new markets with the help of a focused business plan and target audience. Yet its growth has also demanded special attention to its employees – efforts which earned the cyber-pharmacy the title as one of the Corridor Business Journal's Coolest Places to Work.
The company was founded in 2012 by Roby Miller, whose parents operated pharmacies in several small communities in Iowa before declining sales forced them to close years prior.
Nationwide, pharmacies in rural areas have experienced similar hardships. Between March 2003 and December 2013, about 12 percent of the nation's independently-owned, rural pharmacies closed, according to the Center for Rural Health Policy Analysis at the University of Iowa.
Having seen first-hand the demand for pharmacies in underserved areas, Mr. Miller pursued the idea of remote pharmacy services, where patients can consult with a certified pharmacist over the internet. After a prescription is approved by a pharmacist and discussed with the patient, the order is then filled by an on-site technician.
TelePharm now operates in close to a dozen states, including Wisconsin, North Dakota and New Mexico, where the company began operations this month.
Courtney Henecke is the operations manager at TelePharm, where she started working in 2014 after serving as a treatment counselor at Tanager Place. In addition to the appeal of learning new professional skills, Ms. Henecke said she was drawn to the online-based company because of its potential to grow.
"I think I can speak for all of our employees when I say that the experience you have at TelePharm is completely different than the experience you'd have at another company, because you really have a daily opportunity to drive the business," she said.
Among the company's points of pride are its egalitarian structure, even though what started as a "flat" managerial model has been somewhat restricted due to the needs of individual departments such as sales, where tracking progress is paramount. With a lean staff of just 18 employees, however, the company's small size is more conducive to communication and faster response times.
"If an employee sees anything we can change or improve upon in the company, we can implement it right away, but there are a couple of key steps," Ms. Henecke said.
As is typical of small companies trying to scale-up operations, Ms. Henecke also wears several hats during the course of her duties as operations manager. Those duties include tasks within finance, human resource and marketing.
Due to the company's evolving demands, whether technological or policy-oriented, employees frequently shift from one project to another, with little or no time to revel in successes. That put the onus on the company's leaders to develop a better way to "come together and celebrate those accomplishments," she said.
Having identified a request for flexibility from employees throughout the business, the company has made special efforts to add some lightness to its workload. One response is TelePharm Time, which the company holds once a month on Friday afternoons. Rather than treating employees to a paid lunch or a special outing, employees take time to reflect on the company's best successes from the previous weeks.
"We really try to recognize all of the progress we make," Ms. Henecke said.
Tried-and-true ways of getting employees to socialize and engage aren't off the table at the startup, either. At least a few times a year, the company schedules "team meetups," which include some of the half-dozen employees who reside outside Iowa. In addition to work sessions, the meetups also budget for light-hearted fare like grill outs or even boating, which the company did last year.
Of course, ensuring employees work well together requires more than food and leisure, Ms. Henecke noted. Considerable efforts are made to vet their hires by existing employees, she said, which increases the odds of a workforce with good chemistry.
"It really ends up being a team, collaborative approach to hiring to really make sure the person's a good fit."