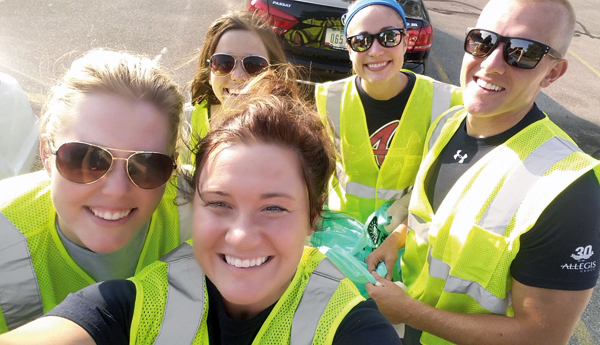 Members of the Aerotek team volunteer in the Adopt a Highway program. Community involvement is a big factor in making the staffing and recruiting company a cool place to work.  PHOTO/AEROTEK
Aerotek
Hiawatha
www.aerotek.com
Second time on list
No. 1 Medium Company 2016
By Angela Holmes
angela@corridorbusiness.com
Sure, employees of Aerotek enjoy out-of-office gatherings, potlucks and breakfast on Fridays. But what really makes the staffing and recruitment agency a cool place to work is its competitive spirit and opportunities for a successful career path.
"You can't just say you're cool or have fun," said Ben Rohan, director of business operations at the Hiawatha office.
The local staff of 28 has a primary goal of placing the right employees in positions for their clients, which range from those in office administration to architecture and engineering. The company's base and commission pay structure creates an empowering environment, Mr. Rohan said, adding, "You control what you get paid. It's all within your own reach."
Each employee also has a strong incentive to share ideas and advance within the company. Recruiters, as well as account managers, can run a sales meeting and bring ideas to the table, giving staff at all levels the feeling that they have a voice.
"Our employees don't feel like they have to be intimidated of a higher leader," Mr. Rohan said. "We have dotted lines rather than hard lines. Everybody controls what we produce."
Aerotek has more than 200 locations across the United States and Canada, and prides itself on promoting from within – a practice that Mr. Rohan said results in better job satisfaction and retention.
"My co-workers push me and everyone else every day to be better," said a respondent of this year's Coolest Places to Work survey. "We do not rely on leadership to give us direction because we hire employee leaders in every role. The company only promotes from within so we are empowered every day to strive for our goals and we hold each other accountable to hitting those goals."
The recruiting industry is filled with high-pressure deadlines and long hours, especially in the current tight job market. Nevertheless, Aerotek prides itself in taking time to celebrate its accomplishments on a regular basis.
"We want the clock to slow down instead of watching it all day," Mr. Rohan said. "It's a fast-paced moving environment. Every day there is a win; we celebrate those wins."
The company's reputation and reach also serve as points of pride for employees. Aerotek provides many jobs that are not posted anywhere else. Account managers have direct contact with clients and have access to positions that are not posted on companies' websites or other job boards, Mr. Rohan said.
"Aerotek has not only helped me to grow a great career, but has also helped me to become a better person, work better in teams," one survey respondent said. "When I go to networking meetings with professionals who have been in the industry for 20-plus years, I often feel as I'm one of the most knowledgeable people at the table."
Although it is a competitive environment, Aerotek's employees genuinely care for each other, Mr. Rohan said.
"The idea that you can separate work from life is a farce," he said. "We support each other in life. We are not obligated to, but choose to."
Many of the respondents to the Coolest Places to Work survey echoed that sentiment.
"I have never had a job where I actually feel as if everyone wants to help you and wants you to succeed," one respondent said. "From my first day in the door, I felt like part of the family."
To reward hard work and help employees get to know each other better, a fun committee schedules outside events and quarterly outings, such as team-building courses at the Univeristy of Iowa, Cedar Rapids Kernels and RoughRiders games, barbeques and happy hours.
The group also volunteers for organizations such as Big Brothers Big Sisters, the Make-A-Wish Foundation and other nonprofits.
"We have a lot of fun while we are working, but also have a lot of fun together outside of work," a survey respondent said.