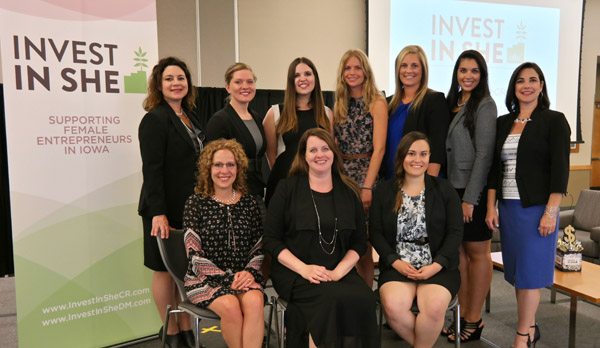 Entrepreneurs at Invest in She included, in front, Michelle Owens, Elizabeth Caven and Catherine Heasley. In back are Stephanie Bradenburg, Emily Roberts, Allison Poss, Lesley Tripplett, Melissa Sheehy, Katriece Ray and Tiffany O'Donnell.  PHOTO/IWLC
By Angela Holmes
angela@corridorbusiness.com
CEDAR RAPIDS—A unique take on fabrics again intrigued investors at this year's Invest in She – Corridor competition, hosted by Iowa Women Lead Change (IWLC).
Frond Design Studios, led by Michelle Owens and Stephanie Brandenburg, was the big winner of the third-annual pitch event, held June 14 at The Hotel at Kirkwood. The company, which paints and designs artwork which is converted into fabric, was awarded the top prize of $15,000 in support and services.
"Basically, we have a unique concept where we are on the front and the back end of the fabrics industry," Ms. Owens told the CBJ in an email. "We are at a pivotal moment for DelveMIY [a division of Frond] to gain traction in the home accents industry and move this business forward."
The Shark Tank-like competition showcasing female entrepreneurs was divided into two rounds with two sets of investors. One set of investors sat on stage asking entrepreneurs questions, while the other set sat in the audience scoring. A total of $40,000 in support was distributed among the six presenting businesses.
The first round of investors included Dennis Henderson of HH Ventures, Ravi Patel of Hawkeye Hotels, Lynn Schreder of NAWBO Iowa, and Kate Wallace and Landis Wiley of Ameriprise Financial. The second round of investors included Lura McBride of Van Meter, entrepreneurs Barry and Gilda Boyer, Kevin Collins of Nyemaster Goode and Heidi Parkhurst of Merrill Lynch.
Frond Design Studios opened in 2012 in the Cherry Building in the New Bohemia District in Cedar Rapids. The business expanded last year at that location with a wholesale showroom and art studio called DelveMIY (make-it yourself), where consumers can purchase Frond fabrics, vintage items and other up-cycled and home accents. The company expanded its brick-and-mortar strategy this May with a second showroom in St. Louis.
The company plans to put its Invest in She support toward a marketing strategy which will grow DelveMIY showrooms with increased fabrics projects, classes and events. It also plans to expand its partnerships with local companies to incorporate its designs and fabric into new product offerings, and to enhance its social media presence and online connections.
Last year's big Invest in She winner also had a focus on fabrics. UpCraft Club, started by Elizabeth Caven in Des Moines, is an online marketplace for sewing patterns. The company is also working to sign up fabric and sewing stores to provide them with digital versions of patterns they can sell in their shops.
Ms. Caven recently returned to Iowa from San Francisco, where she participated in the 500 Startups accelerator program. She credited last year's Invest in She experience as a turning point in her business.
"This event was a big game changer," she said, but added, "the startup journey is the highest of highs and lowest of lows."
Ms. Caven announced she will be representing the United States at a competition in Peru in a couple of weeks.
The Invest in She event opened with remarks from Debi Durham, director of the Iowa Economic Development Authority (IEDA).
"In the Creative Corridor, you dream big. And then you make big things happen," she said. "Iowa has not fared well in growth and clout of women entrepreneurs."
But she noted several initiatives, including IWLC's EPIC Corporate Challenge, which is bringing together public and private entities to advance women's leadership and development in corporations.
"It's not just a gender equality issue, but an economic issue," Ms. Durham said. "Women are the largest emerging market in the world. We are in the midst of a transformational change in Iowa. It's about damn time."
Invest in She – Corridor winners:
$15,000: Michelle Owens and Stephanie Brandenburg, Frond Design Studios, Cedar Rapids
$12,000: Lesley Triplett, Dumpling Darling, Cedar Rapids and Iowa City
$7,000: Emily Roberts, Western Wise, Iowa City
$2,500: Melissa Sheehy, Balanced Fitness & Health, Hiawatha
$2,000: Katriece Ray, PartWhere, Iowa City
$1,500: Dr. Allison Poss, Girls With Ideas, Iowa City