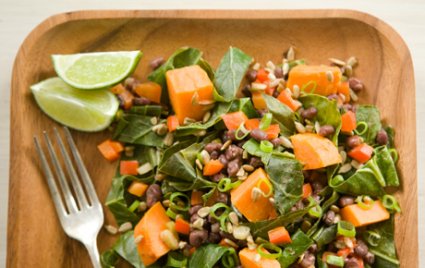 Red adzuki beans deliver a low-fat source of protein and fiber while balancing the flavor of sweet potatoes and greens.
INGREDIENTS
2 medium sweet potatoes
1 cup low-sodium vegetable broth, divided
4 green onions, sliced and dark green parts reserved for garnish
1 red bell pepper, cored, seeded and chopped
1 bunch collard greens, thick stems removed and leaves sliced 1-inch wide
1 (15-ounce) can no-salt-added adzuki beans, rinsed and drained
4 teaspoons toasted sunflower seeds
1 lime, cut into 4 wedges
PREPARATION
Preheat the oven to 400°F. Place potatoes on a large rimmed baking sheet and bake until tender when pierced with a fork, 45 minutes to an hour. Let cool, then peel and cut into 1-inch chunks.
Meanwhile, in a large skillet, bring 1/2 cup broth to a simmer over medium high heat. Add white and light green parts of green onions and red bell pepper and cook about 5 minutes or until onions are translucent. Reduce heat to medium and stir in remaining 1/2 cup broth, collards and beans. Cover and cook 10-12 minutes or until collards are wilted and tender, stirring occasionally.
Divide greens between two bowls. Top with potatoes, sliced green onions, sunflower seeds and lime wedges and serve.
NUTRITION FACTS PER SERVING
410 calories (35 from fat), 4g total fat, 170mg sodium, 76g carbohydrates, (22 g dietary fiber, 12g sugar), 20g protein.