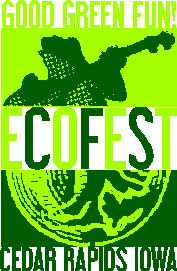 The eighth annual EcoFest, an Earth Day celebration, will be held  from 10 a.m.-4 p.m. April 22 in the New Bohemia district of Cedar Rapids.
The event features environmental education and fun with themes in sustainability, alternative energy, arts and local food. Visitors can participate in kid-friendly interactive displays, an Eco-film fest hosted at CSPS, a live music lineup, information on pollinators, a live raptor show, a nature play area and more. EcoFest is again giving away a new bicycle from Goldfinch Cyclery.
Most displays and activities will be located outside of the NewBo City Market, 1100 Third St. SE. Other indoor events will take place at CSPS, directly across from NewBo City Market.
This is a free public event. For a more detailed schedule of activities, films, musical performances and classes offered, visit www.ecofestcr.org.