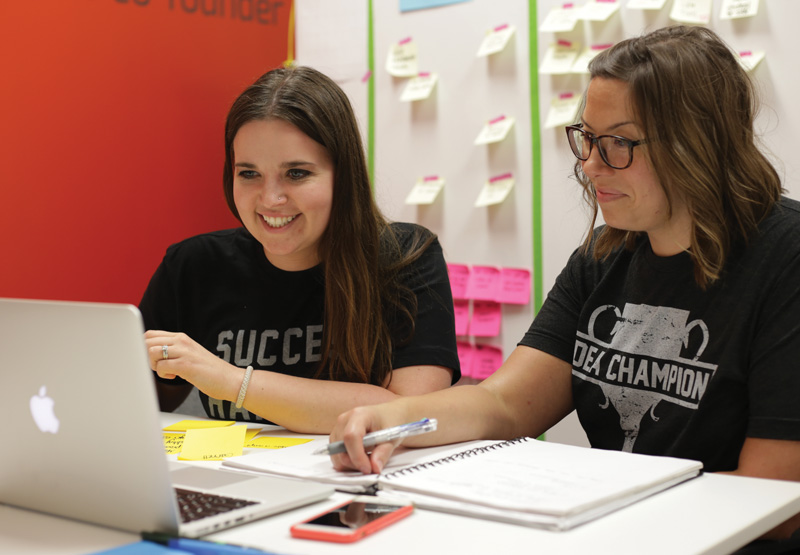 Girls With Ideas Founder and CEO Allison Poss works with Abbie Schneider at the Iowa Startup Accelerator in 2016. Organizations like Girls With Ideas could find more support through a new social good pilot program launching at the ISA. PHOTO JESSALYN HOLDCRAFT/NEWBOCO
By Dave DeWitte
dave@corridorbusiness.com
CEDAR RAPIDS—One of the many things Lois Buntz learned in 12 years as CEO of the United Way of East Central Iowa was how hard it is for nonprofits to launch new and innovative programs or services.
It isn't due to any failure or resistance on the part of the organizations, said Ms. Buntz, who retired at the end of 2016. Rather, the issue was usually a lack of financial reserves to fund new programs or funding sources willing to bet on the unknown.
Nonprofits "don't get money to experiment like you would in a private startup," she said. "It is very categorical. You get money if you do this very specific thing."
A pilot program coming this summer to NewBoCo, the operator of the Iowa Startup Accelerator (ISA), could go a long way toward surmounting that obstacle.
Supporters of the concept are raising $100,000 to fund two non­profit teams who will become the first subjects in a Social Good Ac­celerator, likely beginning with the Sept. 10 batch of ISA startups.
The ISA has traditionally invested $20,000 in each startup in exchange for a 6 percent stake. With the nonprofit program, each team will receive a $15,000 grant at the time they enter the pro­gram, and contingent on meeting certain goals, another $10,000 midway through the program and $10,000 at completion.
The social good accelerator will include the same network of mentors and the same workshops as the ISA with one main differ­ence in focus.
"One of the major changes will be funding sources," ISA Man­aging Director David Tominsky said.
With a regular startup, it's possible to raise capital by taking in investors who receive shares of stock entitling them to a portion of future profits or proceeds from the sale of the business. Nonprofits, by contrast, rely primarily on grants and donations. To keep those funding streams open, they have to provide evidence that their programs are making a difference in the community.
"We'll be helping a nonprofit organization identify what the measurement should be – what metric should we be tracking?" Mr. Tominsky said. "In my experience, the annual reports of nonprofits are data-driven, so how will we determine if they are successful?"
Creating a sustainable financial and service delivery model will be arguably more important among the nonprofit teams than with regular startups. At United Way, Ms. Buntz said one of the key obsta­cles to funding a new initiative was in determining whether it could be sustainable.
"Development of a solid business plan is really, really import­ant," Ms. Buntz said.
In the nonprofit world, she said, that means careful analysis of the market for a service, understanding the customer and knowing the true cost of delivering that service.
The idea for the social accelerator stemmed directly from Ms. Buntz' experiences at United Way and the social good accelerator programs she heard about in places like New Orleans, where an accelerator called Propeller has boosted 179 startups (see sidebar), and Dallas, where a United Way-backed program called Ground Floor funds a variety of social good initiatives. She thought an accelerator could make a real difference in meeting community needs in Cedar Rapids.
After her retirement, Ms. Buntz brought the idea to Eric Engelmann, executive director of NewBoCo, and a steering committee was created to explore the idea. The group included Mr. Engelmann, United Way of East Central Iowa CEO Tim Stiles, Folience Chairman Chuck Peters, R.J. McElroy Trust Executive Director Stacy Van Gorp, business leaders and community volunteers Jim Haddad and Lon Olejniczak, and independent consultant Miguel Encarnacao.
NewBoCo hosted a luncheon last summer to discuss the concept with 29 members from the nonprofit community, after which 16 of the organizations expressed an interest in participating. Ms. Buntz, who was brought on as a consultant for the project, then made the rounds of potential funding sources.
The United Way of East Central Iowa, the Greater Cedar Rapids Community Foundation and University of Iowa Community Credit Union have been early supporters of the program, Ms. Buntz said, along with John and Dyan Smith of Cedar Rapids, and other individual supporters. Contributors to the program will be invited to either serve as a mentor or on the committee selecting the teams from applicants.
The pilot program will focus on working with established nonprofits who want to branch out to address a pressing need, Ms. Buntz said, primarily because they will already have most of the staff and administrative resources needed to provide services. Ideally, Ms. Buntz believes the two pilot teams would represent both ends of the Corridor and address recognized community needs.
Of the many that often rise to the top, Ms. Buntz mentioned crime and struggling households that must rely on free and reduced price meal programs so their children can get good nutrition at school. A shortage of employees, especially skilled ones, is also increasingly hampering the regional economy.
Just because a team comes into the accelerator with a great idea doesn't mean it will emerge with the same concept, or even move forward with the program at all. Like other accelerator teams, they may pivot to more viable concepts or decide not to move forward, Mr. Tominsky said.
Both nonprofits and for-profit organizations can emerge from social good accelerators, and Mr. Tominsky expects the same to be true at the ISA.
One graduate of the program, the social good company Girls With Ideas, promotes "teaching girls to be creative, confident leaders." Such a concept could have evolved as either a for-profit or nonprofit, he noted.
One of the exciting prospects for both Ms. Buntz and Mr. Tominsky is the potential for a program to come out of the social good accelerator that could be replicated widely, having a global impact.
"The mission of the accelerator is to accelerate world-changing ideas from Iowa," Mr. Tominsky said. "That's our goal."