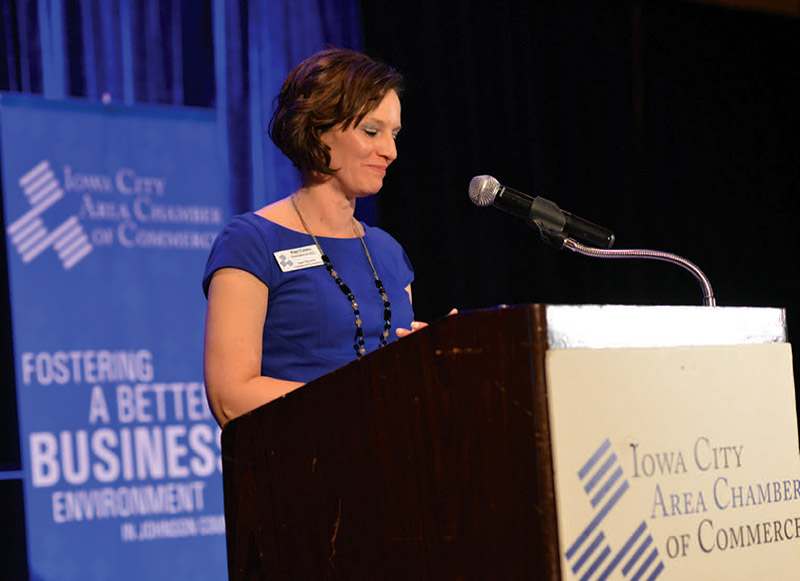 Kim Casko, president and CEO of the Iowa City Area Chamber of Commerce, focused on the future at the Chamber's annual banquet Feb. 15. Read our recap below. PHOTO IC CHAMBER
By Katharine Carlon
katharine@corridorbusiness.com
In one of Kim Casko's favorite books, "Our Iceberg Is Melting," a penguin named Fred notices his Antarctic home is in danger, forcing him and his penguin community to overcome fast-changing circumstances, resistance to change and seemingly intractable obstacles to adapt and survive.
That same need to adapt – this time in a business environment facing rapid-fire technological, societal and generational change – has prompted the Iowa City Area Chamber of Commerce and the Iowa City Area Development Group (ICAD) to be­gin exploring possible new alignments in an effort they've dubbed Project Penguin, in an homage to Fred and his friends.
"It's a fable about a penguin who sees fissures and tries to convince the oth­er penguins they need a new home, but it's really about proactive organizational change," said Ms. Casko, president and CEO of the chamber, which has been meeting with ICAD officials since Decem­ber to discuss possible synergies of mis­sions, functions and resources.
"ICAD and the chamber have been collaborating for years," she continued. "We're on each other's boards and we've brought up the question more than once. Is it time? Should we look at more formal alignment? Can we do bigger and better things if we're aligned?"
Mark Nolte, ICAD president and CEO, said the answer to those questions is yes – probably. Neither entity is prejudging the outcome of the discussions, he said, and the possible conclusions run the gamut from making no changes at all "to a full merger – becoming a brand new entity that would be the first of its kind in the nation."
"We're starting with a clean sheet of paper and asking, 'What does the com­munity need right now?'" he said, add­ing that other potential outcomes could include co-locating operations or finding ways to better share staff. "Success is being defined differently with the changes in the economy we're seeing – companies down­sizing through [artificial intelligence] and automation, the 1099 economy. The met­rics are changing and we can't be stuck in business models created decades ago."
ICAD started as an economic develop­ment committee within the chamber and became its own entity in 1984. Original­ly focused on recruiting interstate com­merce businesses to the area, its role later expanded into retention and growth of existing businesses, talent attraction and fostering startups. At least two of those functions – business recruitment and workforce development – will now be led by the newly formed Cedar Rapids Iowa City Corridor Development Corp.
If ICAD's part on the economic devel­opment stage needs a bit of rewriting, so does the chamber's, Ms. Casko said. In existence since 1936, the Iowa City Cham­ber has traditionally offered programs and services to connect, educate and advocate for businesses.
In recent years, however, the chamber, much like its counterparts nationwide, has struggled to compete with online plat­forms and media companies providing similar services. At the same time, cham­bers across the country are facing shrinking participation with millennials seemingly less interested in joining the dues-paying organization than their elders.
"There's a shift nationwide in terms of all membership organizations; we're all seeing a decline in participation," Ms. Cas­ko said. "So we want to be proactive in ad­dressing that. We're trying to reinvent our brand and figure out how to stay relevant."
Ms. Casko said one catalyst for the ongoing conversation with ICAD was the chamber's 2017 membership survey, which listed promoting regional growth, supporting quality of life improvements such as education, infrastructure and affordable housing, and addressing the area's workforce challenges as top priorities.
"Those are three things chamber doesn't [historically] lead on," she said. "So we need to explore what makes sense."
Mr. Nolte said local business groups need to figure out how to be stronger advocates for better infrastructure, education, innovation and ample affordable housing, especially in light of the Corridor's chronic worker shortage.
"We need a rethinking of how we attract more people here," he said. "Right now we have more companies than people. Out companies can't thrive and we can't grow and develop as a region unless we attract the people these companies need. And frankly, we've rested on our laurels when it comes to education. Employers are telling us students are entering the workforce unprepared. How can we help drive more innovation in our school systems … the skills they need to be good workers and have lives of meaning?"
Both organizations plan to reach out to members and stakeholders over the next few months to gauge reaction, gather input and assess market needs. They've also enlisted undergraduates from the University of Iowa's Tippie College of Business to help research models of what potential alignments could look like. The two groups hope to present their findings to their respective boards sometime this spring.
"Either we sit back and let things happen to us or we act proactively and shape the future economy we want to see," Mr. Nolte said. "The right thing to do is what the community is asking for: Let's explore it."
SIDEBAR: Chamber banquet looks to the future
Despite an eventful 2017 that brought 14 ribbon cuttings and groundbreakings, 70 new members and victory in the fight to pass the largest general obligation bond in state history, the Iowa City Area Chamber of Commerce spent much of its Feb. 15 annual banquet looking ahead.
Organizers kicked off the event with a video spoof of "Back to the Future" featuring a DeLorean purchased at "Toyota of Iowa City" and the punch line, "They never finish the Dubuque Street construction, do they?" They held a text-vote to launch a new 2018 event with "duet-working" (karaoke) edging out alternatives from "sweat-working" at the gym to "net-twerking" on the dance floor. And they capped off the future-forward evening at the Coralville Marriott with a trio of speakers discussing tomorrow's technologies from autonomous vehicles and virtual reality to blockchain and Bitcoin.
"I believe we are, perhaps, the first chamber of commerce to ever accept membership dues in Bitcoin," Chamber President and CEO Kim Casko said in one of many nods to the event's theme, "Designing Our Future."
Outgoing 2017 Board Chair Shari DeMaris touted a number of accomplishments over the past year in addition to the successful school bond issue and a boost in new members and local businesses, including efforts to bring local professionals together through its community leadership program, media and networking events. But she emphasized the path ahead – beginning with the results of the chamber's 2017 members' survey "that will shape its direction and priorities in the years to come."
"While the results were generally positive, the survey also revealed several areas of opportunity," incoming 2018 Board Chair Tim Krumm said of the survey, which found promoting the growth of the region, supporting efforts to improve quality of life and solving workforce challenges as the top three areas of importance for members. He said that members could expect to see "increased collaboration with our regional partners, such as the Cedar Rapids Iowa City Corridor Development Group to continue to grow this region and develop solutions to address our workforce challenges."
Mr. Krumm also said the chamber would also focus on better connecting members with resources, becoming more proactive in shaping public policy through the newly created Business Council for Legislative Affairs and exploring possible future alignments with the Iowa City Area Development Group (see main story).
"Both organizations seek to support our business community and both organizations are grappling with how to best serve this community in a quickly changing environment," he said. "We intend to be proactive in identifying a model that best serves the current and future needs of our businesses and the community overall."