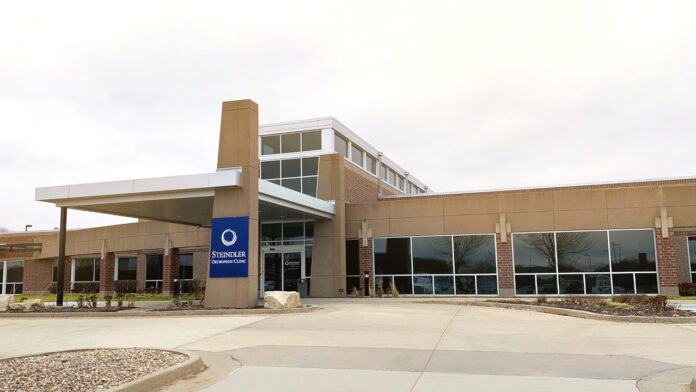 Steindler Orthopedic Clinic has announced in a release that it has closed on the $11 million sale of its current clinic, 2751 Northgate Drive, Iowa City.
The 33,843 square-foot medical office building has housed Steindler Orthopedic Clinic since it was constructed 22 years ago.
In 2021, Steindler announced the purchase of 36 acres and plans to develop a medical park in North Liberty on the east side of Interstate 380's interchange with Forevergreen Road.
Last month, the five-member State Health Facilities Council granted Steindler North Liberty ASC a Certificate of Need to construct a $19.2 million 35,880-square-foot ambulatory surgery center on the proposed medical park.
The sale of Steindler Clinic's current building paves the way for building a new approximately 55,000 square foot Steindler Clinic alongside the new Steindler North Liberty ASC, according to the release.
"Our Northgate location in Iowa City has performed exceptionally well over the past twenty-two years, but we simply outgrew it," said Steindler Orthopedic Clinic President and CEO Patrick Magallanes, in the release. "We were unable to expand at Northgate, and when we secured 36 acres right off Interstate 380, we started dreaming about exciting possibilities, including a full medical park development. Our team was able to source an aggressive buyer for our current building that understood local market dynamics. Together, we crafted an opportunity for us to sell our building and remain in it until our new clinic and the new ASC is ready in late 2024."
"We have just opened the design process for the Steindler building and the new Steindler North Liberty ASC. We are also discussing a new hotel, a new medical office building for private practice physicians, a new hospital, and other healthcare-related entities with potential partners," Mr. Magallanes said. "Additionally, we are talking to other physician groups interested in participating in the medical park including groups that will help anchor a new hospital."
Managing Partner Stephen M. Bessenbacher represented the buyer, Crown MedRealty Partners, headquartered in Kansas City, Missouri.