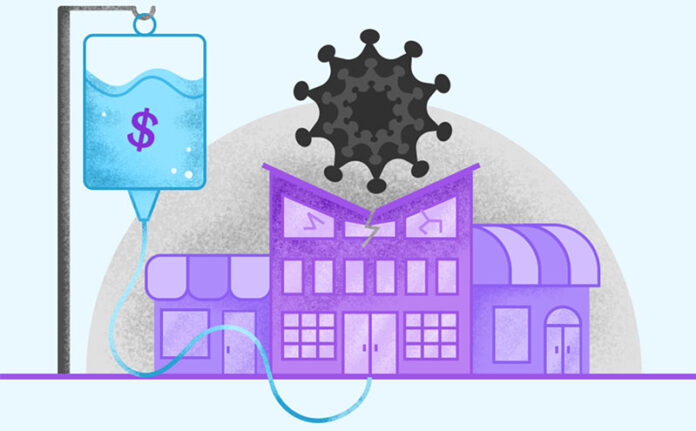 By CBJ News Staff
news@corridorbusiness.com
Business owners sounded off about the need to continue supporting small business once funds from the $350 billion Payroll Protection Program run dry during a Monday press call with Democratic Rep. Cindy Axne, of Iowa, hosted by the left-leaning advocacy group Tax March Iowa.
The group, which is calling on the Trump administration and Congress to "prioritize people over corporations," asked small businesses to talk about their experiences, noting that 99% of Iowa businesses fall into the "small" category hit hardest by the economic impact of the coronavirus.
"We have closed all of our stores. We have gone from being a company that went from about 70% in store, to trying to do it all online," said RAYGUN owner Mike Draper, one of several to weigh in the need for a longer-term plan when the current stimulus funds are depleted. "There is so much you can say about this time, but who knows where we will be in 6-10 weeks once the PPP loans run out? When is the demand going to come back? People aren't going to go shopping until they feel comfortable going out."
Mr. Draper addressed the urgent need for ramped-up testing to ensure consumers feel safe moving around their communities, noting there was little business owners can do now to drive up demand.
"We should be able to maintain business operations for the next few weeks or months, but who knows after that?" he said.
Shawn Gallagher, owner of 57-year-old AdCraft Printing in Cedar Rapids, echoed the need for longer-term planning and support for the business community.
"We are still open, but our business is about a third of what it normally is," Mr. Gallagher said. "We are supposed to get PPP help tomorrow, but it is not going to fill in the whole bucket. We need to ensure small business loans and additional help continue, because the economy isn't going to just kick back into gear after six to 10 weeks."
In addition to being slow to roll out, there are fears that funding for PPP could soon run out. President Donald Trump has called for an additional $250 billion in small business emergency aid, and, at an online Q&A last week, Republican Sen. Joni Ernst said Congress was already mulling Phase 4 and 5 bills to "refill those coffers" and help spur a long-term recovery.
"We understand that there are holes in the system, and it can be a daunting process to work through if you aren't familiar with it, but the House Democrats have your backs and we are trying to help those folks who are on this call, not just the businesses who already have support," Ms. Axne said Monday. "We are trying to save small businesses and get money in people's pockets."
Listen to the full call here. CBJ