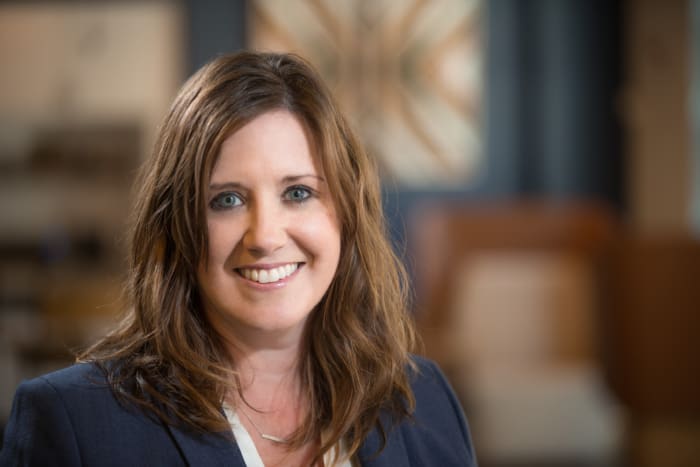 Kate Moreland. CREDIT ICAD GROUP

By CBJ News Staff
news@corrdiorbusiness.com
It's official: After serving as interim president of the Iowa City Area Development (ICAD) Group since the January departure of Mark Nolte, Kate Moreland has taken the lead permanently at the economic development organization.
"While I am honored to move into this role permanently, I recognize there are great challenges ahead for our businesses, our organization and the community at large," Ms. Moreland wrote in a letter to investors, partners and clients Monday, pledging ICAD would do its part to boost a business community reeling from the impact of the COVID-19 outbreak.
"We acknowledge our new reality and understand there is no one size fits all solution," Ms. Moreland continued. "Our team will continue to communicate timely and with transparency. As an organization we will hold space for those who need support, resources and creative assistance. We will be resilient as an organization and open to change. We will be reliable and work tirelessly to support our businesses."
Ms. Moreland, formerly ICAD's vice president, stepped into the president's role when Mr. Nolte, who led ICAD for 13 years, left to take a position with North Liberty-based Moxie. As vice president, she led investor outreach and engagement, including individual and group collaborations on issues from workforce development and existing industry to entrepreneurial development.
A 1997 graduate of the University of Iowa Law School, Ms. Moreland worked as an attorney until 2005. She has been an adjunct faculty member at Kirkwood Community College and the UI College of Law. Previous roles also include development director for United Action for Youth and director of community relations for the Iowa City Community School District.
Since taking over as acting president, ICAD has joined with the Iowa City Area Business Partnership, the Iowa City Downtown District and Think Iowa City to jointly communicate and adapt to the rapidly evolving post-coronavirus economic landscape. In addition to the "We're in this Together" newsletter and the www.icareatogether.com website, the organization is holding weekly "State of the Community" webinars.
"We are in the infancy of understanding the economic impact and recognizing a new reality," Ms. Moreland said. "Our community has been through challenges before and together with strong partners and great people we will be resilient and keep doing the next right thing." CBJ