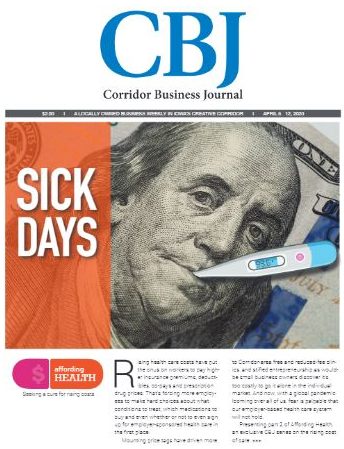 In this six-part, subscribers-only series, the CBJ is exploring the crisis of health care affordability as it relates to employers and employees in the Corridor. This installment, the second, focuses on the health care affordability picture from employees' perspective.   Future installments will also look at the state of the Affordable Care Act, the privatization of the state's Medicaid program and strategies that have (and haven't) worked for cost containment. Share your perspectives and interact with the CBJ's news team on our Facebook and Twitter pages, #CBJhealth.
By Katharine Carlon
katharine@corridorbusiness.com

Before the COVID-19 pandemic closed schools all across the state, Joe, an educator from Iowa City, faced a terrifying commute to work each day.
He suffers from extreme daytime fatigue that had him worrying constantly about dozing off and crashing while driving. Yet, despite being covered by a generous insurance plan through his wife's job at the University of Iowa Hospitals & Clinics, he has put off a much-needed sleep test due to the estimated $1,500 bill he'll face on the back end.
"It's just a nightmare to have good insurance and still not be able to afford to use it," said Joe, who recently participated in a CBJ survey on employee health costs and, like several other participants, agreed to share his story on the condition that some identifying details be omitted. "The thought that I could nod off in middle of my commute, on the interstate and surrounded by semis, that's horrific. But the money is not there."
Half of all Americans get their health insurance through their employer, or that of a spouse. But, like Joe, actually using it has become less affordable, due to regular annual increases in deductibles, co-pays and prescription drugs – costs employers have increasingly shifted to employees as they struggle to continue offering benefits (see part 1 of "Affording Health," at bit.ly/affordinghealth.)
Some employees have responded by putting off medical tests and procedures, while others are going without medication. And a growing number of employed workers and their children – even those who are currently insured – are flocking to the Corridor's free and reduced fee clinics – a situation clinic officials say the COVID-19 pandemic is likely to only exacerbate.
"Our percentage of privately insured patients has increased from 3% to 13% in the past five years," said Joe Lock, president and CEO of the Cedar Rapids-based Eastern Iowa Health Center, which offers care to individuals and families on a sliding scale, regardless of their ability to pay. "Further, we expect [because of] those who will be uninsured due to COVID-19 and the expected rising unemployment, that our sliding-fee patient numbers will increase."
To get a sense of how Corridor workers were feeling about health care affordability, the CBJ conducted a short online poll asking readers and participants in the Reddit Iowa City and Cedar Rapids subforums how costs were impacting them and their families. While the self-selected pool of about 40 respondents does not offer a scientific sampling of the population at large, the results did suggest a great deal of concern about rising costs.
Nearly all of those responding ranked themselves a six or higher on a 10-point scale in terms of concern about the cost of health care, with three-quarters reporting health care costs had at least some negative effect on the family budget.
Of the 70% of those participating in their employer's health plan, nearly a quarter ranked themselves at the very bottom of a 1-10 scale in terms of their confidence their employer-based health plan would remain affordable. Two-thirds rated their confidence level at a five or lower.
That's little wonder, according to health care analyst David Lind of Clive-based David P. Lind Benchmark, who noted that premium costs in Iowa are expected to climb an average of 7.6% annually through the next decade, with the average individual premium rising to $7,557 and family coverage increasing to $20,823 this year.
Although those costs are heavily subsidized by employers, "what we're seeing here in Iowa and on national basis is that one very simple and quick way for employers to keep increases relatively sane is to purchase higher deductibles, higher co-pays," Mr. Lind said. "The [cost] shift to employees is going up relatively dramatically."
Read the full, members-only feature in the April 6 print or digital editions of the CBJ. Not a member? Join today.