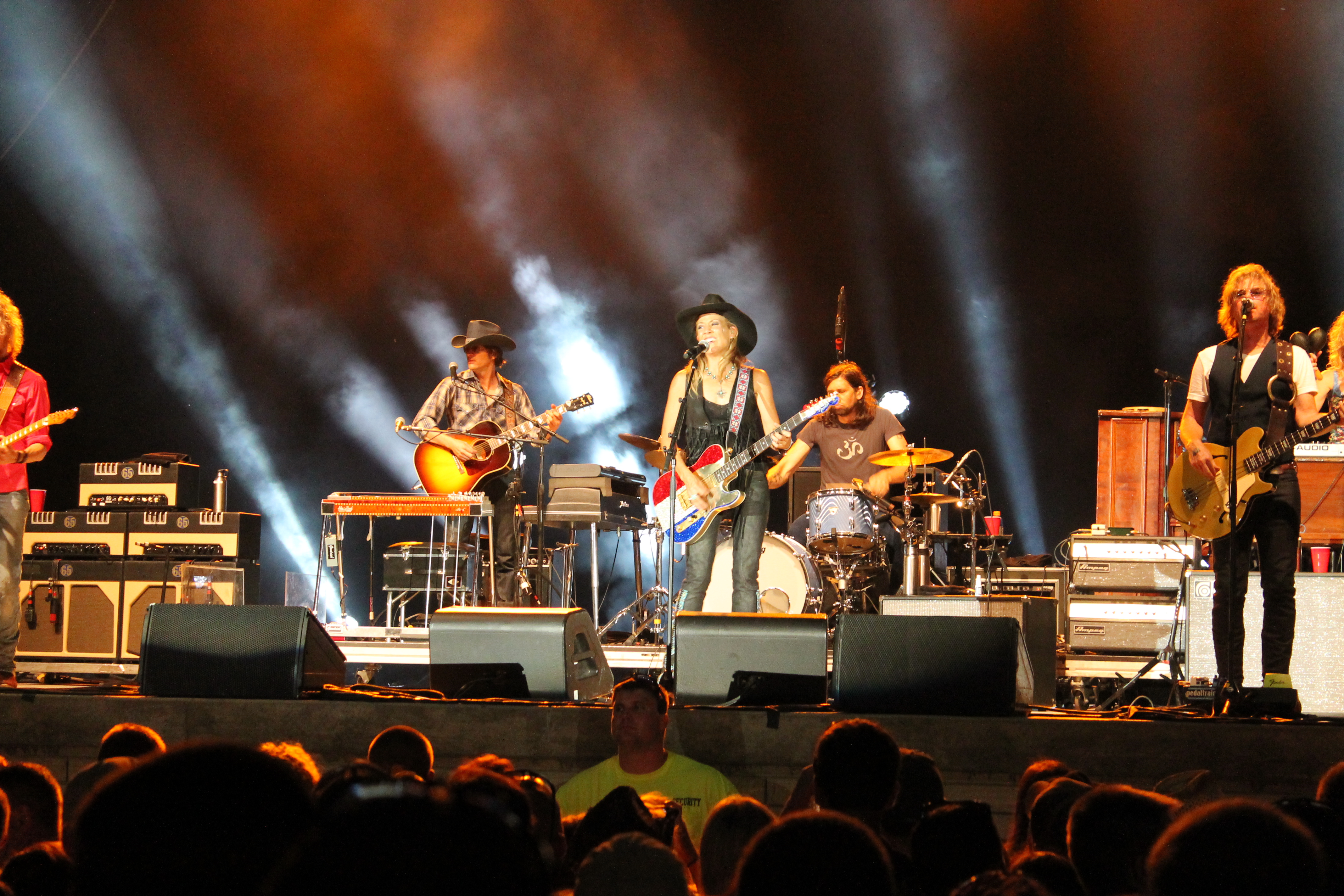 Story and photos by Gigi Wood
Seeing Sheryl Crow on the big stage was one of the bucket list items that I never expected to cross off. Little did I know I would be able to see her perform so close to home, let alone in Monticello.
She performed at the Great Jones County Fair on July 18, with country musician Gary Allan opened. Tickets were $25-$35, plus a $10 gate fee. As outlined in Angie Holmes' story, www.corridorbusiness.com/news/great-jones-county-fair-continues-to-bring-in-top-entertainers/, on the Jones County Fair, top acts are attracted annually to the fair for its large stay and willingness to pay the big bucks.
The first thing I noticed, was Crow on the big screen, next to the stage. She looked much older than the image I had of her in my head, but then again, I have been listening to her since the early 1990s, 20 years ago, to be exact. I look older, too.
It had been a hot July day and it was a warm summer evening and you could tell much of the crowd had been drinking beer for hours to cool down. That could also be the cause of a handful of fights that broke out throughout the audience, because, seriously, who fights at a Sheryl Crow concert? There was bleacher seating in the rear and a spacious general admission, standing-room-only space in front of the stage. Several audience members, however, were convinced they had claim over their spot in the dirt and that led to a few skirmishes. But for the most part, it was relatively easy to weave through the lager-soaked, plaid-clad fans.
Once near the stage, we had an excellent view of Crow, who looked great, despite the large, high-definition screen had portrayed her. She moved very stiffly, though, as if her back or leg had been injured and danced very little. I was also surprised at her limited contact with the audience. She mentioned Iowa once and otherwise came off as aloof and distant. Over time, she loosened up a bit, but never said much more. It made me feel like maybe she didn't want to be in Monticello that night. Like maybe she's tired of singing her old hits. That maybe she was just doing it for the money and lost interest in her music long ago. It was somewhat of a lousy feeling.
I have to say, though, given the chance, I would gladly pay the ticket and gate admission fees again to experience Sheryl Crow again. There's nothing quite like singing songs such as "My Favorite Mistake," "Soak Up the Sun," "If it Makes You Happy" and "A Change Would Do You Good" with a huge audience, while looking up one of my teenage idols, the Sheryl Crow, who at times could be just as all-American and badass as I expected and hoped.
She played a couple singles off of her new album, "Feels Like Home," which is scheduled for a September release. Usually that's the "oh, brother," moment of a concert, because who know if the new music will be any good. And what I paid for was to hear the great classics. But, shame on me being negative, her new music was actually quite excellent, with lots of good beats and interesting lyrics.