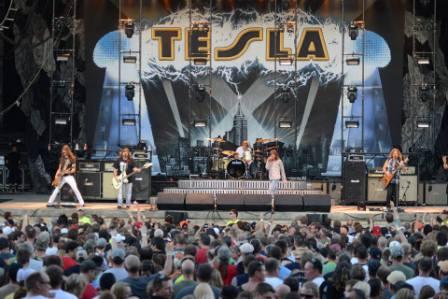 By Angela Holmes
MONTICELLO – Although they didn't ride motorcycles or light pyrotechnics on the Great Jones County Fair stage, Motley Crue proved they are still one of the greatest bands to see live.
The original crew of lead singer Vince Neil, bassist Nikki Sixx, lead guitarist Mick Mars and drummer Tommy Lee rocked the full house July 19 with hits dating back to their first album in 1981 to new songs, just as loud and raunchy as ever.
After a long, dramatic introduction, they set the tone with the opener, 2008's "Saints of Los Angeles." It wasn't long before several female dancers (they sang, too) came out to join the band for "Wild Side."
True to his '80s glam rock persona, Sixx started the show with war paint on his face, which didn't take long to sweat off on the hot, muggy Friday night. Sixx spoke about their humble beginnings in Los Angeles clubs more than 30 years ago and acknowledged their fan base for their longevity. He also recognized Facebook fans who traveled to Monticello from long distances to the concert.
The rockers showed some diversity by going from a song that is too explicit to be named in this space, right into the power ballad "Home Sweet Home." While drummer Lee played the opening notes on the piano, the band members fist-bumped each other to show solidarity after a roller coaster career.
The band obviously loves their music as much as their fans do, pumping their fists and urging the crowd to make more noise. Some of Neil's lyrics were unrecognizable, but the crowd at times took over, singing the words for him.
Neil showed he still has a lot of strut left in him, jumping in front of the drum set and running across the stage. He engaged the energized crowd, even inviting a young girl on stage to sing a line of "Dr. Feelgood."
Although he didn't move much from his spot on stage right, Mars let his fingers do the walking with impressive guitar solos leading into "If Looks Could Kill" and "Kick Start My Heart." By the looks of his beat-up guitar shown close-up on the jumbo screen, it has had as many lives as the band.
The opening band, Tesla, also showed that time hasn't slowed them down much.  Lead singer Jeff Keith poured on the charm, leading '80s anthems "Modern Day Cowboy" and "Love Song" and their popular cover of Five Man Electrical Band's "Signs."