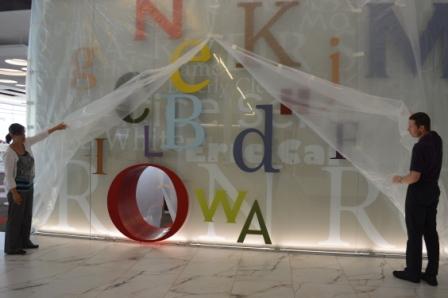 Story and photos by Cindy Hadish
CEDAR RAPIDS – Critics who see libraries as obsolete book warehouses will quickly be silenced by the new Cedar Rapids Public Library.
Not only does the building offer more than 100 public computers for Internet access, along with treadmill computer stations and other high-tech amenities, but every space in the 94,000-square-foot facility was designed to accommodate current trends with an eye to the future.
Entrepreneurs who work from home can reserve a room to meet with clients; startup companies can Skype with potential customers in another state or country using the library's collaboration suite and fledgling theater troupes can hone their skills in the 200-seat auditorium.
"It's definitely going to fill a need in the community," said Amber Mussman, the library's spokesperson, noting that for the most part, all rooms can be reserved for free. "This community is going to have a library unlike any other library."
Set to open Aug. 24 at 450 Fifth Ave. SE, the new library could see at least1,500 visitors daily, compared to 1,200 per day in the previous site that flooded five years ago at 500 First St. SE.
Everything on the library's first floor in that 84,000-square-foot location, which opened in 1985, was lost in the flood of June 2008.
Surviving items that were checked out and those on the second-floor children's area were used in the city's westside library, first at Westdale Mall and now at the 21,000-square-foot Ladd Library, 3750 Williams Blvd. SW.
A temporary downtown location in the Armstrong building, 221 Third St. SE, closed this June.
Ms. Mussman said all 225,000 books, movies and music for the forthcoming library were purchased new, a process that involved research into trends and studies of locally popular materials. Before the flood, circulation numbers reached 1.2 million items annually, with 1.5 million predicted once the new library opens.
Nearly 40 new staff members, mostly part-time workers, are being hired to bring the total number to about 80 people, or 60.5 full-time equivalent employees, after losing $530,000 in positions after the flood.
Flooding should no longer be a concern for the three-story library, which has been constructed 3-1/2 feet above the 2008 high-water mark at its new location. Essential equipment, such as computer servers and heating, ventilation and air conditioning control systems, are on upper floors, out of harm's way.
The $49-million library was funded through federal disaster funds, a state I-JOBS grant, private donations and $4 million in flood recovery money from the city's local-option sales tax.
Library Director Bob Pasicznyuk said surveys showed parking was a prime consideration for the library. A south lot was built to accommodate 40 vehicles; another 100 spaces are available around neighboring Greene Square Park and a skywalk connects the library to one of the city's parking garages.
"People say, 'what's the front door?' It depends on where you park," he said.
Mr. Pasicznyuk called the youth areas the "cherry" of the new library, with space nearly doubled from the previous site.
"We're here because young minds are worthy of investment," he said.
Teens have their own section, near the library's The Press Cafe, a coffee shop operated by Brewed Awakenings that features a two-lane drive-up window for food pick-up and book drop-off.
Teens who offered input into the project asked for "sophistication," which resulted in a fireplace for their section and "to be in the thick of things," placing them near the coffee shop, Mr. Pasicznyuk said.
Younger children have space at the opposite end of the first floor, with areas for preschoolers and those aged 5-11 or so.
Rocking chairs will be available for parents and grandparents to read to children, while "lava tile" embedded in the floors (think oozing lava lamps, but flattened), a "literacy wall" with oversized alphabet letters and odd-shaped, comfortable seating offer touches of whimsy.
"It's fun," Ms. Mussman said. "It makes you want to stay longer."
The new library also gives a nod to the past, with bricks from the former Sinclair smokestack used as a fireplace surround in The Den, which will house the library's magazine collection.
That space will include windows from First Christian Church, 840 Third Ave. SE, which were removed before it was razed to make way for a medical district parking lot. Limestone panels from the library's predecessor will be used in a donor wall.
Also in the new library will be a stained glass window honoring Ada Van Vechten, who spearheaded the city's first library in 1897, which led to the 1905 Carnegie library, now the Cedar Rapids Museum of Art, located just across Greene Square Park from the new facility.
Designed by Cedar Rapids-based OPN Architects, the new library is expected to receive the highest LEED (Leadership in Energy and Environmental Design) award of platinum for its sustainability measures.
Features include a daylight harvesting system with monitors that shut off lights and corrects lighting to the proper ambient level; a geothermal system that should pay for itself within four years and triple-pane glass in the windows.
Ms. Mussman added that nearly every piece of debris was recycled from the former TrueNorth Companies building, which "traded" space to move to the former library location on First Street.
Even outdoor enthusiasts can find a place in the sun at the new library, on a reading terrace that overlooks Greene Square Park or on the library's green living/learning roof.
Two cisterns capture rainwater and condensation from air conditioning units that will be used to water the rooftop's sedum, a low-maintenance groundcover. The roof is designed to reduce rainwater runoff and lower energy use, but also provides spectacular views of the city.
From there, areas of Cedar Rapids that have rebounded since the flood can be seen, including new buildings constructed in the past five years.
"We know the library plays a pivotal role in being a community hub," Ms. Mussman said, citing the importance in returning downtown. "I think (opening day) is going to be emotional. To have a permanent home again is incredible."
Grand opening
More than 10,000 visitors are expected for the library's grand opening Aug. 24. Events begin with a party in Greene Square Park at 9 a.m., followed by a 10 a.m. ribbon cutting. A time capsule dedication is slated for 1 p.m. and "Regeneration," the red sculpture by metal artist Albert Paley, will be dedicated at 3 p.m.
Regular library hours will be: 9 a.m.-9 p.m. Monday through Thursday; 9 a.m.-5 p.m. Friday and Saturday and 1-5 p.m. Sunday. For more information, visit www.crlibrary.org.