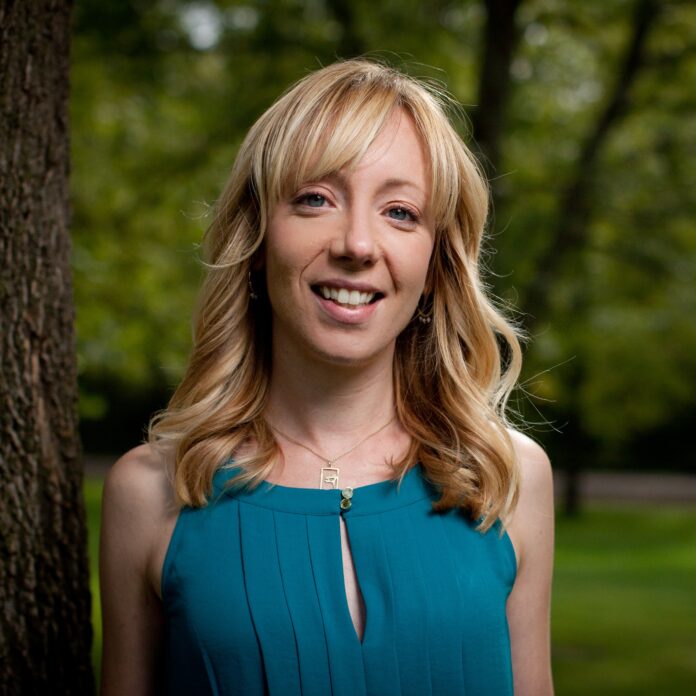 Founder
Bright Green Strategy, Busy Coworking
Age: 31
Sheila Samuelson is an early adaptor.
"I'm always looking for new ideas," she said. "I definitely feel compelled to make change when I see the opportunity. I feel compelled to contribute."
Ms. Samuelson is founder of Bright Green Strategy and coowner of Busy Coworking in Iowa City. She grew up in Oelwein and earned a biology degree from the University of Iowa in 2004, and later an MBA from Presidio School of Management in San Francisco. Her area of study was sustainable management.
While in college, she received a piece of advice from a professor, which helped her focus her career path.
"Find that thing that you can't not do and pursue it relentlessly," she said. "That's all I do."
Ms. Samuelson worked jobs in California after getting her MBA and returned to Iowa in 2009. She worked for the city of Dubuque as the sustainable community coordinator, then moved on to work for Credit360, as a sustainability account manager in Chicago. She moved back to the Corridor to start Bright Green Strategy in 2010.
Bright Green Strategy is a sustainable business consulting firm that provides solutions to help clients enhance profitability, build brand value, mitigate risk and improve operating efficiency. The company helps small and medium-sized businesses implement sustainability programs.
"The first year was a challenge. It was a brand new business," Ms. Samuelson said. "It's a nontraditional business people weren't used to hearing about."
Although getting the business off its feet was a challenge, Ms. Samuelson said it was worth it.
"For the first year, I waitressed on the side. I did that because I was so passionate about making the business work," she said. "That's not unusual for an entrepreneur, but it was hard."
Ms. Samuelson is the only employee of Bright Green Strategy, so when she first started, she was doing a lot of work out of her home.
"I was working at home and out of coffee shops. It becomes boring, isolating and unproductive," she said. That feeling sprouted another business idea.
In the spring of 2012, along with Jordan Running, Ms. Samuelson opened the doors of another business, Busy Coworking.
Coworking allows independent professionals and those with workplace flexibility to work together and collaborate.
"When Sheila started Bright Green Strategy, skeptics considered her an idealist who would not succeed. Because I have observed Sheila for 10 years, I knew they were wrong. She has become a highly successful entrepreneur who now owns Busy Coworking in addition to Bright Green Strategy," stated Nancy Quellhorst, president and CEO of the Iowa City Area Chamber of Commerce in her nomination of Ms. Samuelson.
Ms. Samuelson was voted in as a board member for the Iowa Recycling Association, a statewide organization that promotes recycling and landfill diversion. The Iowa Recycling Association is a non-profit organization with more than 425 members, representing individuals, businesses and industries, local governments, institutions, and organizations dedicated to a healthy environment and a healthy economy by promoting recycling and recycling related activities.
The Regional Sustainable Business Alliance is another project Ms. Samuelson has contributed to. The organization was started in March 2011. The organization brings business leaders from the area together to exchange information on ways to reduce their carbon footprint. There are about 220 members.
She is also a member of the Iowa City Area Chamber of Commerce's Environmental Sustainability Subcommittee.
-Pat Shaver