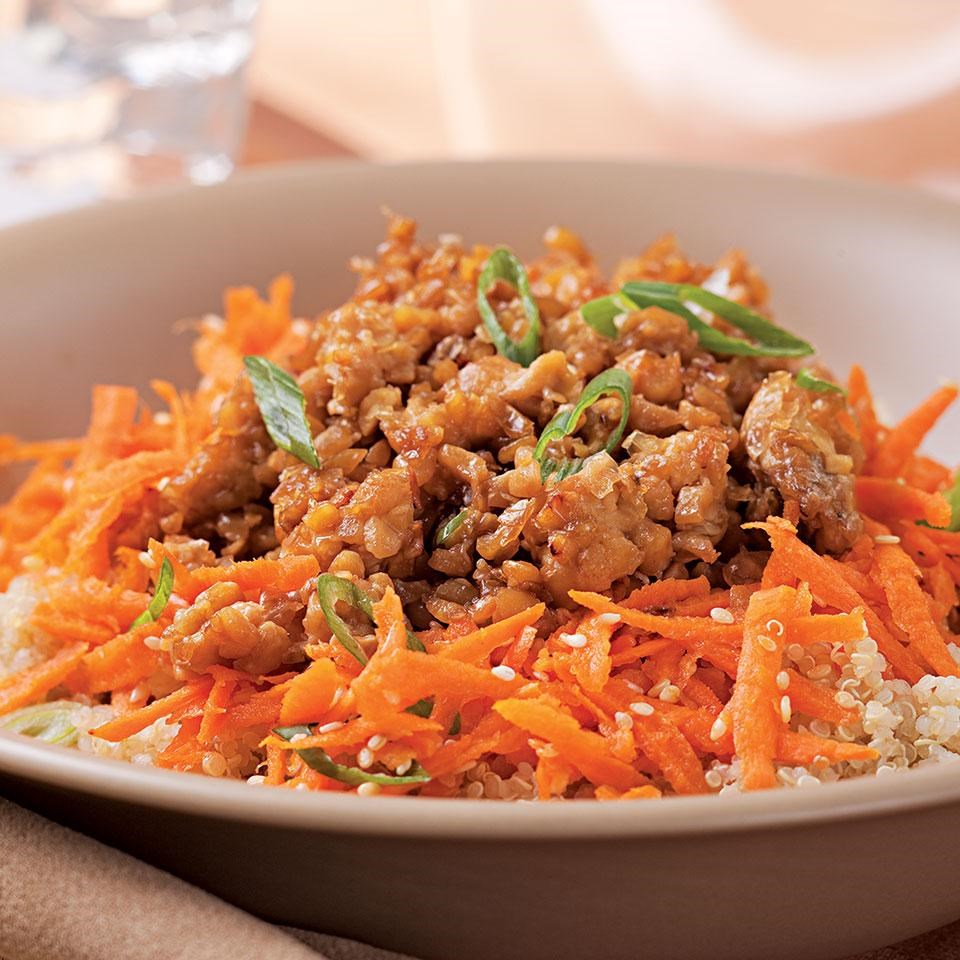 Tempeh combines with honey-sesame sauce and shredded carrots in this satisfying vegetarian meal.
Ready in 30 minutes
INGREDIENTS
Quinoa & Carrot Slaw
1½ cups water
¾ cup quinoa, rinsed
2 cups grated carrots (about 3 large)
2 tablespoons rice vinegar
2 tablespoons sesame seeds, toasted
1 tablespoon sesame oil
1 tablespoon reduced-sodium soy sauce
Sesame-Honey Tempeh
2 tablespoons sesame oil
2 8-ounce packages tempeh, crumbled into bite-size pieces
3 tablespoons honey
3 tablespoons reduced-sodium soy sauce
2 tablespoons water
1 teaspoon cornstarch
2 scallions, sliced
PREPARATION
To prepare quinoa: Bring 1½ cups water to a boil in a small saucepan. Add quinoa and return to a boil. Reduce to a low simmer, cover and cook until the water is absorbed, 10-14 minutes. Uncover and let stand.
To prepare carrot slaw: Combine carrots, rice vinegar, sesame seeds, 1 tablespoon oil and 1 tablespoon soy sauce in a medium bowl. Set aside.
To prepare tempeh: Heat 2 tablespoons oil in a large nonstick skillet over medium heat. Add tempeh and cook, stirring frequently, until beginning to brown, 7 to 9 minutes. Combine honey, 3 tablespoons soy sauce, 2 tablespoons water and cornstarch in a small bowl. Add to the pan and cook, stirring, until the sauce has thickened and coats the tempeh, about 1 minute.
Divide the quinoa among 4 bowls and top each with ½ cup carrot slaw and ¾ cup tempeh mixture. Sprinkle with scallions.
Tip: To toast sesame seeds, place in a small dry skillet and cook over medium-low heat, stirring constantly, until fragrant and lightly browned, 2-4 minutes.