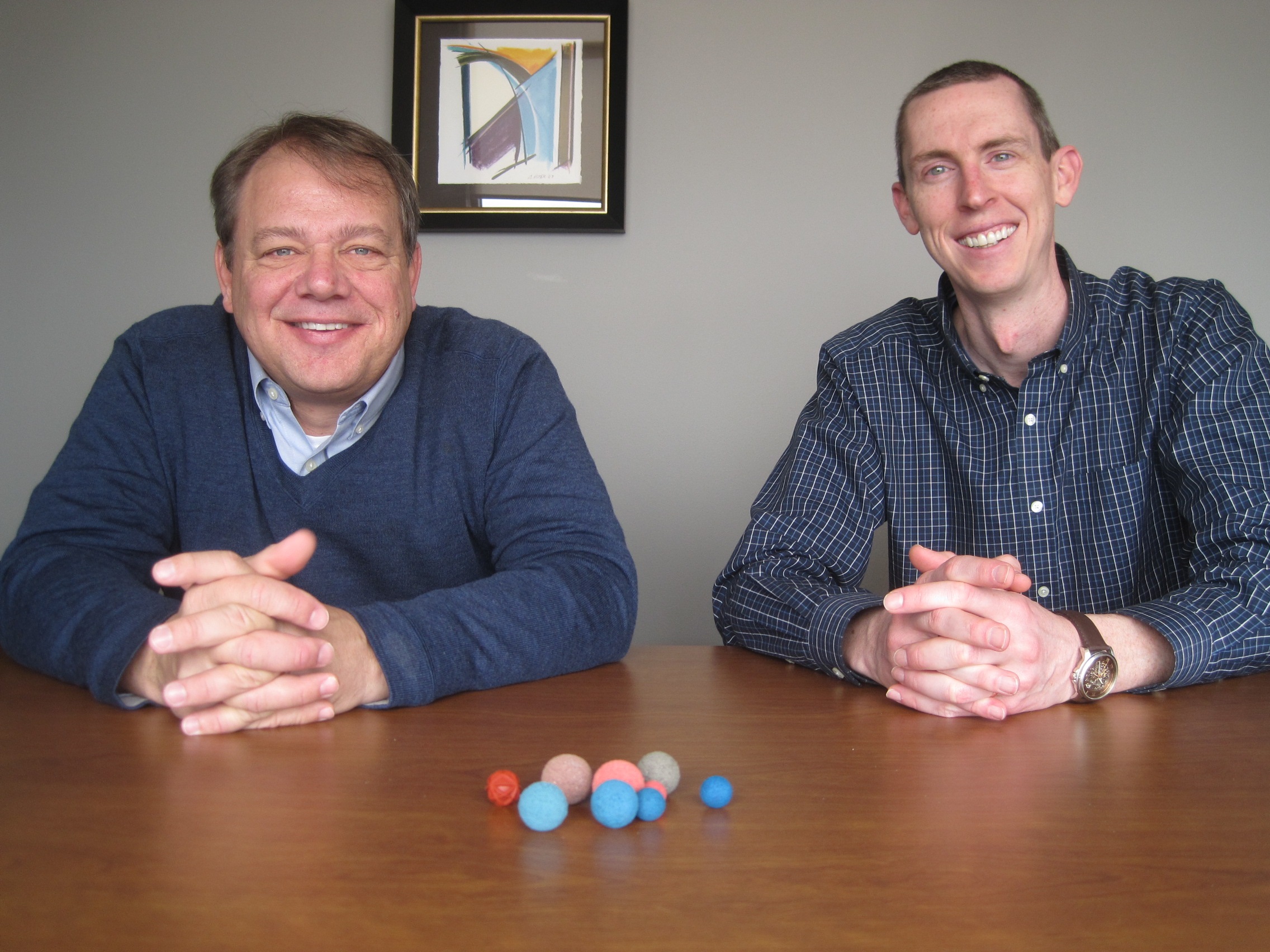 Innovas Technologies co-founders Chuck Dirks (left) and Mike Crocker show off the spongy balls used in their company's Helios Automatic Tube Cleaning System to clean biofilm and other deposits blocking thermal energy transfer in heat exchanges. PHOTO DAVE DEWITTE
By Dave DeWitte
dave@corridorbusiness.com
Mike Crocker and Chuck Dirks display a pile of brightly colored spongy balls resembling the Nerf toys as they discuss their plans to make them "smarter."
Their Coralville-based clean tech company, Innovas Technologies, uses the balls in its Helios Automatic Tube Cleaning System to continuously clean the tubes inside heat exchangers. The next major focus for Innovas is to equip the balls with microsensors that will gather data from inside the exchangers and transmit it to a computer-based prognostics system the company is developing to evaluate a system's efficiency and predict failures.
"What we're essentially doing is creating a micro, mobile submersible drone," Mr. Dirks said.
The market potential is enormous because shell-and-tube heat exchangers are a technological foundation of the industrial economy. Fluids of one temperature flow through a series of tubes inside a shell that encloses fluids of another temperature. Thermal energy is transferred from one liquid to the other so that it doesn't go to waste.
Over time, heat exchangers lose efficiency because of the buildup of biofilm and mineral deposits, corrosion and failures in valves and pumps that direct and move their liquid contents. Heat exchanger fouling has been estimated to cost the U.S. economy from one-quarter to three-quarters of a percent of GDP.
"Heat exchangers are a black box – we don't know what's going on inside them," Mr. Dirks said. "We can do infrared imaging to see if heat transfer is optimized, and that's about it."
Innovas was founded at the University of Iowa Research Park in April 2014. Mr. Dirks had been a sales representative for an international company that offered a heating tube cleaning system. His work-inspired ideas to use new technologies to solve the same problem led him to Mr. Crocker, a veteran engineer.
After eight months of development, they introduced the Helios system in the summer of 2014. It continuously cleans heat exchanger tubes using the rubber, Nerf-like balls, yielding energy savings of 15-20 percent and extending the time between maintenance shutdowns.
The system has been installed at facilities owned by a variety of Fortune 500 companies, including ADM, Chevron, Dominion Power and Mid-Atlantic Power. It's even been used in the heating and air conditioning systems of major universities, including George Mason and Virginia Commonwealth.
"Virginia Commonwealth started with one," Mr. Dirks said. "Now they have 15 of them – they're making it a best practice in their maintenance system."
The Helios system is assembled on the customer's site from components and sub-assemblies created in the Corridor. Modern Companies of Cedar Rapids fabricates the metal piping that makes up the majority of the system. Van Meter Inc. of Cedar Rapids provides most of the controls, while ESCO Group of Marion provides controls for its larger industrial versions.
The sensors Innovas is developing will collect information about what's going on in the heat exchanger, including vibration levels that could indicate a failing pump, and temperature and liquid flow rates that could indicate how efficiently the system is performing.
Predicting when a heat exchanger could fail is of critical importance in industrial maintenance, Mr. Dirks explained, because unplanned failures can leave a system out of commission for weeks.
Developing the new system involves not only putting sensors in balls, but integrating them so that the information can transmit to and be analyzed by the prognostics system. That work began in September at the Maryland laboratories of SB Microsystems, a company that contracts with Innovas.
"They are the same guys who developed the pills for diagnosing digestive problems in the upper and lower gastrointestinal tract," Mr. Dirks said.
Improving (cash) flow
Innovas was awarded a $225,000 National Science Foundation (NSF) grant and $25,000 from the Iowa Economic Development Authority late last year to commercialize the technology. Mr. Dirks and Mr. Crocker consider the grants a testament to the concept's potential to help industries lower costs and maintenance. Additional NSF funding of $750,000 will be applied for in August for further technical development and commercialization.
Innovas has avoided the use of venture capital and other forms of debt by using revenue from the sale of the system and grants to fund development. The partners have also kept the overhead low, operating from the same, small office at the UI Research Park, and are only now seeking a third staff member.
"We built a philosophy," Mr. Dirks explained. "We're not borrowing any money. We're paying our bills as we go. To an extent, that's slowed our commercialization, but it's a disruptive technology."
The next year or two will be critical, he added.
"Now that we have a customer base, we're having to manage how we service all their needs. How do we build a better product? How do we increase its value?"
The prognostics system will be launched in the second quarter of 2018. Mr. Dirks said it will be offered as an add-on to the existing Helios Tube Cleaning System, probably through the kind of licensing system that software companies use for their revenue model. He sees Innovas adding new functionality as it rolls out advanced versions of the product, and finding new ways to help customers reduce costs.
"The whole reason is not to sell sensors. It's to sell data acquisition and data analytics," Mr. Dirks said. The long-term plan, he noted, is to aggregate all the sensors in a plant so they can aggregate the data with each other and improve the efficiency of processes.
"The core product has intrinsic value," Mr. Dirks said. "The value of the sensor part will be like putting gas on the fire."