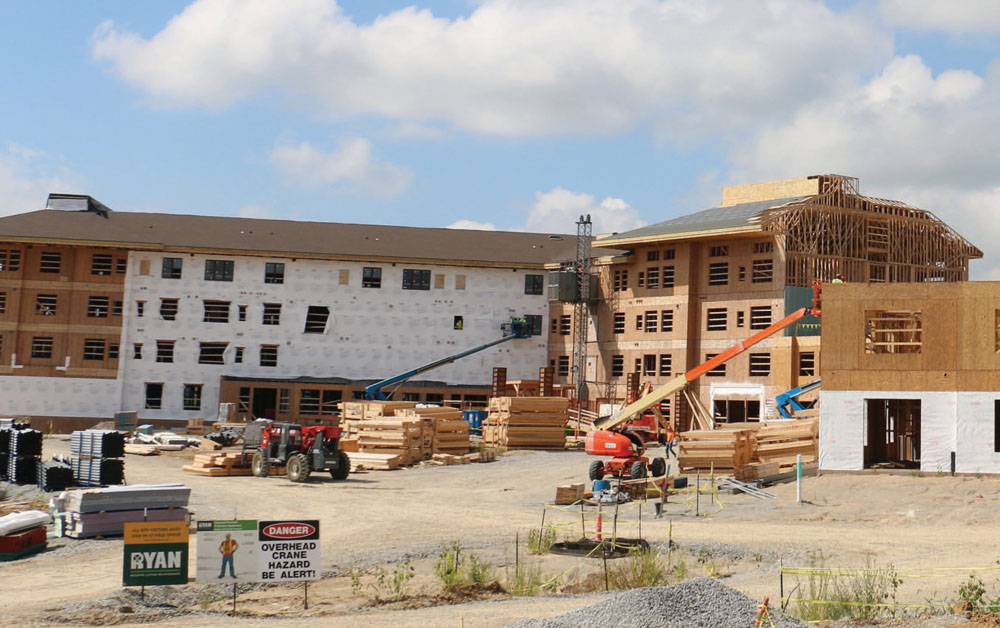 Coralville's Grand Living at Bridgewater project, shown under construction in an undated photo. The facility is expected to employ about 100 people. PHOTO DAVE DEWITTE
By Dave DeWitte
dave@corridorbusiness.com
Editor's Note: This is the first in a three-part CBJ series on the senior housing boom in the Corridor.
The retirement of the baby boom gen­eration is playing out in various ways in the Corridor, but none more visible than the current surge in senior living developments.
More than a half-dozen senior living projects totaling more than $55 million in investment have been completed in the past year, and nearly a dozen more are in progress. When those additional projects are completed over the next two years, the total investment will approach a quarter of a billion dollars.
The projects will bring at least 1,359 new living units onto the market by the CBJ's count, producing ripple effects in everything from demand for workers and development services to municipal property taxes.
As one project after another unfolded in 2016, it began to seem like overbuilding was imminent. But experts say that virtu­ally every project has been based on care­ful market analysis, and that even more development could be coming.
"This is historic in nature – there's nev­er been anything close to this," said Scott Olson of Skogman Commercial, who has served as a real estate advisor to about half of the new senior living projects under de­velopment in the Cedar Rapids metro.
The reasons include a demographic shift with the retirement of the huge baby boom generation, and the strong financial returns being generated by senior living facilities built in recent years.
Iowa's senior population is forecast to grow by 26 percent, or 218,000 people, from 2010-2020, according to a 2012 study conducted for the Iowa Finance Authority. Seniors between the ages of 65-75 are fore­cast to comprise 88 percent of that growth.
The report projects 27,000 additional housing units will be needed over that time period, with demand in the East Central re­gion – encompassing much of the Corridor – expected to average 410 units annually.
The boom in senior housing is hap­pening in all parts of the country. In the second quarter of 2017, 6,600 new senior housing units hit the market, according to the NIC MAP Data Service, the largest number since it began tracking the market in 2006.
Development projects include both profit and nonprofit ventures; many in­volve partnerships between senior living operators and real estate developers. They are backed by senior living chains, local investors and seasoned real estate inves­tors, and sometimes receive gap financing assistance from local governments and federal loan guarantees.
Projects include a broad range of fa­cility types, from affordable senior living apartments to independent living, assist­ed living, skilled care, and continuum of care communities.
One of the most telling signs regarding the momentum in the Corridor's senior housing market is that some of the area's oldest and most established communities are still expanding. The Oaknoll Retirement Community, one of the largest in the Cor­ridor, completed its 70-unit Spring Street Addition in 2015. In Cedar Rapids, Meth-Wick Community, one of the state's oldest and largest senior communities, will complete the addition of 18 large independent living units this fall.
"This is a little unique for the whole Corridor," Meth-Wick CEO Robin Mixdorf said. "There's been a real uptick in new construction, which leads you to believe that these developers have identified a de­mand for senior housing. This is probably the largest uptick I've seen in my [18-year] time at Meth-Wick."
Developers like Ewing Development of Pella are scouting sites, and city planners in several Cor­ridor communities said they've fielded inquiries from others.
"The baby boomer market is just so big right now, and they're constantly looking for a newer style of living than just a rental or a condo, we be­lieve," said Nick Crall, project analyst for Ewing.
He noted the company's 60-unit Vintage Coop­erative senior living community that opened in June 2016 in Coralville is full, but added that Ewing has additional plans for a Vintage Cooperative in Iowa City – and possibly North Liberty and Cedar Rapids.
Cedar Rapids got its first big taste of the senior housing surge in July, when The Gardens, a $15 mil­lion project undertaken by five local investors, opened its doors. With 40 beds, The Gardens represented the first new skilled nursing facility in Cedar Rapids in 21 years. It also has 30 assisted living units, 12 assisted living memory care units and physical therapy ser­vices, making it a continuum of care facility.
Spokeswoman Angie McClure said the south­west location was chosen partly because that area of Cedar Rapids had no continuum of care facility, and partly because it's easily accessible to smaller communities south and west of Cedar Rapids such as Fairfax, Walford, Newhall, Atkins and Norway, which don't have such living options.
Mr. Olson, who serves on the Cedar Rapids City Council and the Meth-Wick board of directors, said he's not concerned about overbuilding. He cited data from Maxfield Research Inc. of Minne­apolis that keeps tabs on housing market demand, noting that city officials also use the data to evalu­ate their investments.
"Right now, there's about 600 units of demand in our area, and though we've got a lot of construc­tion, we're not there yet," he said.
Ripple effects
Many of the broader economic effects from the se­nior housing surge have not hit the market, but could become more apparent in the coming years. Ms. Mixdorf sees a variety of dynamics in play, in­cluding a strong housing market and more competi­tion for nurses and certified nurse assistants (CNAs).
"When the economic downturn happened [in 2008], we did see people stay in their houses longer," Ms. Mixdorf said. "Now the housing prices have gone up, and they feel like they're getting the real value of their home out of the real estate market."
The sales generated by seniors leaving their homes to move into senior living communities is expected to provide a much-needed boost to the tight inventory of existing homes available for sale in the Corridor.
At the same time, Meth-Wick is finding itself com­peting for the same pool of nursing talent as large hospitals in Cedar Rapids, Iowa City and even Waterloo, as Iowa's unemployment rate – 3.2 percent as of July – remains well below the national average.
"We haven't seen anyone leave yet [for the new senior living facilities], but there's an awareness that these communities are going to come on, and they're going to try to hire who we have," Ms. Mixdorf said.
The new communities and expansion projects in the Corridor will employ well over 500, with only four of the projects accounting for 310 of that amount.
Grand Living will have more than 100 employees each at the two continuum of care communities it is developing with Ryan Companies: Grand Living at Bridgeview in Coralville and Grand Living at Indian Creek in Cedar Rapids. Stoney Point Meadows has indicated it will employ at least 60 at its new facility in Cedar Rapids, and the Views Development has said it will employ 50 with a $2.8 million annual payroll when its new 104-bed continuum of care community opens on the south side of Marion.
Finding construction talent to build so many senior living facilities has put a strain on contractors, although builders haven't reached a crisis point yet.
Members of Carpenters Local 308 based in Cedar Rapids have been working on one of the largest senior living projects in development: the 170-unit Grand Living at Bridgewater project, located just north of I-80.
"We've got pretty much full employment," said Pat Loeffler, a Carpenters Union leader who is also president of the Cedar Rapids/Iowa City Building Trades Council.
Mr. Loeffler said the surge in senior living development comes during a strong period of employment for the building trades as the University of Iowa has added new facilities and replaced damaged ones from the flood of 2008.
Although his local members are pretty much all employed, Mr. Loeffler said the union can send out calls to other union locals outside the area if contractors need more skilled labor.
"The economics of these retirement communities are vast and very much unsung," said Ed Raber, director of the Washington Economic Development Group.
Mr. Raber said retirees almost always buy new furniture when they move into an independent living facility like Halcyon House in Washington, providing a boost to local businesses like Marshall's Furniture. Seniors moving from outside the county almost always move their bank accounts, he added, and some create new relationships within the county for services such as insurance.
Peer pressures
David Heusinkveld is administrator of the Pleasantview Home in Kalona, which was organized by Amish and Mennonite ministers in 1957. He says the growing number of senior facilities, many of them under for-profit ownership, puts pressure on existing facilities to upgrade and compete.
Skilled nursing facilities have to get a state certificate of need to open in Iowa, he noted, but for independent living facilities, "it's whatever the market can bear."
"All these places are competing for staff, for nurses," Mr. Heusinkveld said. "I honestly want everyone that is in this business to do well, because if they don't, the quality of care goes down and the residents are the ones who suffer."
Developer Fred Timko of Cedar Rapids also has a mixed view of the new arrivals. He developed the Bridges Senior Lifestyle independent living facility, which opened in Waterloo in a former Holiday Inn well before the current housing boom.
"It's a tough market," Mr. Timko said. "There are a lot of them out there."
He suggested that the success of the new senior developments could depend on their marketing skill.
"The challenge is just getting them filled up, and then there's a natural attrition as people die," he said. "It's a constant battle to keep them filled up."
Still, Mr. Timko said he views senior living facilities as a good long-term investment once they are close to full occupancy, especially in a place like Iowa. Among all the states, Iowa has one of the highest percentages of its population over 65.
"It [the senior housing market] should be getting better and better," Mr. Timko said. "Iowa's getting older and older."