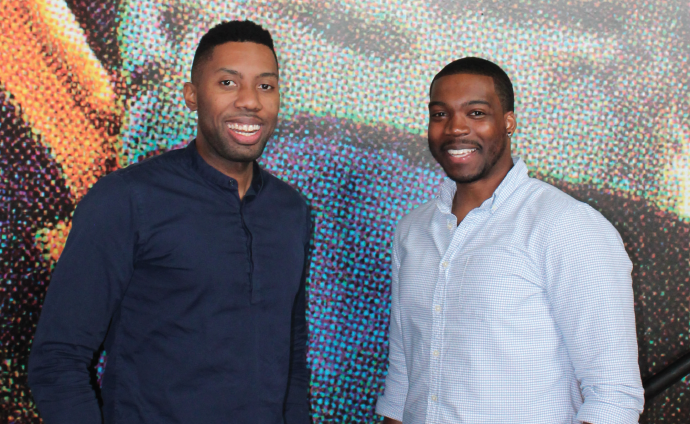 Christopher Thomas (left) and Armani Goens of Funeral Direct started at the Iowa Startup Accelerator last month. PHOTO DAVE DEWITTE
By Dave DeWitte
dave@corridorbusiness.com
CEDAR RAPIDS—The two new Iowa Startup Accelerator teams who started work this month are focused on bringing efficiency and insight to some of the less-enjoyable decisions in life.
Armani Goens and Christopher Thomas of Funeral Direct are developing a web-based platform to allow people to find, book and review funeral services in their area.
Austin Gardner, Anna Haney and Chad Haney of Noviqu are developing an online web app for manufacturing facilities to "take outdated safety, training and maintenance processes, and make them more efficient and useful," Ms. Haney said.
As with most startups, they both have a well-honed tale of the events that inspired them. Mr. Goens, who lives in New York City, said he encountered the challenges of booking funeral services in 2016 when his grandfather died, and again when he lost a cousin.
"It's outdated – you have to call each funeral home individually and ask a bunch of questions and then make a decision," Mr. Goens said. Asking about things like prices for funeral services at such times can be awkward and uncomfortable, he added.
Funeral Direct's goal is to create a platform that consumers can use to quickly find out what funeral services and facilities are available in their area and how much they cost, and then book them directly online. Funeral homes would then pay for receiving bookings through Funeral Direct.
The hoped-for outcome is not only a more informed decision, but more time to spend supporting family members and remembering the loved one who died, the team said.
Mr. and Ms. Haney operate a web development company in Columbia, Missouri, where Mr. Gardner began working as an intern. The inspiration for Noviqu came when their team held an onsite meeting with a manufacturing client in the personal care products industry.
Before the meeting got underway, they witnessed a debate among plant leaders over who had the toughest job, with each listing the different hardships and complaints about their positions. Afterward, they decided to ask the parties in the discussion how serious those problems really were, and found out they weren't exaggerating. They realized many of them could be resolved by addressing inefficient processes for accessing and sharing information on safety and equipment maintenance.
Noviqu is developing a web app in conjunction with a system of QR scannable tags that can be attached to equipment, locations in a factory or individuals. Scanning the tag with a smartphone or tablet provides a way to access the system and perform functions, such as requesting maintenance, performing training or logging a safety observation.
"A lot of these processes now are paper- based," Ms. Haney noted. "We want to make them all digital, first and foremost, so that there would be a way for managers to put them into the system digitally, and then there will be that tracking and traceability, so that managers can tell who is trained to use that forklift, and when that training expires."
Besides making the information easier to manage, Noviqu plans to make the infor­mation in the system easier to update, while also injecting some fun into the process.
"By doing things like performing mandatory safety training, you could earn badges and points and level up," Ms. Haney said, using the phrase for rising to the next level of a video game.
While Noviqu will be the basic app they sell to manufacturers, Mr. and Ms. Haney said their web development company, Tin Can Technologies, will be able to provide additional services outside the product to meet specific client requirements.
Iowa Startup Accelerator teams typi­cally get a $20,000 investment from the accelerator in exchange for a 6 percent stake in their startup. The new accelera­tor format is longer, lasting a year, but not as intense after the first two months. Ms. Haney said the Noviqu team will general­ly be in Cedar Rapids Wednesdays, Thurs­days and Fridays, for example.
Noviqu and Funeral Direct are the third and final cohort to be introduced for 2017, ISA Program Manager Molly Monk said.