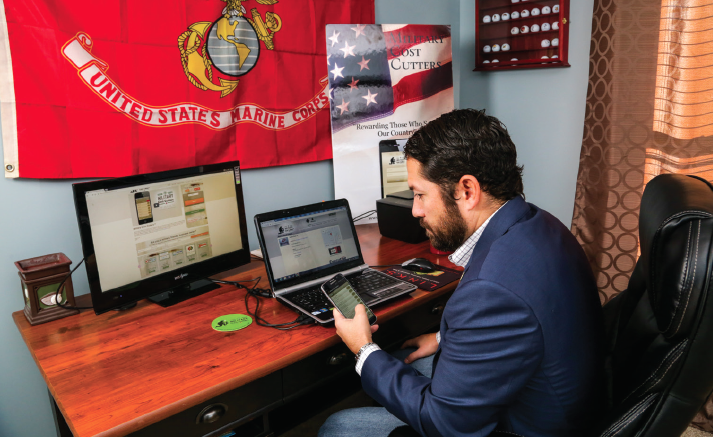 Marine Corps veteran Aaron Serrano has developed an app, Military Cost Cutters, to
connect other veterans with military discounts at businesses. PHOTO CAROL ARNEY
By Emery Styron
news@corridorbusiness.com
"I had an experience where they gave me a military discount and it significantly re­duced the price. It wasn't advertised any­where," said former Marine Capt. Aaron Serrano, recalling the moment the idea for Military Cost Cutters first entered his mind.
He began to wonder how he could bring together businesses that were missing out on customers, and service members and veterans who were missing out on deals.
Five years later, in 2014, he had the an­swer: a web- and app-based clearinghouse for businesses offering deals to veterans and military personnel. The William Penn University graduate with an MBA from Vermont's Norwich University launched the startup in the Quad Cities, where he had worked for Deere & Co. since leaving the military.
The business has expanded aggres­sively since then, pulling in Eastern Iowa business listings from Cedar Rapids, Clinton, Iowa City, Muscatine and Wa­terloo, and from markets as far away as Denver, Las Vegas, California and Flor­ida. Military Cost Cutters (MCC) last month relocated its headquarters to Des Moines – a market it plans to "hit pretty hard" – putting it within closer striking distance of major metros like Kansas City and Omaha.
MCC hopes to have 50 businesses in Des Moines onboard by December, and 100 by next summer, Mr. Serrano said. It will also be launching a new promotion­al campaign in the Denver market within the next month.
It's a high-tempo approach, but Mr. Serrano, a veteran of two combat tours in Iraq, is certainly up to the task.
"From the first day that Aaron joined the Greater Quad Cities Hispanic Cham­ber of Commerce, he has been very active in expanding his business and seeking new opportunities," said Lee Vasquez, the chamber's executive director.
Mr. Serrano gained some of his plat­form's biggest exposure when he was chosen to attend and present a video at the United States Hispanic Chamber of Commerce National Convention last October in Miami Beach. The event is the largest gathering of Latino business leaders in the country, Mr. Vasquez said.
His aggressive regional promotion and national exposure is paying off. Hundreds of businesses around the country now offer deals ranging from discounts to gift cards, and more than 12,000 people have downloaded the app to their smartphone.
New businesses can get up and running with the basic program in a matter of minutes, thanks to a recently released feature that allows owners to sign up online if they don't require an in-person demonstration, and instantly start displaying their QR code and discounts on the MCC platform.
"That has obviously helped when business owners talk to each other, and it reduces the time needed for an outside sales force," Mr. Serrano said, adding that as a startup, he understands business owners' time "is their most valuable asset."
Helping vets
One of the most helpful aspects of Military Cost Cutters for both businesses and veterans is proof of military service.
"Businesses want to see a military ID but many veterans don't have one," Mr. Serrano said.
Most veterans just have their discharge papers, which are filled with confidential information that should be stored securely and not shown, he added.
"We have the ability to verify a veteran's status and issue that individual a mobile ID that is utilized within the app," Mr. Serrano said. "For the first time, the veterans have a way to prove they are veterans and are able to utilize this verification across our entire platform and not just one specific location."
MCC continues to grow because its unique position in the veterans' community, Mr. Serrano said.
"Some view it as a way to say 'thank you' to our military community," he noted. "We don't expect a discount but truly appreciate the gesture when one is offered. It, in turn, generates a lifetime value with that member."