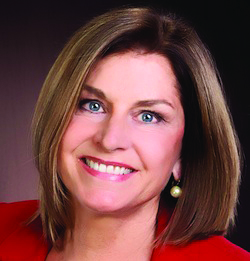 Corridor Women Connect presents workshop
By Sarah Binder
CEDAR RAPIDS—Two cities can tell two very different branding lessons.
In the 1970s, New York City was struggling. It was nearing bankruptcy, and people perceived it as dirty and full of crime. Then came "I Love New York."
"It's a classic case in point of how branding can transform something," said Catherine Kaputa, the owner and founder of New York City-based SelfBrand, who worked on the iconic advertising campaign that is still used today. "You always want to look at what's different and unique."
She said the campaign was successful because it focused on what people loved: there's only one Broadway, and it's in New York.
Compare that to Las Vegas in the 1990s. It was marketed as a family-friendly destination before returning to the slogan, "What happens in Vegas, stays in Vegas."
"They were trying to make it something that wasn't," she said.
Today, Ms. Kaputa is known for personal branding. She uses the same tactics she once applied to large clients when working with individuals to define their brand.
Ms. Kaputa will be in Cedar Rapids on Feb. 28 to present two workshops about personal branding. The event is sponsored by Corridor Women Connect.
"It's really about self-empowerment and taking charge of your career identity," she said.
A unique selling proposition is just as important for people as it is for products and services.
"In the branding world, we think of being able to define the product or service in a sentence – it's the same for people," she said. "If you can't write it on the back of a business card, you haven't thought it through enough."
People at all stages of their careers need to think about personal branding because of the ever-shifting dynamics of today's job market.
"I'm of the belief that we're all entrepreneurs now," Ms. Kaputa said.
Personal branding can include everything from social media to strategic in person networking to wardrobe choices and diction.
Although the session is open to both men and women, Ms. Kupta is especially well-known for her work on branding for women.
"Women tend to be too humble, and play (accomplishments) down, or fail to mention them," she said. "If you don't talk about your abilities, they can be easily forgotten."
Ms. Kupta will lead two workshop-driven sessions:
Personal branding: Participants will work together to define their unique selling
proposition and create a personal marketing plan. The idea is to visualize goals for the next three to five years, then plan specific, creative steps to help achieve them.
Attendees will receive a copy of Ms. Kaputa's book, You Are a Brand! How Smart People Brand Themselves for Business Success. 
Entrepreneurial branding: A little idea can quickly grow into a big brand. Ms. Kaputa will give examples from several industries before guiding participants through a workshop where they work on branding their own ideas.
Attendees will receive a copy of Ms. Kaputa's book, Breakthrough Branding: How Smart Entrepreneurs and Intrapreneurs Transform a Small Idea Into a Big Brand.
Corridor Women Connect presents "Branding for You!" workshops
Feb. 28
8-11:30 a.m. and 1-4:30 p.m.
The Hotel at Kirkwood Center, 7725 Kirkwood Blvd, SW, Cedar Rapids
$50 per session
For more information: corridorwomenconnect.org