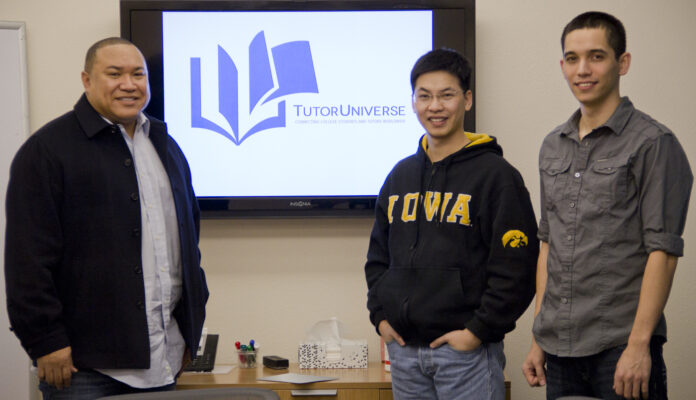 By Pat Shaver
IOWA CITY—As a tutor and student at the University of Iowa, Thomas Hornbeck was overwhelmed.
So he and Hung Tran turned that frustration into a business. They launched Tutor Universe in November 2012, while also working on their Ph.Ds in computer science at the UI.
"Hung and I had been tutoring all through college, both in computer science and mathematics. We started to notice during graduate school the demand for programming tutors far surpassed the supply," Mr. Hornbeck said.
At his busiest time, for example, Mr. Hornbeck was charging $75/hour for a tutoring session.
"I wasn't teaching them rocket science; I was just helping them in introductory programming classes. We drew up a framework for an online marketplace that could connect local students to a global community of tutors to fix this problem and that's where it all began," he said.
The company offers users an online, global roster of tutors with knowledge in specific areas. The students are then able to connect with a tutor and interact with them through Tutor Universe's website.
"I had a guy who failed a computer science class three times in a row. He came to me and he's passed every class since," Mr. Hornbeck said.
The social, open-market platform combines sophisticated matchmaking technology, virtual classroom collaboration applications, social networking tools and a tutoring business management portal to enable members to easily connect, share content and collaboratively teach and learn online.
"Different people have different learning styles, some people are better one-on-one," Mr. Hornbeck said. "We're actually teaching them in different ways."
The idea is the website's global community of tutors and members would make tutoring more convenient and affordable for students, and provide a diverse range of subjects.
"Sometimes students have to work and they have class and that can be hard," Mr. Tran said.
People can also register to be tutors, where they set their own rates. Tutor Universe takes a 25 percent commission.
"Both of us are natural entrepreneurs and risk takers with complimentary personalities," Mr. Hornbeck said, adding that his skills are in design and usability and Mr. Hung's are in engineering and data architecture.
In the first month in operation, they did very little marketing. They now have 2,400 users at the UI and Iowa State University. They have focused their marketing efforts on contests giving away free iPads, which led to a quick 2,400 users.
They have focused on UI and Iowa State University campuses, and have plans to expand campus-by-campus, much like how Facebook grew. There are also plans to provide tutoring services in the K-12 market and professional development training in the U.S. and foreign markets.
"The biggest challenge I faced early on was getting people to buy into the business opportunity," he said. "I think we made the right decision to bring in experienced executives during the early stages of operation to build investor confidence and build sophistication into our business."
The have 16 full-time equivalent employees – most of their programmers are working out of Vietnam, where Mr. Tran grew up and spent a 10-year career before coming to Iowa.
"We save a lot of money not hiring local engineers," Mr. Hornbeck said.
The company's CEO and two marketing coordinators operate out of Des Moines.
They hired Michael Morrison as CEO last year. He has 20 years of experience helping grow and scale successful technology companies. He was most recently an executive at one of the largest SaaS (software as a service) e-learning companies in the world, GeoLearning, Inc., out of Des Moines.
The startup has also had help from the UI through the John Pappajohn Entrepreneurial Center. They have given Tutor Universe free office space in the Bedell Entrepreneurial Learning Lab (BELL), access to business mentors, helped them network with other entrepreneurs in the state and sponsored them to compete in business plan competitions locally and nationally.
All of those factors have helped the company secure seed funding.
The BELL is a business incubator for entrepreneurial students pursuing the creation of a startup while attending the University of Iowa. Students and teams in the program receive a dedicated office space in the 10,000 square-foot facility, enabling them to concentrate on developing their business concepts.
Tutor Universe this month moved from the BELL on the UI campus into the Iowa City CoLab, 316 E. Court St. The CoLab, which opened in January, allows members resources such as: commercial grade Wi-Fi, printing and photocopying, public and private spaces for meetings, conference rooms and coffee. The CoLab also offers organized activities for members, including networking events, how-to sessions and business coaching. Some of the events will also be available to non-members.