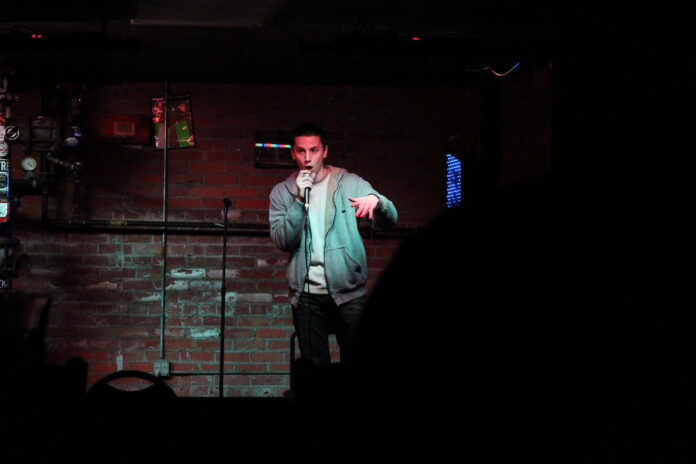 By Pat Shaver
About three years ago, Iowa City was essentially jokeless.
Iowa City comic Tom Garland has opened locally for BJ Novak (famous for his role on "The Office"), Steven "Steve-O" Glover (known for pulling stunts on the MTV show and movies "Jackass"), Heather McDonald (a comedian on the E! TV show "Chelsea Lately"), Joel McHale, (star of "The Soup" and "Community") and many others. Last week he opened for Tom Green and Steve-O at the Rivera Comedy Club in Las Vegas.
"I've been really lucky," Mr. Garland said. "I was able to catch steam really quick because there wasn't much going on in the area."
"Your calendar just starting out, it can be so discouraging to see two dates out there for the next two months. Today, my schedule is full for the next four months. It just kind of  snowballs. The more you call and the more you get your name out there, the more everybody starts to trust your product," he said.
His comedic career began in high school, when he wrote a humor column for his high school newspaper in Cedar Rapids. He went on to be a journalism major at the University of Iowa, but never got the chance to continue his humor writing there.
He still had the comedy bug, though. He began doing open mic night standup comedy at Penguin's Comedy Club in Cedar Rapids, and noticed that opportunity was missing in Iowa City.
"I wanted to start a comedy scene in Iowa City so I could have the opportunity to stay on stage," he said. He started having open mic nights at Iowa City venues about three years ago.
"There were about four of us (comics) at the time. Last night, we had 30 comics and went from 10 p.m. to 2 a.m.," he said. "Now I can almost get on stage every night in town."
Every Monday night, the Yacht Club in Iowa City hosts the Catacombs of Comedy Showcase from 10 p.m. to 2 a.m. Admission is $3.
"It's pretty crazy; people say standup comedy would never work in Iowa. We did a lot of grassroots marketing and we were really able to start our cult following," Mr. Garland said.
The weekly showcase at the Yacht Club, emceed by Mr. Garland, brings in about 16-30 comics each time, and an average audience of 60 people, he added.
"We had to start from absolute scratch. Bars around here didn't know how to run standup comedy, people didn't know (audience) etiquette," he said. "When it really caught on was when I decided we were going to stick to a (one night) every week deal."
It also helps that they encourage the regular Monday night comics to come each time with new material so it's a different show every week.
"You need to build an act before anybody will pay you. Then you start asking 'what's my draw' and is anybody going to come see you," he said.
Mr. Garland says despite playing shows in Las Vegas, Wisconsin and around Iowa, among other places, he returns to Iowa City to host the open mic nights.
"It's neat to be able to start my comedy career without ever leaving my backyard. Other people have had to move to bigger markets like Chicago, Minneapolis, Portland," he said.
He may be ready to move to Los Angeles or New York in about a year to grow his career,  though Mr. Garland sees the benefits of being a big fish in a small pond like Iowa City.
"One great function about open mics is you can come down and you try new stuff and you find out what works," said Yale Cohn, Iowa City comedian and host of the PATV Channel 18 show "Talking With…"
Mr. Cohn's background is in television and theater, so the transition into comedy was a natural move.
"You have to train really hard and do it over and over. Richard Pryor didn't wake up and he was funny, he worked on it," Mr. Cohn said.
Bruce Jay, a local comic who grew up in Cedar Rapids and spent about 15 years acting in Los Angeles before returning, is a regular comedian at the Monday night showcase at Yacht Club.
"I try to capture the moment. When I make jokes, I'm writing on stage," Mr. Jay said. "I think vulnerability is scary on stage. The therapy of it is you're trying to find out about yourself in front of a crowd." The question of whether open mic night comics new to the scene are funny comes up often.
"What is funny? I will tell (new comics) to breathe, and stand in the light. You can have the funniest bit in the world, but not if you're mumbling," Mr. Cohn said.
Mr. Jay said some of the funniest acts are the people who have never done it before.
"That's what's funny, when people are standing in the dark," he responded to Mr. Cohn. "People should just say what's on their mind."
There are other open mic nights in the area both for comedy and music, including at The Mill in Iowa City, and Penguin's Comedy Club in Cedar Rapids, among others.
"It's surprising; they themselves have quite a following. Just the fact that it's open and free does draw a pretty good crowd here," said Dave Schowalter, co-owner of The Vault (formerly the Cedar Rapids Piano Lounge), 208 Second Ave. SE in Cedar Rapids, which is also the location of the Penguin's Comedy Club.
Penguins Comedy Club brings in big names like Tom Arnold, who performed there last week, but also holds open mic nights every second and fourth Wednesday of the month.
"It's going great; a lot of our shows are completely sold out. We have a maximum seating of 225, but a lot of weekends it depends on who the comedian is," Mr. Schowalter said.
Penguin's will host acts like Chicago comedian Patti Vasquez (Feb. 22 and 23) and Greg Warren (March 8 and 9), known for appearances on "Comedy Central Presents" and "Last Comic Standing."
"Comedy has always been strong for us," Mr. Schowalter said. "Comedy is one of those things that depends largely on who you have. The draw is the name more so than the location."
In June, the Paramount Theatre in Cedar Rapids will feature Daniel Tosh on his "The June Gloom Tour." Mr. Tosh, who hosts the Comedy Central show "Tosh.0," will perform in front of a sold-out crowd at the Paramount.
Next month, the Englert Theatre in Iowa City will host Tracy Morgan, a standup comic and actor known for starring in shows like NBC's "30 Rock" and "Saturday Night Live."
"We learned from Mission Creek that the community really responds to comedy shows," said Andre Perry, executive director of the Englert Theatre.
"I think that certainly influenced me in being more aggressive in searching out comedians," he said.
Past Mission Creek acts like John Waters, an actor, writer and director, and comedian David Cross were big hits, Mr. Perry added.
"John Waters came and he did a hilarious show. I think a light bulb went off in our heads that we should be doing more of this in our community," Mr. Perry said. "It's definitely a programming focus to bring in more comedians. It's an area we feel is fertile."