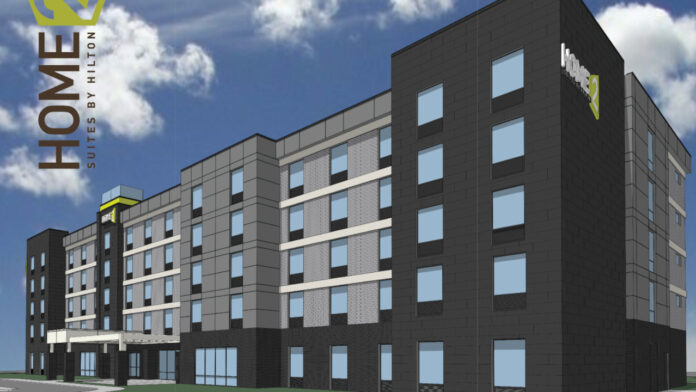 Construction is underway on a second hotel at the Westdale Town Center.
Todd Nelson, executive vice president and chief financial officer for the Frew Development Group, the developer of the former Westdale Mall site in southwest Cedar Rapids, said a Home2 Suites by Hilton hotel is now being built at 4000 Westdale Parkway SW, next to Town Center's existing mixed-use apartment building.
The 84-room hotel is set for completion by July 2023, Mr. Nelson said. All rooms are suites and will include a kitchenette.
Hotel amenities will include a swimming pool, a fitness center, Wi-Fi and two electric car charging stations. It's being jointly developed by Frew Development and Kinseth Hospitality.
The new hotel is part of the long-term development plan for Westdale Town Center, Mr. Nelson said. "We had always envisioned at least two hotels at Westdale," he said.
Frew Development took over the long-struggling Westdale Mall in early 2013, and in May 2013, a master plan and design renderings for a proposed $90 million redevelopment of the 72-acre property were released.
The first hotel at the Westdale site, an 82-room Tru by Hilton, opened in February 2018 at 3900 Westdale Parkway SW.
The former 451,092-square-foot mall opened in 1979. In 2012, the assessed value of the property was lowered to $1.37 million, according to the Cedar Rapids assessor's site. In September 2018, the Cedar Rapids City Council approved $21.75 million in refinancing for the redevelopment project after leasing was slower than expected.