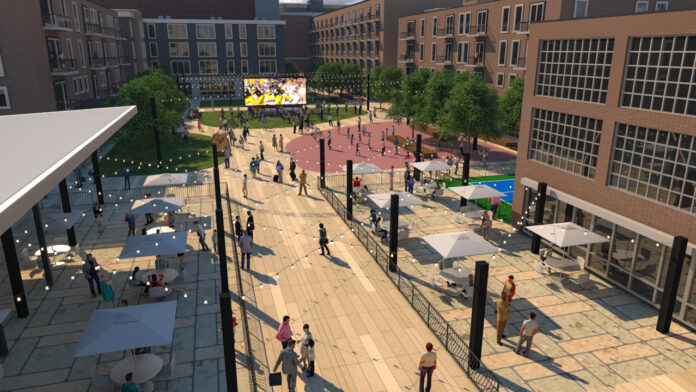 The Iowa Economic Development Authority Board has given final approval to a grant to support a downtown Cedar Rapids reinvestment plan.
The board's $9 million award, the maximum benefit amount available under the program, was provisionally approved in June 2021 as one of six reinvestment district applications across the state. Cedar Rapids submitted a pre-application during the 2021 annual filing window, and since that time, project representatives worked with IEDA staff to complete the final application for board review, according to an IEDA news release.
The IEDA Cedar Rapids award was officially approved July 22 for the Cedar Rapids Central Reinvestment District submitted by the city. The mixed-use project includes the First and First development, which comprises housing, entertainment, retail and hotel developments. Specifically, city officials plan to use $6 million of the IEDA award to support construction of a parking ramp at the First and First development, once a minimum of $30 million at the site has been completed.
The $100 million-plus First and First West project in downtown Cedar Rapids is being developed just west of the Cedar River, on land once planned for a Cedar Rapids casino.
The project will be developed in phases. The first phase, launched with a groundbreaking in May, includes a Pickle Palace entertainment venue, a Big Grove Brewery, and a mixed-use building featuring commercial spaces on the first floor and 60 to 80 residential units on the upper floors. Future phases will include an outdoor plaza, other mixed-use buildings and a boutique-style hotel.
The remaining $3 million of IEDA Cedar Rapids award funding is being targeted toward a pump station development along Eighth Avenue SW, which is set to include a mixed-use development and festival grounds, and to a dam bypass channel along the Cedar River to be used for kayaking, whitewater rafting and other recreational opportunities.
In total, the reinvestment plan proposes a capital investment of $160.8 million.
The Iowa Reinvestment District Program is designed to assist communities in developing transformative projects that improve the quality of life, create and enhance unique opportunities, and substantially benefit the community, region and state. The program provides for up to $100 million in new state hotel/motel and sales tax revenues to be "reinvested" within approved districts that cannot exceed 75 acres in size and must be in an Urban Renewal Area.