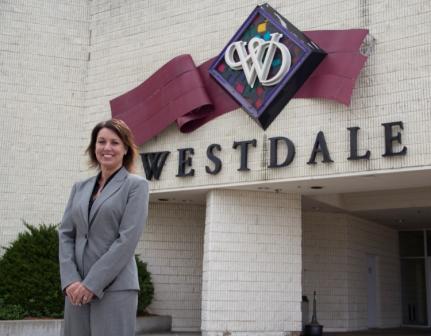 By Angela Holmes
CEDAR RAPIDS – When Frew Development Group took over the long-struggling Westdale Mall the first of the year, the Denver-based company knew it would take just the right person to lead the project's revitalization.
"From the earliest days of our involvement with the Westdale project, we planned to hire an individual to oversee the day-to-day management of the property and tenants with the following skills: an industry expert, preferably someone from within the market, who is personable, energetic, community oriented and a civic leader," John Frew, president and CEO of Frew Development Group, stated in an email. "Lisa Rowe exceeds those expectations."
Frew Development Group was also the perfect fit for Ms. Rowe, who had been the marketing manager at Lindale Mall since 2000.
She had several job opportunities in the past year, but Frew Development was the glass slipper.
"Nobody felt like they were the right fit until I talked to Frew," she said. "They reached out to me (earlier this year) and said 'we would like to have a conversation about a marketing position down the road.'"
The general manager position at Westdale became available in March and Mr. Frew wanted to speak to her immediately. Although based in Denver, he has been in Cedar Rapids often to oversee the development of the recently completed U.S. Cellular Center and DoubleTree by Hilton Hotel.
"The opportunity intrigued me," Ms. Rowe said. "There hasn't been a major development in Cedar Rapids in 34 years (when Westdale was originally built in 1979)."
Ms. Rowe started as general manger of Westdale on May 6. Two days later, the master plan and design renderings of the proposed $90 million redevelopment of the 72-acre property were released and a public open forum took place at the mall.
"The community is so ready for this," she said. "This is a whole new concept for the market. The interest of the community has been phenomenal."
The multi-use development will feature an open-air area with retail stores, restaurants, office space, a hotel, entertainment options, senior living housing and condos. In the center of the 1.7-acre area will be a park-like feature with possibly a water feature for children. New commercial pad sites are will also be developed along Edgewood Road.
"Ideally, we will bring new blood into the market," Ms. Rowe said. "The outdoor area will have a Main Street-feel."
She recently attended the International Council of Shopping Centers' convention in Las Vegas and had interest from retailers who are not already represented in Eastern Iowa.
Last week, interior demolition work began in the former Von Maur space, which will be converted into a mini-mall with indoor shops. Demolitions will go in phases to not disrupt day-to-day operations of the mall, which will not close during the renovations.
The two anchor stores, JCPenney's and Younkers, will remain in place. Ms. Rowe has had initial conversations with all of the other existing stores about the space they would need if they chose to stay.
The entire project has a 10-year timeline, but Frew Development management hopes it can be completed within five years. Mr. Frew has confidence that his new leader will get the job done.
"Lisa is a smart, energetic leader who understands the retail marketplace and the landlord-tenant relationship," he said.
Although she has been in retail management and marketing for about 20 years, Ms. Rowe, 43, didn't start out on that career path.
After graduating from Williamsburg Jr.-Sr. High School in 1988, she studied actuarial science at the University of Iowa, but soon realized she didn't want to be tied to a desk crunching numbers. She started to work retail part-time while attending college and was bitten by the "retail bug."
In 1999, she worked at Old Capitol Mall in Iowa City, where she was in charge of 19 stores of national retailer Garden Botanika. At the time, the retailer was closing its stores and the mall was changing management. She sought a marketing role, but new owner Madison Realty Group needed a property manager for the freshly-named Old Capitol Town Center.
The opportunity to be marketing manager at Lindale Mall in Cedar Rapids came open in 2000. She worked under Macerich Co., until Lindale was bought by Simon Properties in January 2012, when she was named director of marketing and business development.
While she pursued a few career opportunities outside of marketing last year, it wasn't until she met with Frew Development that she felt the most comfortable.
"It's refreshing to work for a small company again," she said.
Frew has a permanent office in Cedar Rapids, where along with the U.S. Cellular Center and Westdale, other projects may be in the works.
Ms. Rowe, who earned senior certified marketing director accreditation from the International Council of Shopping Centers, has lived in Marion for about 10 years, where she serves as a Marion Chamber ambassador. She is also vice president of the Cedar Rapids Economic Alliance, of which she will become president next year.