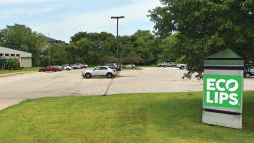 Eco Lips will nearly double its space at its new Cedar Rapids facility, located in the former Hunter Specialties building at 6000 Huntington Ct. NE. CREDIT ECO LIPS
Like most regional centers across North America, Cedar Rapids has seen factories that once turned out farm and construction equipment move to other countries. Could the Corridor's manufacturing future belong to smaller companies competing in niche consumer markets – organic lip balm, maybe?
Steve Shriver thinks so.
"Because we have this manufacturing in our DNA, we know it, and we know how to distribute from this city," said the Eco Lips Inc. co-founder and CEO last week. "I hope people can take niche products and use the infrastructure of our city to launch them out. We were able to do it. I'd love to see more diversification in manufacturing in Cedar Rapids."
In December, Mr. Shriver announced his company would move its offices and manufacturing plant back to Cedar Rapids from Marion, just two years after the company had made the opposite move.
Eco Lips relocated in summer 2018 from the Cherry Building in Cedar Rapids' NewBo District to a 35,000-square-foot building at 1199 44th St. in Marion. The new Cedar Rapids facility will allow the company to double in size, consolidate locations and position for growth.
The latest move came far sooner than expected.
"We're in 36,000 square feet [in Marion] and two years into it, we're busting at the seams," Mr. Shriver said. "We're growing way faster than anticipated."
Eco Lips hit both the CBJ's Fastest Growing Companies list (No. 8) and the Inc. 5000 in 2020, managing to navigate the pandemic and last summer's derecho while "expanding and growing more than 20% year over year."
"It's a strange time to be saying this with everything going on in the world," Mr. Shriver told the CBJ in December, "but looking at next year's distribution and contracts, I'm pretty confident we're going to continue on this growth trajectory."
Eco Lips' move to the 87,000-square-foot former Hunter's Specialties building at 6000 Huntington Ct. NE will cost about $5.6 million — the building's $3.65 million purchase price and another $2 million for remodeling, new equipment and furnishings.
To qualify for $231,480 in tax credits under IEDA's High Quality Jobs Program, Eco Lips will pay its employees at least $23.40 an hour and pay at least 80 percent of their health insurance premium.
"We are talking about high-quality jobs we're creating," IEDA Director Debi Durham said of the program. "The programs are really designed to raise the standard of living for Iowans."
Eco Lips, which currently employs 75 full-time and about 50 part-time employees, will add 13 full-time workers when operations begin at the new plant. Part-timers earn at least $15 hourly. Mr. Shriver expects employment to hit 200 by 2022.
"I consider our production and packaging jobs to be high-quality jobs for the people that are in them," he said. "We're careful about hiring people because we do have above-average benefits and above-average pay, and I don't want to ever lay people off again."
Layoffs haven't happened often in Mr. Shriver's 23 years in the natural and organic skin care business. He and wife, Andrea, launched Eco Lips in 2003, after selling their original Raining Rose brand.  Using only organic, sustainably-produced ingredients has been a hurdle during the COVID-19 pandemic, even as demand continued to grow.
"A lot of the raw materials come in through New Jersey and the East Coast, which was shut down," Mr. Shriver noted. "We had to reassess our entire supply chain and make sure everything that was still in contract was still in process. It was a real challenge, especially in a year when we're still growing."
Initial response to the pandemic cost about a month's production.
"When it hit, the bottom fell out from under us," Mr. Shriver said. "To be proactive and make sure we're doing the right things, we just shut down for a month."
Iowa lost about 11,000 manufacturing jobs in March, about 2,000 of them in Cedar Rapids, according to the federal Bureau of Labor Statistics. By November, the state had recovered all but about 1,000 of those jobs, and Cedar Rapids actually gained about 800 over February.
By comparison, the state lost about half its 142,000 leisure and hospitality jobs in March, and the sector was still off about 35,000 jobs in November.
Total non-farm employment in Iowa dropped by nearly 186,000 from February to April. Just under 78,000 of those jobs were still missing in November, according to BLS.
To cope with the pandemic during a growth period, Eco Lips installed more sanitizing stations, adjusted production practices to allow more distance between employees, "and anybody that can work from home is working from home," Mr. Shriver said.
COVID-19 precautions haven't affected demand for Eco Lips, though. Its products are now carried by 12,000 retailers nationwide, including Wal-Mart. It's also one of the top brands on Amazon.
"We had a month of no revenue, and we were still growing by double digits," Mr. Shriver said.
Production was interrupted another week by the August derecho.
"It provided all an opportunity to deal with our homes and our families," Mr. Shriver said. "It could've been a lot worse."
The year both proved and strengthened Eco Lips' resilience, Mr. Shriver said.
"That helped build confidence," he said. "We've learned over the past six months that taking these precautions actually does make a difference."
Sourcing materials remains a challenge, but that's now mostly due to consumer demand rather than the pandemic.
"There's so much demand for organics, that's where the supply chain issue is now," Mr. Shriver said.
An added complication is retaining third-party certification for Eco Lips' use of organic, sustainable ingredients that aren't tested on animals.
"We have more third-party certifications than any of our competitors," Mr. Shriver said. "These all require audits, internal and external, of our supply chain. We love it and hate it at the same time, all this additional scrutiny of our business, but we can assure our customers."
"Consumers are much more sophisticated about understanding the product they're using," Ms. Durham agreed. "People are willing to pay a premium for those products."
Such consumer niches should be part of Iowa's economic strategy going forward, said Ms. Durham, who expects to deliver a report on Iowa's manufacturing future to state lawmakers in coming weeks.
"Here's where the industry is today, but here's where the industry has to move in order to be competitive on a global scale," is Ms. Durham's description of the report.  "It's a yearlong study looking at the state of manufacturing in Iowa, and more importantly, these smaller manufacturers."
Equipping Iowa companies to build on such natural advantages as its workforce and central location will help generate a sustainable economy, Mr. Shriver said.
"The infrastructure is all here, and I can't imagine this being set up any better anywhere else," he said. "I truly believe we have one of the strongest work ethics in the country in our community. That allows us to be really productive, whether we're running machines or other work. We have this manufacturing work ethic in our town, and we have that farmer work ethic. Add those two together and we're pretty bad-assed."