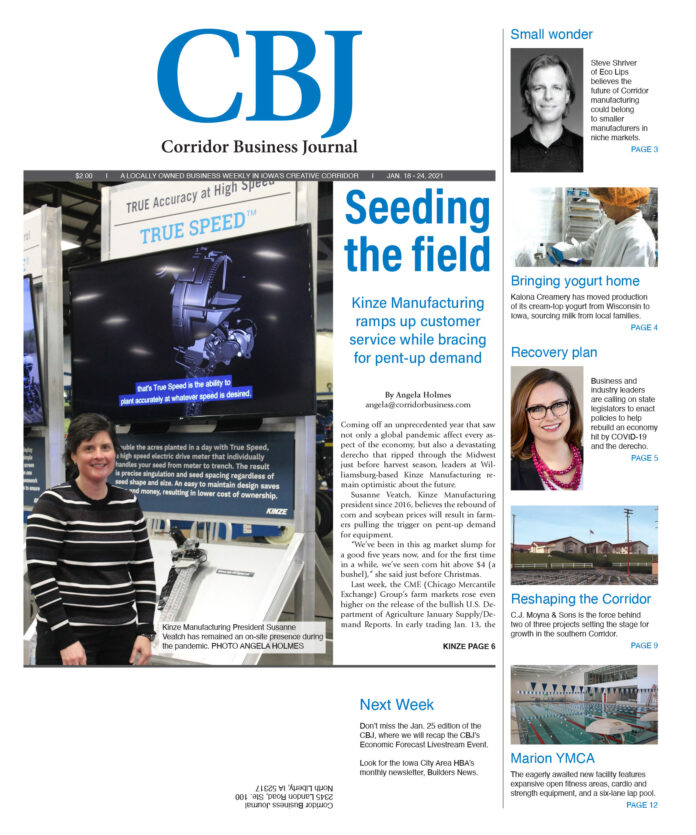 Coming off an unprecedented year that saw not only a global pandemic affect every aspect of the economy, but also a devastating derecho that ripped through the Midwest just before harvest season, leaders at Williamsburg-based Kinze Manufacturing remain optimistic about the future.
Susanne Veatch, Kinze Manufacturing president since 2016, believes the rebound of corn and soybean prices will result in farmers pulling the trigger on pent-up demand for equipment.
"We've been in this ag market slump for a good five years now, and for the first time in a while, we've seen corn hit above $4 (a bushel)," she said just before Christmas.
Last week, the CME (Chicago Mercantile Exchange) Group's farm markets rose even higher on the release of the bullish U.S. Department of Agriculture January Supply/Demand Reports. In early trading Jan. 13, the March corn futures were 16 cents higher at $5.33, with May corn futures at $5.35.
Farmers also received substantial aid last year – more than $46 billion of 2020's farm income in the United States came from direct government payments, including disaster relief and two rounds of coronavirus relief, according to USDA reports.
"So, with those things combined, farmers are saying, 'OK, because of the down ag market, it's been a number of years since I've traded equipment,'" Ms. Veatch said. "A lot of farmers, before the downturn, might have been on a one-, two- or three-year average trade cycle for a new planter. But the downturn made them say, 'I may delay that a year or two, or even three, because we're in this down ag market and financially, it doesn't make sense.' I think what we're really seeing now is there's a lot of that pent-up demand, where farmers are feeling much better about things."
Like her father, Jon Kinzenbaw, who started the company in 1965, Ms. Veatch farms with her husband, Ryan Veatch, an optometrist in North Liberty.
"That's one thing, I think, that makes us different as owners," she said. "My dad's always farmed, and my husband and I do, too. We're using and understanding our equipment, and we have to look at our farming operation…We farm about 500 to 600 acres and it gives us the perspective of understanding what farmers go through."
Lessons learned in the pandemic
Kinze was finishing up planter production for the spring season last March when the pandemic struck, closing businesses and sending employees home to work.
Although Kinze faced some issues due to other businesses shutting down, the plant remained open and finished production.
"We had about a month to go and we actually worked some overtime to pull the schedule forward, just to help ensure that we were able to deliver those final planters," Ms. Veatch said. "And then shortly thereafter is when the governor said that anyone in agriculture was deemed a critical business. We wanted to just make sure we were able to support our dealers and, ultimately, our farmer customers."
While most of the office staff was given the option to work from home, precautionary safety measures were put into place on the factory floor to keep production going because "obviously, you can't build planters remotely," she said.
Workers – especially those on assembly teams – who were unable to social distance were required to wear a face mask or shield, and break areas were reorganized with marked seating to keep employees a safe distance from each other. As the virus numbers increased again in the fall, all employees were required to wear a face covering regardless of their proximity to other workers.
"The HR and safety teams were very vigilant about making sure we stayed up to speed with what we could do from a preventative standpoint, and then helped educate people on what to do to stay healthy," she said.
The leadership team, including Ms. Veatch, continued to come into the office on a regular basis.
"It's important to be here and be visible as an owner and a manager of people and a leader in our company," she said.
As it became apparent that the pandemic would last longer than just a few weeks, company leaders went through every position last spring and developed a leveling system determining each person's need to be on site.
"While we had very minimal work-from-home before, it was a paradigm shift for us, especially being a manufacturer, because traditionally we've had everybody on site," Ms. Veatch said.
For example, level one includes production workers who absolutely had to be at the plant. Level two includes employees who may be able to work from home one day a week, but still have enough to do with manufacturing that they need to be on site the majority of the time. Another level includes those who can work from home two or three times a week. The highest level includes out-of-state sales representatives who support implement dealers.
The forced foray into working remotely has given Kinze's management a better understanding of its workers' needs and may even be beneficial to recruiting. It also has given workers a chance to test the waters of working from home.
"Prior to all this, we had a lot of people saying, 'Oh, we really would love to work from home,' and we only did that here and there depending on the position," Ms. Veatch said. "Then, when we were forced into this, and after people had done it for a couple months, combined with their kids are home from school and they're about ready to go crazy because they're all in the house, and they need to get out. So, it was interesting how that shifted back to, 'Oh, we can come back on site, we would really like to do that.' I think in that sense, it was good for us that we were forced to try that out."
Fortunately, the company had upgraded all of its software programs right before the pandemic started, including enhancing video conferencing and chat tools.
"All those tools that, if we had not upgraded that last fall going into this, it would not have worked and would have been a disaster for us," Ms. Veatch said.
While most of Kinze's approximately 550 employees live within an hour driving distance from Williamsburg, the new option of working remotely may result in a wider talent pool.
"Depending on the position, I think it'd be much easier to say there's someone we can hire who doesn't have to live within an hour because their role lends itself to such that if they can get in here once a week or whatever, they can work remotely," Ms. Veatch said. "So, yeah, that opens up that opportunity for certain positions as well."
Keeping keen on customer focus
When Stanerson Implement in nearby Conroy closed last year due to the owner's retirement, farmers in Iowa, Johnson and Poweshiek counties were left without a Kinze dealer for technical support, in-field service and parts sales.
"As we've seen within agriculture, there's been a lot of consolidation not only of farm operations, but also of dealerships, and there's less and less people out there running dealerships," Ms. Veatch said.  "Farmers like to be within a certain distance of their dealer if they need parts."
This prompted the idea of Blue Equipment LLC, allowing customers in the three counties Stanerson Implement served to buy and receive support directly from the Williamsburg headquarters. Kinze also made two Mach Till High Speed Disks available for rent last fall for farmers who needed to terminate crops damaged by the Aug. 10 derecho storm.
While the plan is still under development, Ms. Veatch said, Blue Equipment is another way for Kinze to serve its customers on a more personal level without infringing on its existing dealers.
"We've got area dealers, too, for a farmer that still wants to go through a dealer in one of the other surrounding counties, but this just gives them another option," she said. "If there's something that they need, and they can get through to their dealer, our dealers are there as a support system, but we won't deny a customer calling in and asking a question."
That attention to customer service is what sets Kinze apart from many of its larger competitors, she added.
"Those are all large corporations, and you wouldn't just pick up the phone and call somebody there," she said. "You'd have to go through a dealer and then the dealer would have to have a way to get ahold of those companies."
Although Kinze has grown over the years, it has a renewed focus on what Ms. Veatch calls customer intimacy.
"We're a fairly large company, as you look at what we do and the products and markets we serve, but we don't want to feel like we're that large company from the sense of responsiveness and relational ability," she said. "Before, we didn't necessarily encourage customers to call in here, and now, we're encouraging them to call us, email us, and we're here to help."