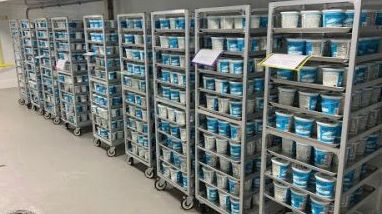 Kalona Creamery has brought its cream-top yogurt in house after previously outsourcing the work to Wisconsin. CREDIT OPEN GATES GROUP 
In a move it says will both stimulate the area farm economy and keep food local, Kalona Creamery has moved production of its cream-top yogurt from Wisconsin to Iowa, sourcing milk from local Amish and Mennonite families.
Located in Kalona, the creamery has expanded its footprint by 1,800 square feet to accommodate yogurt production, which started in December 2020.
The dairy processor had previously worked with a second-party processor in Wisconsin to produce its yogurts. However, that entity elected to discontinue traditionally cultured products last year. Rather than find another processor partner, Kalona Creamery decided to bring yogurt production in-house.
"An important goal for our company is to enhance local food supply systems and boost our local economy," said Bill Evans, CEO of Open Gates Group, the creamery's parent company.
It took approximately three months to complete construction, train the production team and release the first test batches. During that window, Kalona Creamery also earned several certifications: Grade "A" plant license, USDA Organic and kosher.
"This is a huge accomplishment to get everything built out and our production team up to speed in a fairly tight window," said Joe Miller, sales and brand manager. "We are proud to be making plain and vanilla yogurt varieties right here in the Corridor."
One of Kalona Creamery's selling points is that its dairy products are minimally processed. Customers value qualities such as non-homogenized milk, probiotics and simple ingredients, company officials said.
"Conventional yogurt production includes homogenization, cream removal and added stabilizers. We deliberately put our raw milk through fewer stages, mainly pasteurization and chilling," explained Jeffrey Adams, plant manager and COO for Open Gates Group.
The new production area includes two rooms for pasteurization and cup filling as well as yogurt culturing. Milk is first pasteurized and cooled to a specific temperature range for live cultures. It is then hot filled in its milk state into 24-ounce cups. Those are transferred to the culture room and finally into a blast cooler.
"A lot of commercial yogurt is so processed that its flavor has no tieback to actual milk," Mr. Miller explained. "We specifically preserve that taste and create yogurt that is simple but nutritionally dense. That's why we don't kill off live cultures during production. Our customers want products that are as close to raw milk as possible."
The yogurt line is currently producing several hundred cases a week, around 3,000-5,000 units, with the option to increase output. Yogurt joins other dairy offerings such as cheese curds, ice cream, block cheese, hand-rolled butter and organic milk.
Open Gates Group is a family of companies that includes Kalona Farms, Awesome Logistics and Frytown Warehouse and Distribution. Local subcontractors that assisted with the yogurt expansion project include Terra Enterprises, Delmar Yoder & Co. Roofing, Stephen Swaffer Welding and Ross Refrigeration.
"We are pleased to bring our yogurt production to Kalona, and to be able to employ area residents on this project while sourcing milk from Amish and Mennonite family farms," Mr. Evans said.
Kalona Creamery is also building displays to feature educational videos on organic dairy production for local visitors and tourists.