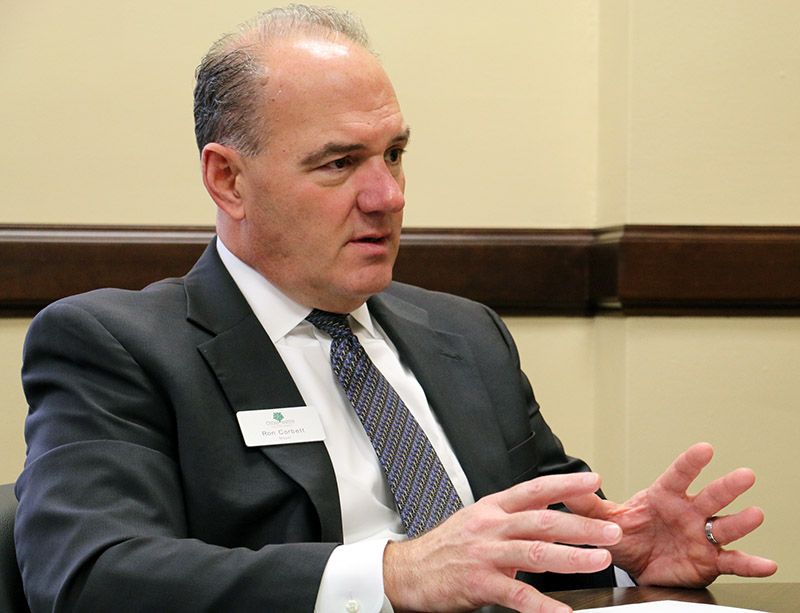 Ron Corbett, shown in his former office at Cedar Rapids City Hall during a December interview. PHOTO ADAM MOORE
By Dave DeWitte
dave@corridorbusiness.com
He was the economic development mayor who used a flood recovery as fuel.
Leaving office at the end of this month to run for governor, Cedar Rapids Mayor Ron Corbett has led an economic renais­sance over the last eight years unequaled in Iowa's second largest city since the days of Don Canney, who served as mayor for 22 years from 1969-1992.
Mr. Corbett simply called his poli­cy "open for business," and it seemed to make things happen. During his eight years as mayor, the city sparked develop­ment in the New Bohemia and Kingston Village districts, a wave of new investment downtown, and redevelopment of the dy­ing Westdale Mall and bankrupt hotel-con­vention center, among a raft of other new commercial and multifamily projects.
The city finally obtained state funding for its Highway 100 extension, which will open thousands of acres for development and give it a new Cedar River bridge that will remain open during record flood levels. It also received a long list of rec­ognitions from various publications and groups, including the prestigious All-America City designation from the Na­tional Civic League in 2014.
"I've always believed in keeping my foot on the gas pedal," Mr. Corbett said, re­flecting in a City Hall office he had already cleaned out for his successor, Brad Hart. "Sometimes, people were saying to tap on the brakes – especially some employers – with the tight labor market we have now."
After eight years in office, however, it's clearer why Mr. Corbett wouldn't take his foot off the gas for even a second.
In 2010, the city was facing a pair of se­rious image problems, he said. Businesses considering whether to relocate or expand into Cedar Rapids were likely to remem­ber images of the flood-ravaged city they had seen just a couple years earlier, when the flood of 2008 inundated the city's core. Closer to home, Mr. Corbett said the city was leaking businesses to suburban communities where they could get proj­ects done more easily.
"Cedar Rapids was starting to get the reputation locally that they weren't friend­ly to business, that it was easier to do busi­ness in Hiawatha or Marion," he recalled.
One of the big steps Mr. Corbett took early in his first term was recruiting veteran City Manager Jeff Pomeranz, known for his success bringing businesses and residential growth to West Des Moines, to lead the city staff. The two leaders quickly became a kind of economic development tag team.
"I really believe that as the mayor lay­ing out the vision or direction of being open for business, and with Jeff Pomer­anz following that up with the implemen­tation side, is really what has changed economic development in Cedar Rapids, and we're seeing that daily in the interest in our city," Mr. Corbett said.
The city soon hired Jasmine Almoayed as its first economic development man­ager, and added a development services manager assigned to tracking the progress of business projects as they made their way through the city review process to make sure they didn't bog down.
One of the strategies the internal eco­nomic development staff brought to the city was a comprehensive annual survey of existing businesses. The survey helps city leaders assess the level of satisfaction among businesses regarding the local business climate, and how the city can better meet their needs.
The need for such a tool became abun­dantly clear to Mr. Corbett during one of the more awkward periods of his first term. In 2010, the web hosting giant GoDaddy, with about 100 IT professionals working in Cedar Rapids, announced plans to open a new customer service operation in Hiawatha, which would also house its IT staff in an existing facility that had once been owned by GoDaddy founder Bob Parsons.
Mr. Corbett didn't want to lose the GoDaddy jobs, even to neighboring Hi­awatha, because he could visualize the high-growth tech company as a center­piece of the city's flood recovery. He per­sonally met with Mr. Parsons, who had operated his first big software company at the 1 Parsons Drive address, and was in­vited to make a proposal.
Cedar Rapids offered GoDaddy a down­town building that had been vacated by MCI for virtually nothing, but the offer prompted friction with Hiawatha leaders, who felt Cedar Rapids was interfering in a deal that was already made. The city's offer was ultimately declined by GoDaddy.
The takeaway for Mr. Corbett was that Cedar Rapids should have known Go­Daddy was considering an expansion and found a way to keep it before it looked at other options.
"A lot of times, a community will focus on the newcomer in the community, rolling out the red carpet, not on the business that's been there all along," Mr. Corbett said. "They are focused on the front door, while businesses are going out the back door."
Mr. Corbett brought to the mayor's office a natural affinity for working with business from his days leading the Cedar Rapids Area Chamber of Commerce and as vice presi­dent of human resources at CRST Interna­tional. He also brought a large and powerful network of friends and business acquain­tances from his days as speaker of the Iowa House of Representatives, who knew his reputation for getting things done.
Yet the intense focus on retaining and nurturing the community's existing busi­nesses was also a way of dealing with chal­lenging times. In the post-recession era of Mr. Corbett's mayoral tenure, most cor­porations were not interested in building new factories or call centers.
"We actually had consolidation," Mr. Corbett said. "During that consolidation period, companies would go from five loca­tions down to two. If all you did was recruit, you were missing the boat."
Harnessing momentum
Giving businesses the confidence to buy and develop on property acquired with federal flood buyout dollars has been key to the city's success attracting investment to downtown, Kingston Village, NewBo and the Czech Village, especially since the city still has not received federal funding to build a flood control system.
Mr. Corbett believes developers were emboldened to take risks by the huge in­vestments the city made on downtown projects like a new central fire station, main library and the DoubleTree by Hil­ton Cedar Rapids Convention Complex.
"Momentum" is a concept that Mr. Cor­bett takes seriously. He said the city's suc­cess in redeveloping the bankrupt Crowne Plaza Hotel gave citizens the confidence to believe that the city should also take a finan­cial role in redeveloping Westdale Mall with the same company, Frew Development.
The recent completion of the Sinclair Levee in NewBo will soon be followed by a flood protection system in Czech Village, Mr. Corbett said. Although it could take decades to complete the whole system un­less the federal government comes through with funding, he said citizens will begin to believe in the system and anticipate each succeeding step in the progress, with de­velopment following not far behind.
The city has also attracted development with a comprehensive package of prop­erty tax breaks for different categories of beneficial projects. Mr. Corbett strongly believes in the merit of the tax breaks us­ing tax increment financing for qualifying projects, indicating they often produce a net tax benefit to the city, despite what the city sacrifices.
Decisions by committee
One of the reasons the city was able to accomplish so much under Mr. Corbett was his strong working majority on the city council, and what he calls "community ownership."
Under his guidance, council members also held leadership positions in a committee system. Important issues facing the council are now deliberated carefully at the committee level, and come to the council with a recommendation backed by council members from those committees. The result has been more mutual respect and less bickering.
"I've worked hard to make sure everybody was a part of the process," Mr. Corbett said. "Does that mean every vote is 9-0? Of course not."
Mr. Corbett also spent a huge amount of time attending community events, and not just the usual ribbon-cuttings. He said time spent on the street and in meeting rooms paid off in community trust, including victories like convincing residents to vote for the local option sales tax that funds the city's multi-year Paving for Progress program.
"People thought, 'Corbett's working hard and he seems sensible – he thinks this might be the best way to fund the streets going forward,'" Mr. Corbett said.
Work undone
As he leaves office, Mr. Corbett can't say he accomplished everything he wanted. The city was rejected twice by the Iowa Racing and Gaming Commission for a casino license that could have meant well over $100 million in downtown investment and hundreds of jobs, while the developer of the One Park Place project that would have brought the city its tallest downtown building at a cost of $103 million couldn't get financing.
Those things don't weigh on Mr. Corbett.
"There will always be things that you give to the next person and they carry it," said Mr. Corbett, who believes the next city council and mayor may have to consider other uses for the prime Kingston Village site it had been holding for the casino. He also voiced hopes the council will continue to keep a strong development focus on downtown during an coming era in which developers will find less-costly development options along the new Highway 100 extension.
One thing the 57-year-old mayor isn't doing is ticking off a list of big accomplishments in which he's had a hand.
"For me, the biggest sense of accomplishment is something intangible – the community pride that's developed in Cedar Rapids," Mr. Corbett said. "You have to remember how desperate the times were in 2008, 2009 and 2010. It was the flood, and then it was the recession. A lot of people probably thought Cedar Rapids' best days were behind her. They weren't sure we would be able to recover, let alone rebuild."
That pride paid off in September 2016, when the city fought back a flood that could have similarly devastated its newly reinvigorated core. A prospective new business Mr. Corbett himself had recruited, Sedgewick Claims Management Services, had come to town just a few days after the flood crest to look at a site. They saw residents pitching in to help clean up and showing a sense of ownership in the city.
"We thought, this is the worst time to show them our community, but it was the best time, because it showed the spirit of Cedar Rapids," Mr. Corbett said. "They located here, and they're in the Smulekoff's building today."