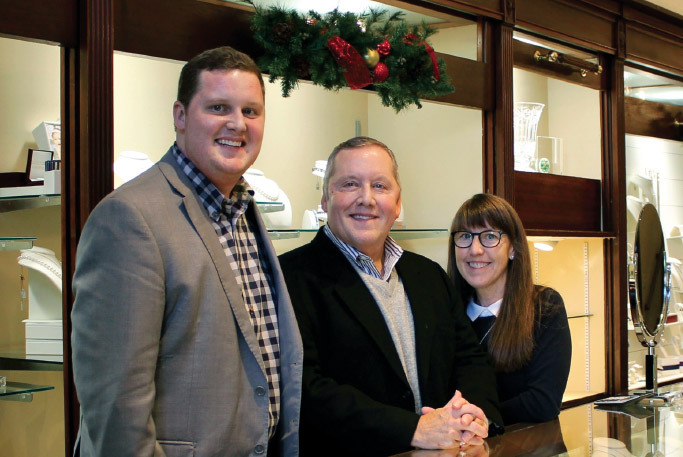 Charlie and Bill Nusser, with Bill Nusser's sister, Anne Rizzo, the store's comptroller, represent the fourth and fifth generations to own and operate 164-year-old Hands Jewelers in Iowa City. PHOTO KATHARINE CARLON
By Katharine Carlon
katharine@corridorbusiness.com
Bill Nusser is a natural raconteur. He tells story after story about the poignant and powerful moments he's shared with customers over more than 40 years behind the counter at Hands Jewelers, and even plans to write a book one day entitled "What a Jeweler Knows about Relationships."
But the story that brings a tear to his eye – one that will almost certainly get a special chapter of its own – was the day his son Charlie announced he wanted back into the 164-year-old family business.
"I'll never forget that day," said Bill, who took over Hands from his father in 1990, bought the building in downtown Iowa City in 1998, and silently hoped – but never vocalized – that one of his children might follow his footsteps, ensuring Hands' survival to a fifth generation. "I'll go to my grave remembering that as one of the best days of my life."
Like his father, Bill Sr., before him, Bill put his son to work as the store's janitor as a teenager, sent him off to college, then waited and watched as he took a job in another field. As a young man, Bill himself briefly took a job at another jewelry store in Michigan. But the tug of Hands soon pulled him home, and it wasn't long before Charlie felt a similar yearning.
"I actually felt like this is always what I wanted to do in a way I could never really rationalize," said Charlie, who came back to the store as a salesperson eight years ago and serves as its general manager today. "A lot of times, you want to do what your dad does, you know, and I looked up to him and my grandfather. My heart always told me that I wanted to be here, that this was what I wanted to do."
Hands, which has operated from the same location at 109 E. Washington St. since 1854, is the rarest of family businesses that has survived past three generations.
Labor statistics show family-owned businesses are a powerful engine of the economy – accounting for 78 percent of all new jobs, 65 percent of total wages and more than half of U.S. GDP – but there is one area in which they tend to fall short: long-term survival.
About 70 percent of family-owned businesses fail or are sold before they even pass to the next generation and only about 10 percent make it to a third generation, according to the Family Firm Institute. Reliable statistics are not even available for fourth-generation businesses, much less fifth.
Bill Nusser said that love, not duty or obligation, is the key to Hands beating the odds.
"This is a magical place with the most incredible customers," he said. "The reasons people come in here are really good reasons. They want to celebrate something or communicate something and it's all about love and relationships. That makes it a pretty special place to be."
Like his father, Bill made a conscious effort never to pressure his sons to take over, rationalizing that he would rather sell the business to someone who was as passionate about it as he was than "strap my child to something he didn't want to do."
That doesn't mean he didn't silently hope one of this children would share his love for the customers, the staff, the study of gemology and the decades of history the store has weathered – from the heyday of the railroads when John Hands first opened the store, to the Depression confronted by his grandfather, Harold "Babe" Hands, to the farm crisis and gold spike of the 1980s he himself steered the store through by doubling down on quality and customer service. The one throughline connecting Hands' history, Bill said, is relationships – with each other, staff, customers and the community.
"I would talk about all the stories that happened here, but never directly about owning it or saying 'someday it will be yours,'" Bill recalled. "I figured if I did, they'd never want to do it. And when Charlie asked to come back, he passionately wanted to, and that's a pretty good foundation because you know he'd thought it through."
Charlie admits that as excited as he was to return, his early days back at Hands were daunting. His experience in the storage industry and at business school had taught him a lot about efficiency and streamlining, but all he really knew about the jewelry business eight years ago was "how to clean the place."
"A lot of people assumed that as the owner's child, I would know what I was doing or know it all, and I really didn't," he said. "That was tough coming into it, because I knew just as much as anybody else you pulled off the street. So I immediately recognized we were fortunate to have a tremendous staff, people who have been with us for many years, and I would work with them continually to learn as much as I possibly could."
Bill brags now about how hard Charlie worked to learn the trade, constantly asking questions of him and other Hands employees – many of whom have been there for more than 20 years and are considered family themselves. He learned all there was to know about the diamond business and slowly made important connections, including the head of rough diamond sales for DeBeers in South Africa.
"He worked his tail off," Bill said, adding that Charlie's evolution was a familiar one. "Both of us are down-the-line generations. I was the fourth and he's the fifth. You have this legacy behind you that's kind of major – the fact that you survive for so long, you think, 'Oh my God, am I going to be the one who screws this up?' Because sooner or later, somebody does. Or somebody in the family doesn't want to do this."
Charlie agreed that taking on the mantle of such a legacy can weigh heavily at times. "But it's something I feel very honored and lucky to do," he said. "I tell my fiancé [who also works in the store, as does Bill's sister, Anne Rizzo, the store comptroller], 'I certainly hope I'm not the one to mess this up, but if I do, I can promise you we'll go down providing the absolute best service.' And I can live with that as long as our customers are taken care of."
Charlie said he planned to "build on the pillars" of his ancestors as he continues the store's tradition, adding he plans to follow his father's example in not pressuring any future children to take over.
"But I do have great visions of someday having my kid on my arm at the counter, of having my dog here, of having a daycare, just making this a family place," he said, gesturing to Hands employees working behind the counter. "At the end of the day, though, this store is every single one of these people, I just happen to have the last name."