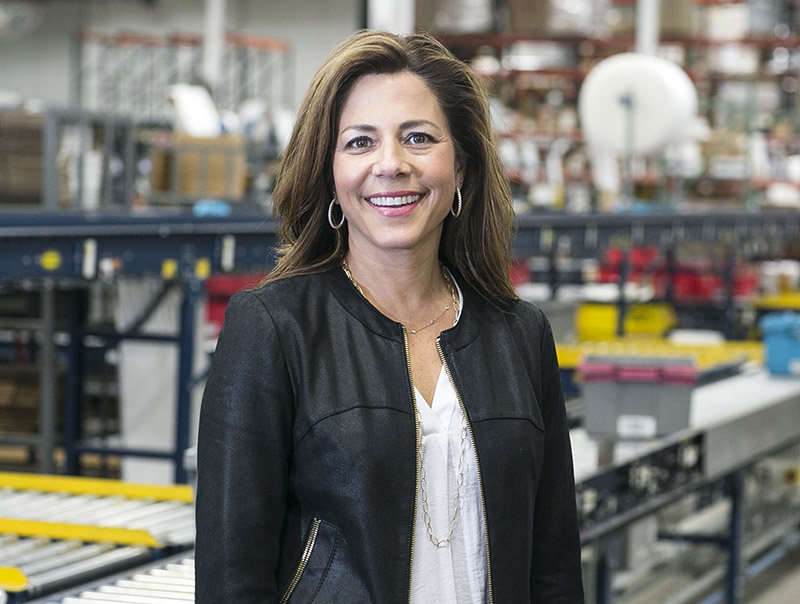 Lura McBride poses for a photo inside Van Meter's wire center in southwest
Cedar Rapids on a recent morning. PHOTO SHUVA RAHIM
By Christine Hawes
news@corridorbusiness.com
Lura McBride, Van Meter Inc.'s chief executive and the Corridor's Most Influential Person for 2017, is overflowing with "lessons learned." One in particular stands out.
It's her account of a life-changing moment years ago with her then-three-year-old daughter, while Ms. McBride was leading an operations team in Chicago for global consultancy Accenture.
"She asked me to tuck her in, and she said, 'You can bring your computer,'" Ms. McBride recalled. "And … I did."
That moment led to a personal "what am I doing?" epiphany. Stunned at how out of balance her life had become, she immediately arranged a three-month sabbatical from her job. Within a year, she had accepted heavy recruitment to join Van Meter's executive team as vice president of organizational effectiveness, starting a steady rise that peaked last year, when she was named president and CEO.
Ms. McBride's awareness of family/work balance remains steadfast, shaping the corporate culture of the Corridor's second-largest privately held company through innovative ideas like the "5-7 Challenge" that says "no" to after-hours emails or work-related phone calls, a generous parental leave program that includes fathers, and employee sabbaticals.
Her commitment to balance also shapes Ms. McBride's understanding and embrace of today's increasingly millennial workforce.
"We've all been spending years talking about, 'How do we have purpose in life?' and pursuing that work/life balance," Ms. McBride said. "Well, the millennials get that. They crave purpose and they have work/life balance. They get critiqued for that, yet that's what other generations have been struggling with and seeking forever."
Ms. McBride's latest recognition as the Corridor's Most Influential Person follows earlier recognitions from the CBJ as one of Forty Under 40 professionals to watch (2006) and as a Woman of Influence (2016). She last year made her first appearance on the CBJ's Most Influential list at No. 20.
Her volunteer work spans her kids' schools, Tanager Place, the Corridor Women Connect business networking group, the Invest in She entrepreneurial program and the National Council on Youth Leadership.
Her colleagues and friends praise Ms. McBride's ability to generate change and inspire others. IWLC CEO Tiffany O'Donnell, a friend of Ms. McBride's for 15 years, calls her "an incredible mix of leader, teacher and teammate."
"I truly am not sure which one of those she would pick as her favorite – she excels at all of them." said Ms. O'Donnell, who worked with Ms. McBride on Erskine Elementary's Parent-Teacher Association. Narrowing in on Ms. McBride's leadership abilities, Ms. O'Donnell described her as "decisive, thoughtful and deliberate."
Her predecessor at Van Meter, Kevin Powell, describes Ms. McBride as a "fixer," able to quickly identify and enact needed changes.
Raised in Cedar Rapids along with three brothers to "be independent, create your own success and not depend on anyone," Ms. McBride earned a bachelor's degree in business administration from the University of Iowa. She went on to earn an MBA from the Kellogg Graduate School of Business Management at Northwestern University before starting her career as a business consultant.
Ms. McBride views her move to Van Meter as the start of several key evolutions in her approach to family, business, success and leadership.
She became newly committed to carving out time for her family regardless of work demands, and to "shutting off the business mind" when needed. She learned early on from mentor and former Van Meter CEO Barry Boyer about not only the value of balance, but also the source of true influence: empowering others and valuing their input.
"My leadership style is very much about empowering, motivating and lifting others up, versus maybe the old carrot-and-stick model of leadership," she reflected. "I build my influence through deep relationships and shared understandings with others. "
Her form of leadership coincides with another transition Ms. McBride remembers early in her career with Van Meter: the move from "me" to "we" and lifelong learning.
"During younger leadership years, there are times when you feel you need to know it all to prove yourself," she recalled. "But once you recognize the real impact and influence you can have by empowering others and letting the light shine on others … it becomes an exponential effect."
"I've learned that the very best people that are leaders, or who exert influence, are people who are not only really working hard, but also continuing their journey of growing and developing and learning more."
McBride's four principles for leadership
For up-and-coming executives looking to Lura McBride for advice, she has four gems to offer:
Don't be afraid to be vulnerable, and in particular to admit when mistakes are made. Transparency in communication is key.
Listen more than you talk.
Wait to offer up the answer right away because sometimes the other person will figure it out on their own. "I used to have this desire to do urgent follow-up and be super-responsive. But then I realized, sometimes, people will figure it out on their own. And when they do, they will grow in their own confidence, and their own understanding."
Ask more questions than you give answers for. "If I'm doing that, I'm bringing out others' opinions in a way that isn't jaded by my own opinion. You want to use your own influence strategically, and you don't ever want to influence someone in a way that takes away their own opinion."