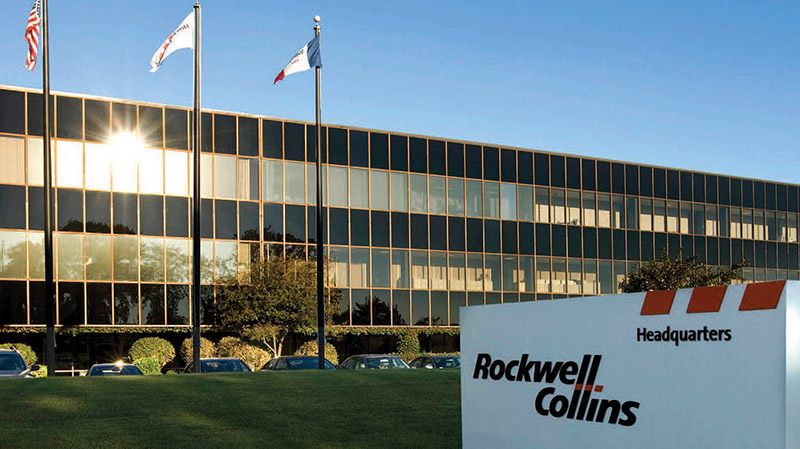 Rockwell Collins' headquarters in Cedar Rapids, shown in an undated photo. CREDIT ROCKWELL
By Dave DeWitte
dave@corridorbusiness.com
Rockwell Collins' board of directors nixed a joint venture with United Tech­nologies Corp., hashed over the increas­ingly challenging industry climate and even approached two other potential buyers before agreeing to be acquired for about $30 billion, according to doc­uments released last month.
United Technologies Corp. (UTC) is on track to acquire Rockwell Collins in the third quarter of fiscal 2018 and plans to create a new Collins Aerospace Systems unit with its Aerospace Systems business­es, including components suppliers Goodrich and Hamilton Sundstrand.
The acquisition provided some good talking points for UTC executives as they released third-quarter results on Oct. 24.
"[Rockwell] Collins is the ideal comple­ment to our Aerospace Systems business," Chairman, CEO and President Gregory Hayes told analysts on a conference call. "We've been very impressed with the team at Collins and we look forward to bringing together two world-class organizations. We're also confident that the combination of Aerospace Systems and Collins will cre­ate significant value for our customers as we develop aircraft systems that are more electric, more intelligent, more integrated and more connected."
Mr. Hayes said UTC is also confident that the deal will boost its earnings in 2019, assuming it closes by the middle of 2018, and create long-term value for shareholders.
The results came out not long after the release of a shelf registration statement fil­ing for the merger, which included details of how the merger came to fruition.
The documents show UTC was actu­ally the second aerospace company to approach Rockwell Collins about a pos­sible merger. An aerospace company de­scribed in filings only as Company A met with Rockwell Chairman, President and CEO Kelly Ortberg in August 2016, shar­ing some of its strategic plans and stating that it could be interested in acquiring the company. Rockwell's board, however, was focused on an acquisition of aircraft in­terior systems maker B/E Aerospace and sent the message that they weren't inter­ested at that time.
UTC's Mr. Hayes contacted the compa­ny in April to request a meeting on "po­tential business collaboration opportuni­ties," and on May 2 outlined a "strategic partnership involving a change of control of Rockwell Collins."
UTC, the 50th largest company on the Fortune 500, has been urged to spin off its aerospace businesses into a separate com­pany to increase shareholder value, but Mr. Hayes had previously indicated he did not feel they were large enough to create an independent company.
Analysts on last month's UTC earnings call wanted to know exactly what Mr. Hayes proposed originally, with one asking if it implied a "quasi-breakup" of the conglom­erate's portfolio of companies.
Mr. Hayes responded that it "was really a way to try to unlock the value of a combina­tion of Rockwell and our Aerospace Systems business in the most … shareowner-friendly basis that we could come up with."
The deal would have created a joint venture between UTC's Aerospace Sys­tems business and Rockwell Collins, led by Mr. Ortberg, with UTC having about two-thirds of the ownership and Rockwell one-third. Mr. Hayes said it was a "very tax efficient way to do this, and you get all the benefits of the synergies."
The structure would have been "pretty simple," Mr. Hayes said, with Rockwell shares continuing to trade publicly as a proxy for one-third of the value of the JV.
Rockwell consulted with two outside advisors before responding to UTC with concerns about "governance and value."
"I know Kelly and his board had spent some time going through this – they really had some concerns about how the gover­nance might work with Rockwell Collins owning only one-third of the joint ven­ture," Mr. Hayes said. "And so they came back to us … and they suggested that we make an offer for the whole company, which we ultimately did."
The deal played out over five months, with Rockwell Collins rejecting early of­fers of $130 and $135 per share, paid 50-50 in stock and cash, before ultimate­ly accepting the offer of $140 per share, payable 40 percent in UTC stock and 60 percent in cash.
Advisors told Rockwell Collins' board that only two other companies would likely have sufficient means and interest to acquire Rockwell for more than the $140 offer. They were Company A and a second unnamed aerospace firm, Com­pany B. Mr. Ortberg recontacted Compa­ny A to see if it would be making an offer, but it ultimately said no. Company B also declined, clearing a path for the acquisi­tion by UTC.
Discussions by the Rockwell's board also included how the company's five-year strategic plan might hold up under growing pressure from customers to low­er prices and the plans of large aircraft manufacturers to make more of their own components. The main discussions, how­ever, appeared to center around how to maximize value for shareholders in the context of being acquired.
After UTC touted its Rockwell Col­lins acquisition on Oct. 24, it was Rock­well's turn during its Oct. 27 earnings release to tout results from its $8.6 bil­lion acquisition of B/E Aerospace, which closed April 13.
"Our fourth quarter results capped off a strong year of financial performance," Mr. Ortberg said in a press release. "We met or exceeded the ranges we established at the beginning of the year for sales and op­erating margins, and our cash flow results were particularly strong. In addition, I'm pleased with the performance of our new Interior Systems business as we achieved all of our integration and financial goals for the year."
B/E Aerospace's sales for the quarter were down 3 percent from a year-earlier on a pro-forma basis to $711 million due to lower sales of super first class and retrofit seating. However sales for the six months ended Sept. 30 were up 3 percent.
CLARIFICATION: Nov. 15, 2017
A reference to UTC's Pratt & Whitney division being included in the planned Collins Aerospace System unit was removed from this story. UTC officials clarified that Pratt & Whitney is not currently envisioned to be part of that business unit.
CBJ Senior Business Reporter Dave DeWitte has previously performed contractual services for Rockwell Collins.