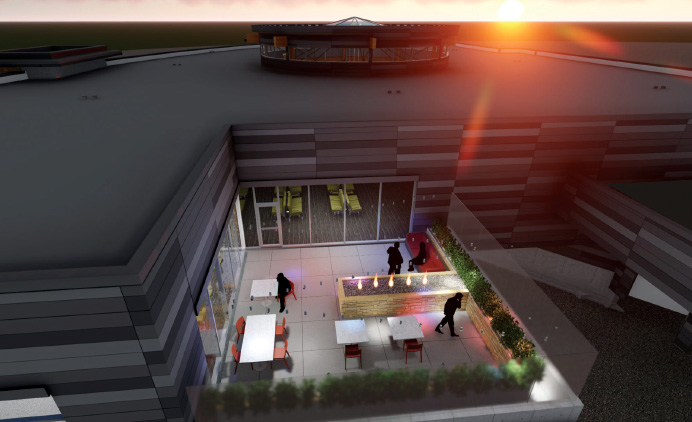 A rendering of a new rooftop patio planned at The Eastern Iowa Airport as part of its ongoing renovation project. IMAGE EASTERN IOWA AIRPORT
By Adam Moore
adam@corridorbusiness.com
A new pledge campaign created by The Eastern Iowa Airport aims to harness the Corridor's community spirit in the name of improving air service.
Introduced in October, the Fly Local pledge asks local companies to commit to using The Eastern Iowa Airport (CID) if it offers a flight within four hours and $300 of the lowest-priced ticket at competing airports, such as those in Des Moines, Moline (MLI) or Chicago. It also asks companies to require their vendors and suppliers flying into Eastern Iowa to fly CID exclusively.
Airport Director Marty Lenss, speaking last week to Cedar Rapids' Downtown Rotary club, described the time and dollar amounts as "guideposts" that can be adjusted to suit specific companies, but said that the most important thing is that they sign on.
"We don't care if it's a business of one or 9,000 – we want your support," Mr. Lenss said. "It helps us carry that message when we talk to Delta, when we talk to United or American. We can say, these are the companies that have taken a local pledge to fly CID."
The Fly Local pledge is more than just a feel-good document, however; it's a "strategic approach to stabilizing our business" as regional airports fight to survive, Mr. Lenss told the CBJ.
The nation's four biggest carriers – Delta, United, American and Southwest – now dominate the domestic market, controlling about 82 percent of U.S. capacity, according to Mr. Lenss. Meanwhile, a chronic and worsening pilot shortage is making it more expensive for airlines to provide regional jet service, leading the "Big Four" to focus on the largest air hubs while dropping marginal routes.
About 37 airports in the U.S. lost commercial service between the middle of 2013 and 2016, according to an analysis by trade magazine Travel Weekly. The exits have mostly been in small markets like Hot Springs, Arkansas (population 38,867) and Huron, South Dakota (pop. 13,117), but the pressure is also increasing on regional airports to grow their passenger numbers and show enough community buy-in to retain routes – let alone attract new ones.
"The 50-seat regional jet is ultimately going to be parked, and that has made up the backbone of smaller market air service," Mr. Lenss said. "If your community can't fill 70 seats or more, you're going to lose air service soon."
"We need your help to make sure we're filling those seats so we can retain that," he added.
CID, one of the state's main airports, has less to worry about than smaller facilities, but officials aren't letting up on the throttle. The airport added its 14th non-stop route to Charlotte on American Airlines in 2016, and that fall began offer­ing mainline service to Atlanta through Delta, upgrading from a regional jet to a two-class 717 with 110 seats. It closed out 2016 with its third-highest passenger mark in history, boarding more than 1.08 million people.
The airport will add direct service to Orlando through Frontier Airlines next month.
Leakage, or the measure of people from CID's natural market to other airports, has decreased from 32 percent in 2012 to 14 percent this year, while capacity has grown 17 percent over the same period. Much of the improvement in CID's leakage rate oc­curred after the departure of budget car­rier AirTran from MLI in 2012, Mr. Lenss acknowledged, but it has also come from fewer Corridor travelers heading to Des Moines and Chicago. Passenger numbers are up 6 percent so far this year, according to the airport's official numbers.
The hope now is that CID can use its momentum and regional clout to increase flight frequencies, and even add new non-stop routes to destinations like New York. Mr. Lenss said that will take a lot of time and money, noting that "Charlotte was a five-year conversation with United," but he sees it as more possible if CID receives strong local support.
"It's very important to us, because when we go visit with Delta, we can say, 'We're up to 50 fly locals, and here's who they are', how many employees and what kind of travel spending they have. That matters because now it's real," he said. "If [Delta] is going to take service out of Market A and put in it your market, that's reassurance that you're going to use it."
Eight companies had signed the Fly Local pledge as of last week, and airport officials are gearing up for "door-to-door" company visits to pitch it further. Mr. Lenss said the airport hopes to have some­where between 90-100 Corridor compa­nies on board a year from now.
That pledge is now available by con­tacting the The Eastern Iowa Airport.
Renovations update
The Fly Local pledge isn't the only way The Eastern Iowa Airport hopes to attract more passengers in the coming years. Mr. Lenss also updated Rotary members on the facility's ongoing renovations.
The airport is currently in Phase 3 of 4, with plans to wrap up that portion of the project by the spring of 2019. The 54,000-square-foot expansion phase is focused around the addition of a second floor to the terminal's B concourse, which will include two new jet bridges, a "full-blown restaurant" and the addition of a new location of the Java House, a popular Iowa City coffee chain.
Phase 3 will also feature a number of touches designed to put passengers at ease, including an "art lounge," a "liv­ing wall" filled with plants and a roof­top patio with a bonfire pit post-security, making it one of the first airports in the nation to include such an amenity, ac­cording to Mr. Lenss.
"We want to showcase why we live, work and play in Eastern Iowa," he said.
Design work for Phase 4, which is ex­pected to include wider gates and new jet bridges needed to accommodate larg­er planes, could begin as early as next summer.