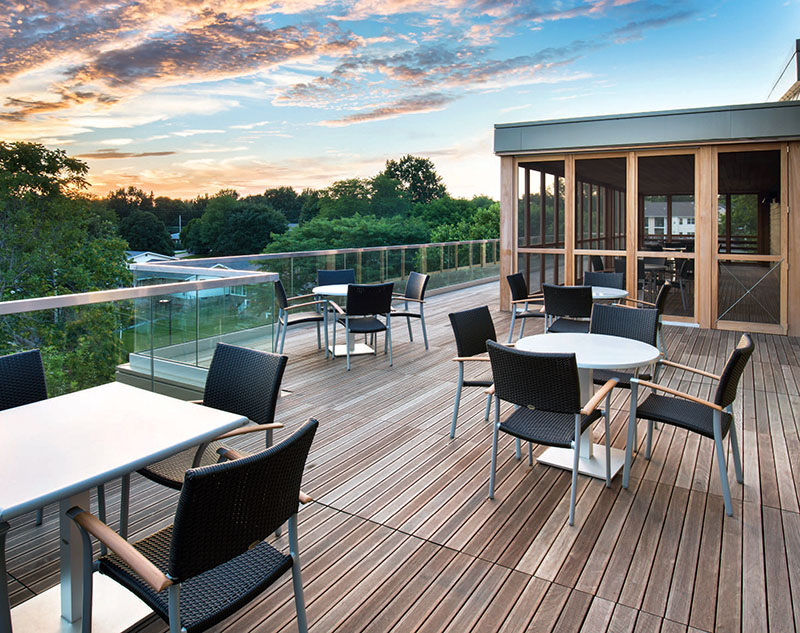 Options and amenities abound as the senior living market heats up. Above, the Spring Street Addition at Oaknoll Retirement Residence in Iowa City, shown in 2015. CREDIT Oaknoll
By Dave DeWitte
dave@corridorbusiness.com
Ed. note: This is part two of the CBJ's series on senior living in the Corridor. Find the first installment at bit.ly/CBJSenior.
As the retirement of the baby boom generation stirs a huge wave of new senior living developments across the Corridor, retirees are finding choices their parents could never have imagined.
Senior living has become a highly seg­mented and competitive field, enticing potential residents with everything from affordable apartments with few services to resort-style living in a continuing care community. Driving most of the designs are strategies to improve the well-being of seniors, improving their quality of life while also prolonging their lifespans.
Examples abound. The Gardens, a $16 million continuing care retirement com­munity completed this summer in south­west Cedar Rapids, has all-private rooms, voice-activated Alexa systems and smart TVs that allow residents to Skype with fam­ily and peers in other senior living facilities.
A major part of the invest­ment in The Views Senior Living of Marion, a $27.6-million continuum of care community under development by The Views Holdings LLC, is directed at compliance with the WELL Building standards, a human wellness equivalent to the LEED green building standards.
The standards were introduced in the fall of 2014 and set benchmarks in seven areas related to human health: Air, light, water, nourishment, fitness, comfort and mind.
"It prolongs life, with things like better nutrition," said The Views President John Baumhoefner.
Two Corridor projects under devel­opment by Ryan Companies and Grand Living – Grand Living at Bridgeview in Coralville and Grand Living at Indian Creek in Cedar Rapids – take cues from the world of luxury hotel chains and re­sorts. They offer amenities like a health spa, pool, woodworking shop, library, performance theater and pet spa.
Dan Peterka, CEO of Minneapolis-based Grand Living, said staff training programs were developed based on best practices in the hospitality industry to maximize resi­dent satisfaction and reduce turnover. He describes the developments as an "upscale, resort-style hospitality-based community… warm and engaging, and alive with person­ality." He said the projects are the culmina­tion of Grand Living's study and feedback from past developments.
"If you don't constantly evolve the con­cepts and products and services, you're just going to become outdated and obso­lete," Mr. Peterka added. "Each one we're developing, we're evolving a little bit, and each one has a distinctive look."
While there are a host of amenities available, sometimes it's the simple things like private rooms and great food that are most important to residents, according to Angie McClure of DiversaCare, a commu­nity relations consultant helping to mar­ket new facilities to seniors.
"I've been doing this for 15 years, and when people call, the most common question they ask is, 'are the rooms private?'" she said. "It's more restful. It really comes down to giving people what they want."
Busting stereotypes
The 18 or more ongoing or planned senior living projects in the Corridor will bring a total investment of nearly a quarter-billion dollars and include multiple housing types. One thing they all have in common is a defiance of the old stereotype associated with nursing homes, which included shared rooms and large communal dining areas.
"They [seniors] don't like to be associated with a nursing home," Ms. McClure said. "The idea of having their own [assisted living] side of the campus is fulfilling to them. But it's a huge peace of mind and convenience to them to be able to walk down the hall and get nursing care – especially for couples."
The current generation of continuing care communities incorporate skilled nursing, but in a way that offers a more home-like feel, with private living quarters and even private space for family socializing that residents enjoyed at home.
Mr. Baumhoefner said The Views Senior Living of Marion will offer skilled nursing care in a "pod design," with each pod containing rooms and dining for 15-20 residents. He said the configuration is easier to staff and makes it easier to provide medical treatment.
Apartment design is a critical element of independent living and assisted living facilities that can affect the marketability of their spaces. One- and two-bedroom units still dominate the senior living market, however some new units arriving at Cedar Rapids' Meth-Wick Community – one of the state's pioneering care communities – will be in three-bedroom configurations that may be as large as the homes their residents left behind.
"We have seen a desire for square footage, and some of it comes from people who just don't want to downsize," said Robin Mixdorf, CEO of Meth-Wick Community.
"Of all the places you visit, every apartment is different," said Sandy Suchomel, a 74-year-old former U.S. Postal Service manager who was visiting a new continuing care community recently in Cedar Rapids.
Because the spaces tend to be much smaller than the homes their residents moved out of, the way the space flows, feels and provides utility is of critical importance. Ms. Suchomel is impressed by how many of the apartment designs combine an open feel with efficient use of space. She is less impressed by the accessibility of some of the apartments she's seen, knowing many of her friends have mobility limitations.
"Some are on multiple floors," she said. "Some have elevators, but they are a long way from the rooms – it just depends on what level of need you are."
Advancing care
As Americans live longer, many are living longer with forms of dementia, making memory care units an important part of continuing care community designs. New communities incorporate security elements to reduce the dangers of residents wandering away, as well as design elements that serve as memory cues to help residents navigate the building.
The new Views facility in Marion will incorporate programming for memory- impaired residents, and echo design features used at MeadowView Memory Care Village in Cedar Rapids.
Ms. McClure said the programming slows the deterioration of memory faculties by keeping seniors mentally active, and the building designs help memory- impaired residents avoid disorientation. They include color-coded hallways, color-coded apartment doors and keepsake boxes with family photos mounted to door openings that can help residents more easily identify their room.
MeadowView also helps memory-impaired residents with design features like facades on shared service areas that remind them of the functions they serve. The mail room looks like a post office, for instance, while a meeting room is shaped like a church.
Encouraging physical activity is another key feature of senior living design, enabled by exercise rooms, outdoor walking paths and even indoor hallway configurations designed to encourage year-around walking on a single level.
Occupational therapy services are offered at The Gardens, and will be available at some of the other new facilities through Des Moines-based Millennium Therapy.
Millennium has about 12 contracts in the Cedar Rapids area, but offering therapy in new facilities like The Gardens has advantages, according to Therapy Manager Patsy Halleran.
"A lot of the facilities were built a long time ago," she said. "When you start from scratch, you can design it [the therapy area] the way it should be. "You have more space for equipment and more natural sunlight."
Transportation and dining amenities have also become a competitive factor for continuing care communities as the market heats up.
"Most communities have one dining concept and you eat there three meals a day," said Mr. Peterka, of Grand Living. "We provide five different areas to dine."
Oaknoll Retirement Residence in Iowa City designed its recent Spring Street Addition to add Mixers on Fifth and Third on Third Bistro to its more traditional Hope Dining Room and Cafe and Oak Room restaurant-style dining. Mixers is a pub with a pool table, widescreen TVs and a baby grand piano where residents often entertain. Third on Third Bistro is a deli- style restaurant with a rotating menu of soups, sandwiches and salads.
The many choices enable residents, who don't go out for dinner as much as they did earlier in life, to look forward a continual variety of choices inside the community, according to Kim Haring, Oaknoll's marketing director.
Changing paradigms
One reason all those choices and activities are so important is that residents are coming earlier to senior living communities and are expected to live longer.
"The baby boomer market is just so big right now, and they're constantly looking for a newer style of living than just rentals and condos," said Nick Crall of Ewing Development, which dedicated one of the area's first co-op housing developments for seniors last week in Coralville.
Unlike the continuing care communities that provide a lot of assistance, co-op living provides the financial benefits of home ownership, combined with the community lifestyle of living in a development designed for and managed by seniors.
"It's almost like the younger active senior, they're looking for that community lifestyle and that active lifestyle," Mr. Crall said. He said Vintage Living helps them keep an active lifestyle by taking care of the headaches such as lawn care, maintenance and snow removal, and providing amenities such as a library, fitness centers and garden plots.
Staying together is often part of the equation for couples who are retired.
"They are making the decision to move while they are healthy and engaged, and they can make that decision together," said Ms. Mixdorf, of Meth-Wick Community. "They say to us, "Why didn't we do this sooner?"