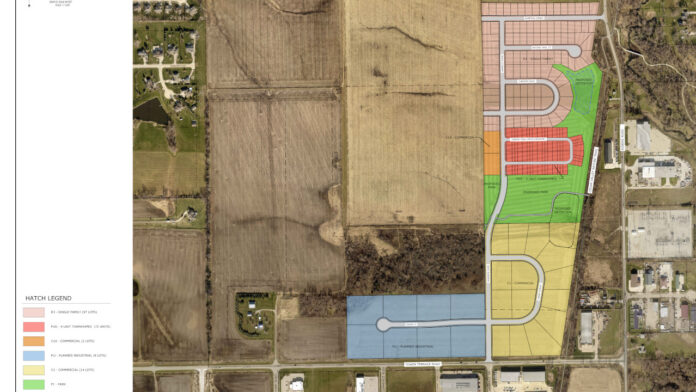 More than a year in the making, construction of the expansive Robins Landing mixed-use development on the south side of Robins is now ready to begin.
The Robins City Council gave its final approval to a rezoning request for the first phase of the 400-acre development June 20, including changing the site's Future Land Use Map.
Work for the first phase of the Robins Landing construction project, with an anticipated initial investment of $85 million, is expected to begin this summer, according to developer Jon Dusek of Hamilton Development Company.
Robins Landing is being designed as a "live-work-play" development, including residential, commercial, residential and recreational components, and will be located northwest of the intersection of Tower Terrace Road and Robins Road.
Initial plans call for the development of a variety of housing options, including moderately-priced, single-family housing and townhomes, both of which have been identified as areas of housing need in Robins, a rapidly-growing community just north of Cedar Rapids. Future development is expected to include a variety of both single-family homes and duplex/townhome/patio home neighborhoods, developers say, appealing to residents in various age groups.
Also included will be a retail//commercial area along Tower Terrace Road, providing businesses an opportunity to take advantage of traffic along the nearby Cedar Valley Nature Trail. It will also offer convenient access from Interstate 380 when the Tower Terrace Road extension and the I-380 interchange, both currently under development, are completed.
Developers say potential businesses for Robins Landing include bars and restaurants, ice cream shops, coffee shops, bicycle shops and smaller retailers.
A 10-acre park bordering the Cedar Valley Nature Trail is also included in the Robins Landing plans, along with a trail connection to South Troy Park, which features baseball fields and volleyball courts. Future park and trail improvements are also being discussed for the Robins Landing area, including a family trail, developers say.
Robins city officials say the city's low property tax levels – nearly half the rates of other communities in the Cedar Rapids metropolitan area – will make the area appealing for residential and commercial development, while maintaining the city's hometown feel.
And businesses will want to locate in Robins Landing, they added, because of convenient access for both customers and employees, citing the I-380 corridor from Waterloo/Cedar Falls through the Cedar Rapids metro area to Iowa City/Coralville that provides access to over 620,000 residents and a workforce of 325,000 potential employees.
Greg Neumeyer, economic development director of the Robins Economic Development Initiative, discussed the city's development efforts in an April 2022 presentation to the Downtown Rotary Club, and noted Robins Landing is part of an ongoing development effort that began with a task force organized by Robins city leaders and launched in late 2019 to broaden the city's tax base and move the city beyond its reputation as a "bedroom community" for the metro area.
At that meeting, Mr. Neumeyer said Robins Landing construction is expected to help lead a progressive future for the city.
"One of the things we've talked about is that we don't have a lot of housing for younger families," he said in April. "Another demographic we've missed out on is people that live in Robins and want to downsize. We just haven't had those kinds of units. So if we can create some units for people who already live in Robins to downsize, then we can have new families moving into the existing houses. It should really create some growth for Robins. It's an exciting time. You'll see more coming up."