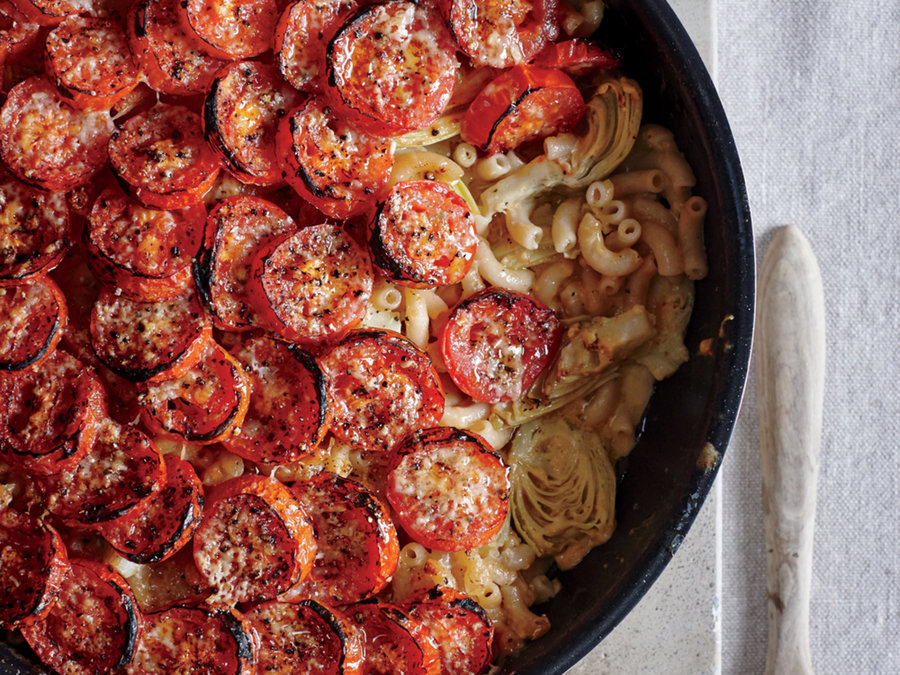 Make this dish gluten-free by using the brown rice elbow pasta and brown rice flour options listed in the ingredients.
INGREDIENTS
Cooking spray
5 plum tomatoes, cut into 1/2-inch-thick slices (about 16 slices)
2 tablespoons brown rice flour or all-purpose flour
2 tablespoons butter, softened
4 cups unsalted chicken stock
3 cups 1% low-fat milk, divided
3/4 teaspoon salt
3/4 teaspoon Dijon mustard
18 ounces brown rice elbows (such as Tinkyáda) or whole-grain pasta shells
4 1/2 ounces (1/2 package) frozen artichoke hearts, thawed and halved
6 ounces reduced-fat sharp cheddar cheese, shredded (about 1 1/2 cups)
3 ounces fontina cheese, shredded (about 3/4 cup)
2.5 ounces Parmesan cheese, grated and divided (about 10 tablespoons)
1/2 teaspoon freshly ground black pepper
PREPARATION
Remove top oven rack, and cover with foil; lightly coat with cooking spray. Preheat broiler to high.
Arrange tomato slices on prepared rack; lightly coat with cooking spray. Broil 8 to 10 minutes or until tomatoes are lightly browned. Transfer tomatoes to a plate; set aside.
Combine flour and butter in a bowl until a paste forms.
Place a large high-sided sauté pan over medium-high heat. Add stock, 2 cups milk, salt, and mustard, stirring with a whisk. Add pasta to pan; bring to a boil. Cook 12 minutes or until pasta is done, stirring frequently. Stir in remaining 1 cup milk and artichokes; cook 2 minutes. Add butter-flour paste, in pieces, stirring constantly to blend and thicken. Remove from heat; stir in cheddar, fontina, 6 tablespoons Parmesan, and pepper.
Arrange broiled tomato slices on top of pasta. Sprinkle with remaining 4 tablespoons Parmesan. Broil 2 minutes or until cheese begins to brown.
NUTRITION FACTS PER SERVING (1 cup)
Calories 299; fat 11.3 g; sat. fat 6 g; mono. fat 2.5 g; poly. fat 0.4 g; protein 15 g; carbohydrate 37 g; fiber 4 g; cholesterol 29 mg; iron 1 mg; sodium 489 mg; calcium 330 mg; sugars 5 g