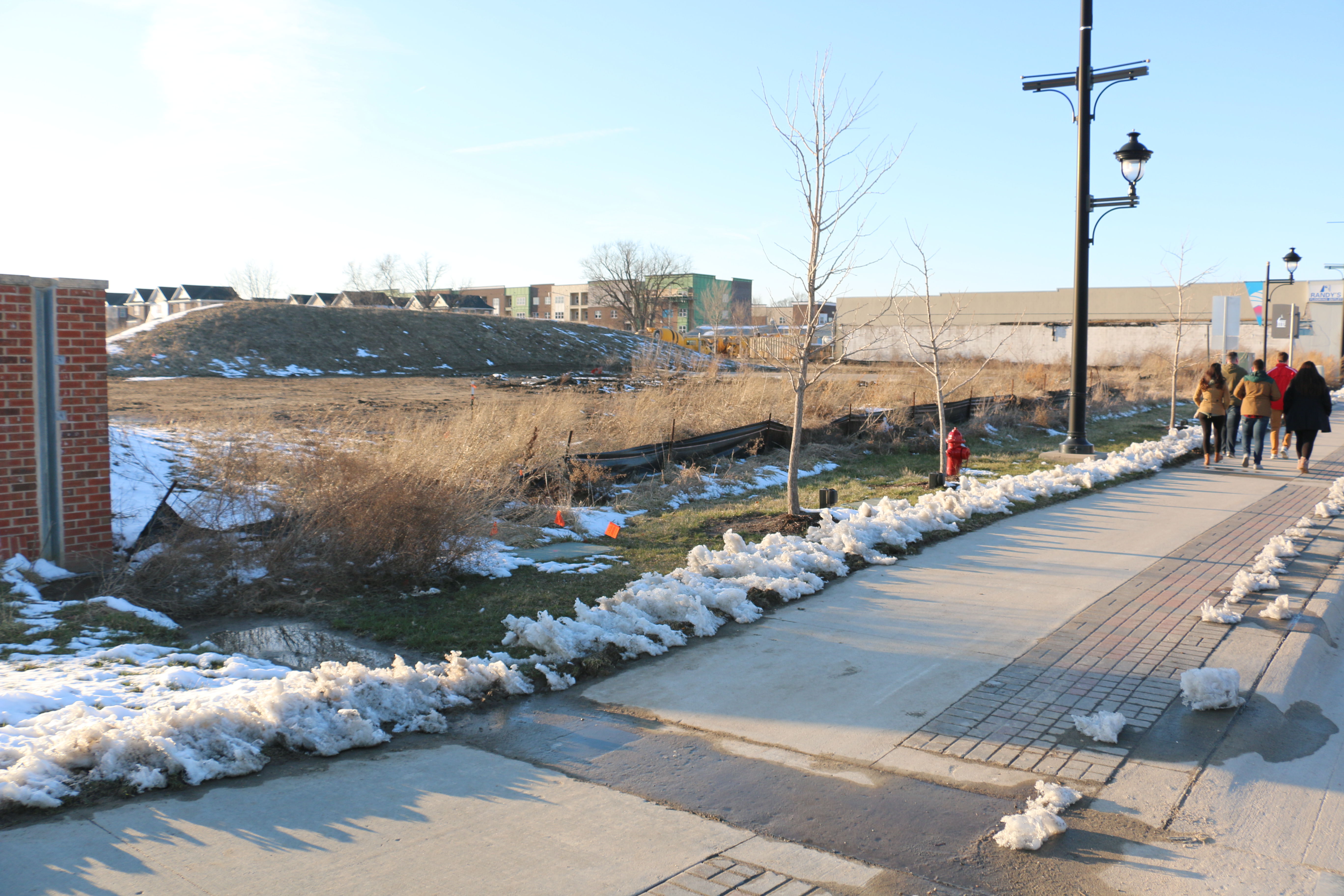 The former site of Briskey Cabinet Company, just south of Randy's Flooring, where the first two Riverview Plaza buildings will sit. PHOTO CHASE CASTLE
By Chase Castle
chase@corridorbusiness.com
An intersection near the Coralville Strip will soon see the addition of two mixed-use buildings and one apartment complex if the project is approved by the city council next week.
The buildings will be located on the 300 block of First Avenue, just west of the Hawkeye Ready-Mix plant. The first two buildings will each have 9,000 square feet of commercial space on the ground level, with a small plaza between them. Upstairs, the buildings will have three floors of apartments, totaling 39 units each.
The third building would be four stories tall and sit just west of the first two structures. That building would house a parking garage on the first floor with a total of 46 apartment units upstairs.
The development, called Riverview Plaza, will contain a mix of studio, 1- and 2-bedroom apartments, with monthly rental rates expected to range between $950-$1,350, according to a memo by city staff. All the units will be one floor and include stainless steel appliances in the kitchen, washer and dryer units, a patio or balcony, and a walk-in closet.
Last month, the Coralville City Council also pledged to support the project with $124,000 to match workforce housing tax credits provided the Iowa Economic Development Authority.
The project is being developed by the Watts Group, which has also developed several nearby properties, including The Landing at the Iowa River Landing and its Old Town Condominiums, located about two blocks north on Fifth Street.
According to city zoning documents, the First Avenue lots are owned by the city of Coralville, Hawkeye Ready-Mix and Randy P. Ward. Brian Watts, operations officer with the Watts Group, said the new properties will be owned by an LLC with three local partners, whom he declined to name.
The final vote for a zoning change required for the proposal is scheduled for the city council's March 28 meeting. If approved, construction of the first building should begin in May, with the first of the three buildings completed sometime in spring 2018.
That first building will be located at the current site of Randy's Flooring, whose outlet operations have effectively relocated to a new store on Blairs Ferry Road in Cedar Rapids. The company continues to maintain its longtime location on Second Street in Coralville.
Briskey Cabinet Company, which is no longer in business, was owned by Coralville resident Jerry Briskey, who died in 2014. Hawkeye Ready-Mix, whose main operations including production are based on First Avenue, plans to relocate by the end of this year to a site off Deer Creek Road, west of the Coral Ridge Mall.