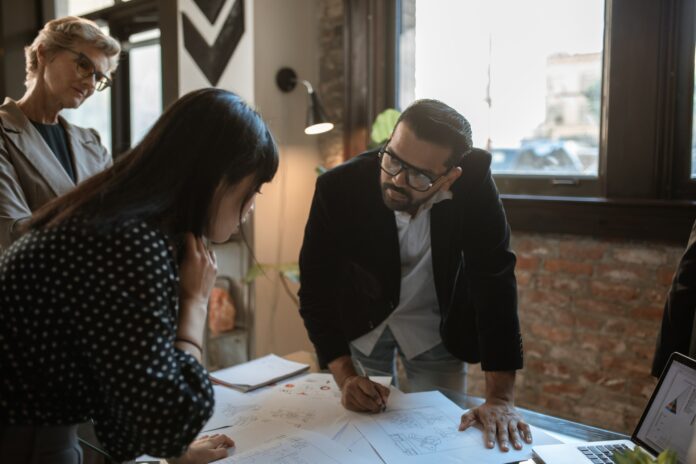 Iowa has not experienced a rebound in entrepreneurship activity following the pandemic, according to a new Indicators of Entrepreneurship report from the Kauffman Foundation. 
That differs from the national trend. In 2021, entrepreneurship in the United States increased to 2.2 on the KESE Index. However, Iowa's KESE Index rating in 2021 was -0.11.
The Kauffman Foundation studies early-stage entrepreneurship activity based on four, equally-weighted measures comprising the KESE Index: rate of new entrepreneurs; the percentage of new entrepreneurs who created their businesses out of opportunity instead of necessity; the number of jobs created by startups per capita; and the one-year average survival rate. 
A negative value indicates entrepreneurship is "below a two-decade average, which essentially covers two business cycles," the report said.
Entrepreneurship levels were down in the initial months following the pandemic. The index dropped from 1.2 in 2019 to -0.1 in 2020, which represents one of the largest single year drops over the past 25 years. 
Only 2.2 out of 1,000 adults in Iowa became entrepreneurs, on average, in a given month last year, compared to 3.6 nationally. 
Startups in Iowa also created fewer jobs than any other year since 1996, besides 2011. In 2021, there were 2.8 jobs created by startups per 1,000 people in Iowa. Kauffman Foundation shows the rate of new entrepreneurs in Iowa has been below the national rate most years since 2004.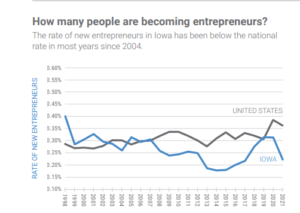 The findings were not all negative. Individuals who did decide to launch a new business in Iowa did so from a position of strength. 86.9% of Iowans started a business because they saw a market opportunity rather than starting a business out of necessity. That figure is almost 6% higher than the national average.
The Kauffman Foundation is a philanthropic nonprofit out of Kansas City, Missouri founded by entrepreneur Ewing Marion Kauffman.