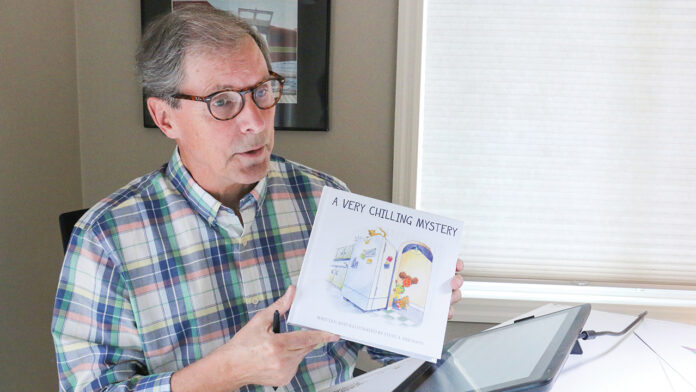 What's a 40-year veteran of the advertising world to do when he retires? In Steve Erickson's case, the answer lies in children's literature.
Mr. Erickson, who wrapped up his career with Amperage Marketing in September 2017, has satisfied a longtime dream with the publication of "A Very Chilling Mystery," a fanciful book addressing one of life's enduring questions: What happens inside the refrigerator after you close the door?
And while the book was officially available for purchase in early April, Mr. Erickson said he's been developing the concept for his debut literary work for several years.
"I've always thought it would be fun," he said. "And I've always had a whimsical nature about me — at least that's what I've been told by people I used to work with. But you start tacking on grandchildren [he has six]. They're all very voracious readers, and I thought, 'I'm gonna write this like I'm writing to them.' And that made my voice in the book so much easier, because I wasn't writing to a generic, broad spectrum of kids. I also thought of their parents, my kids, and what they would enjoy reading to their kids, and what I would enjoy reading to them, too."
The foundation for Mr. Erickson's literary career was laid at an early age. A Minnesota native, he graduated from Drake University with majors in graphic design and journalism, then spent 40 years with advertising agencies in Des Moines, ending as the creative director at Amperage.
Even as his professional career evolved, Mr. Erickson said he developed an increasing urge to write, and recently found sketches for his now-published book that he had completed back in 2006.
"This has been in my brain for a long time," he said. "And some people in the agency had seen the sketches and said, 'you need to make this a full story.' Well, I didn't have a full story in my head. I had a gist of what it could be, because I had always as a kid fantasized about whether that light in the refrigerator was still on, and I didn't know what could be happening in there. It was pretty much in keeping with my juvenile mind."
Then life's events got in the way —first, the devastating 2008 flood that destroyed some of Mr. Erickson's artwork, then his wife Nancy's extended battle with posterior cortical atrophy, a form of Alzheimer's disease, that ended with her passing in December 2018.
"Frankly, I was not particularly inspired to finish the book," he said. "There's a whole post mortem, dealing with all the issues that you do when your spouse dies, so it wasn't really until 2020 when I re-engaged my brain and thought, 'I've reached a point where it's not about the money and I have fun doing this.' So, I finished writing the book."
After finishing the first draft — Mr. Erickson produced both the story and its illustrations, a somewhat unusual combination in the literary world — he finally landed with Atmosphere Press, a company whose owner attended Drake University and had recently moved from Washington D.C. to Des Moines.
"I figured that was fate telling me I should go with this publisher," he said.
After working his way through multiple edits, including the addition of two pages to meet the publisher's production requirements, "A Very Chilling Mystery" was finally ready for publication in mid-2021.
"It was a new experience with every step," Mr. Erickson said. "That was the fun part for me. They sent me a working copy, which is a dummy. And that was almost like I had succeeded. That was all I needed to do."
The idea of selling hundreds, if not thousands, of copies of the book was secondary in Mr. Erickson's mind.
"There was never really a profit motive," he said. "And there was a freedom in that, too, because if it fell flat, so be it. At least I got my one copy and I'm happy, and my kids can talk about me at my funeral. They can say 'well, he got his one book published.'"
But there have been hundreds of books sold already, through Amazon, the Cedar Rapids Barnes & Noble store, and Prairie Lights in Iowa City. And feedback, from both readers and literary reviewers, has been very positive, Mr. Erickson said.
"There are multiple literary review organizations, and my publisher sent it to several," he said. "They're just positive beyond belief. So I thought, well, that's a good sign."
The process has produced other successes as well. Mr. Erickson said the Family Caregivers Center at Mercy Medical Center, where Mr. Erickson has volunteered for several years after his wife's illness, has purchased dozens of copies of "A Very Chilling Mystery" to give to their volunteers. He's had "at least four" public book readings and several other readings at his grandchildren's' schools.
"(The kids) asked some amazing questions afterwards, like 'what comes first, the words or the pictures?'" he said. "'How long did it take you to do each drawing?' That's the fun part, to engage kids' imaginations, to get them thinking. I asked them if they had thought of any stories, and most of them raised their hand. That's fun. Don't let that disappear as you grow older, which it has a tendency to do."
Perhaps not surprisingly, Mr. Erickson said he already has a second book in the works, with a working title: "Where Would Animals Go On Vacation?" And he's working with a volunteer at the Caregivers Center on a book detailing her experiences with her husband, who died of the same disease as Mr. Erickson's wife.
"That's my foray into serious literature," he said. "It makes me feel good to do that, because it's a wonderful story and it's very personal."
At this point, Mr. Erickson said he's not sure how far he'll take his new literary venture, but for now he said he's simply enjoying the ride, in a completely different way than when he was working full-time.
"You work at your company or your clients' bidding," he said. "They'll say, 'this is what we want' and you figure out a way to do it, then you get critiqued. With this, I have total control, and it is at once scary and exciting. There's nobody looking over my shoulder telling me, 'you could do this better.' I just have to trust my instincts and my abilities and put it out there. It seems to have had a positive response. And I'm just happy about that."   CBJ