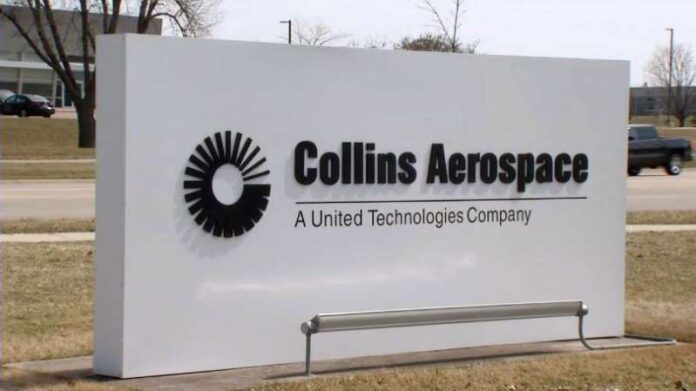 A sign outside Collins Aerospace in Cedar Rapids. CREDIT KCRG-TV9
By CBJ News Staff
news@corridorbusiness.com
Raytheon Technologies, citing "unprecedented business challenges" due to the impact of COVID-19, has announced austerity measures that include furloughs for most hourly employees and a 10% pay cut for most salaried employees.
"Beginning June 1, and continuing through year-end, Raytheon Technologies will institute a temporary 10% pay reduction for all salaried employees across our corporate offices (including Global Enterprise Services), and our Pratt & Whitney and Collins Aerospace businesses," Raytheon CEO Gregory Hayes said in announcing the decision. He said affected employees will be given an added 15 days of time off per year.
Hourly workers in Raytheon's Pratt & Whitney and Collins Aerospace businesses will also be affected by furloughs based on customer demand, Mr. Hayes said. Employees on military programs may be unaffected. They will vary by country and site, factoring in customer needs, local regulations and collective bargaining agreements.
The 10% gross salary reduction for the six-month period will result in an overall take-home pay decrease of about 6% for salaried employees, the company said. The move also applies to executives. Mr. Hayes said he will take a 20% pay cut for the remainder of the year.
The actions follow a decision by Boeing to suspend production of its 787 aircraft, which makes heavy use of Collins Aerospace content. They are in addition to previously announced austerity measures, which the company said were insufficient to offset reduced customer demand. Those measures included deferring 2020 merit pay increases for executive and salaried employees, a hiring freeze for non-essential positions, restricting overtime, reducing capital expenditures and eliminating "off-cycle" pay increases.
Collins Aerospace became part of Raytheon Technologies following the April 3 merger of United Technologies Corp. and Raytheon. Two Raytheon businesses will be excluded from the furlough requirements outright. They are Raytheon Intelligence & Space and Raytheon Missiles & Defense. CBJ