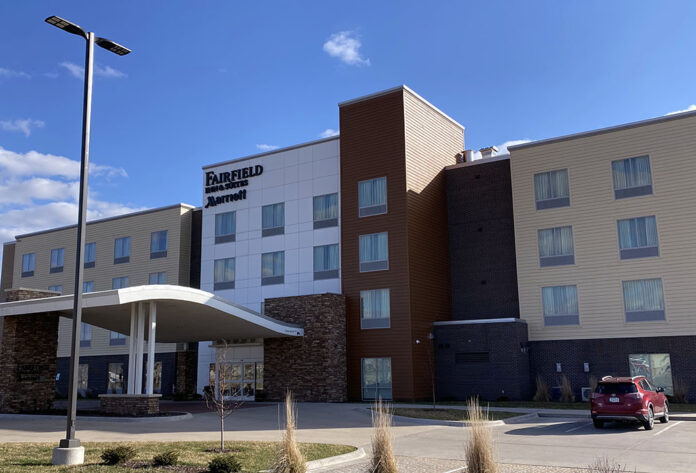 The Fairfield Inn & Suites Coralville, owned and operated by Hawkeye Hotels, on a recent afternoon. CREDIT CBJ
By CBJ News Staff
news@corridorbusiness.com
Coralville-based Hawkeye Hotels is offering discounted or free rooms at six of its hotels in the Corridor to health care workers and first responders in a partnership with hotel franchisors Hilton and Marriott.
Two of the hotels are in the Cedar Rapids market: the Residence Inn Cedar Rapids and the Fairfield Inn & Suites Cedar Rapids. Four are in the Iowa City market: the Fairfield Inn & Suites Coralville, the Residence Inn Coralville, the Hotel Chauncey in Iowa City and the Hampton Inn Iowa City/University Area.
The free room options are limited to Hampton Inn properties through a partnership with Hilton and American Express, which have announced plans to offer 1 million free room nights to doctors, nurses, emergency medical technicians, paramedics and other frontline medical staff who need a place to sleep, rest or isolate from their families through the end of May.
The reduced-rate rooms are offered through the Marriott hotel chain's Community Caregiver initiative, focusing on providing rooms for first responders and health care professionals who want to book rooms near the hospitals where they're working. Rates vary, but are deeply discounted and often near cost, according to Hawkeye Hotels.
Those seeking accommodations under the program should email Hawkeye Hotels at dept.corp.sales@hawkeyehotels.com in order to find available rooms in the best proximity to their place of work and their rates, according to spokeswoman Allison Ordman. She said Hawkeye is expecting reservations both from individuals and large organizations that employ health care workers and first responders.
Hotel chains have excess space available because travel has slowed to a trickle during the COVID-19 pandemic, with many hotels experiencing occupancy in the 10-20% range, and cutting back staff, the CBJ previously reported. CBJ
UPDATE: This story was updated on April 15, 2020 to correct the number of Hawkeye Hotels-owned properties offering free or discounted stays.