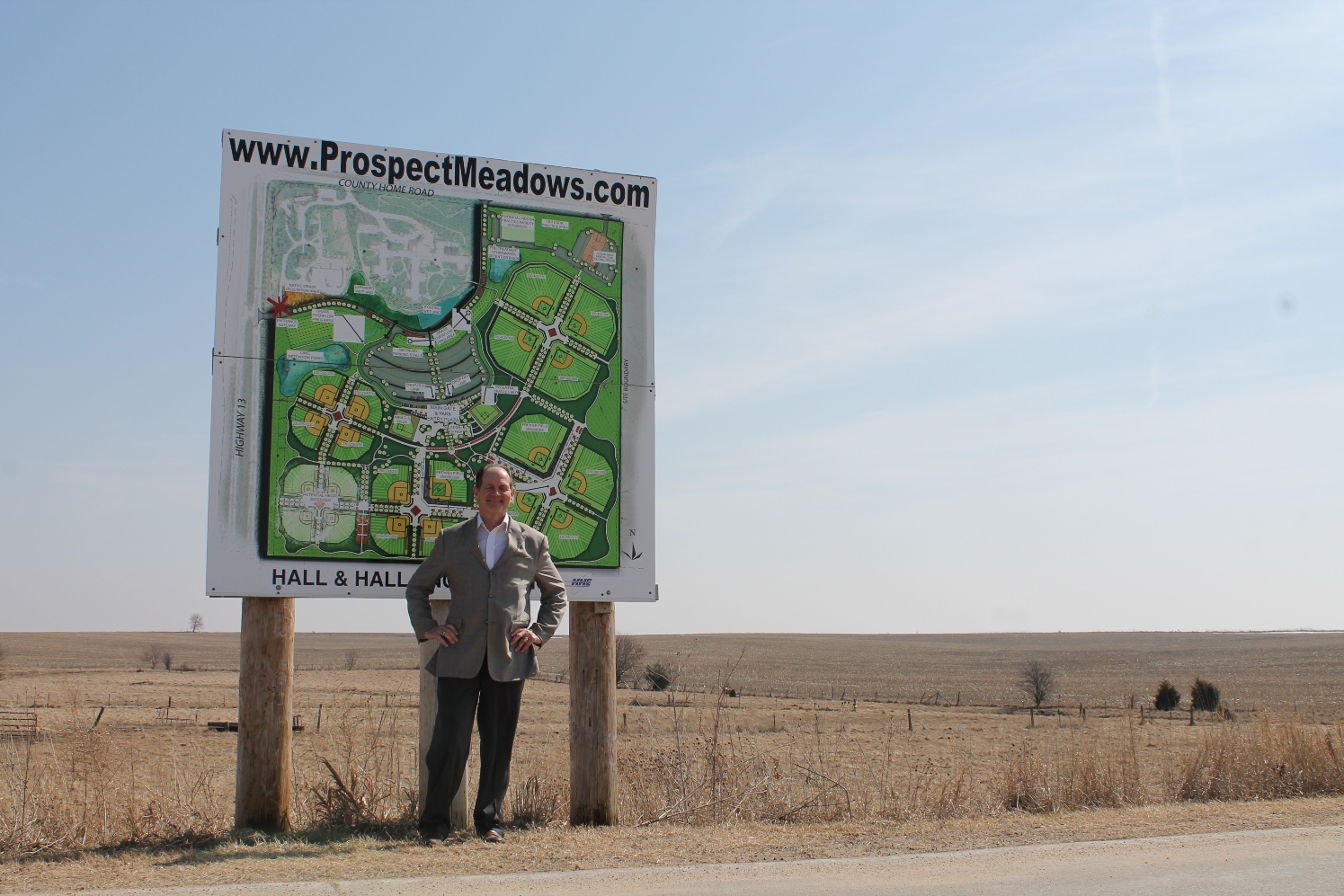 By Dave DeWitte
MARION – The name of a proposed 17-field baseball complex planned here could be a pointed reference to its relationship with the Cedar Rapids company Perfect Game, and its important role in scouting college and pro baseball prospects.
Or, the name Prospect Meadows Ball Fields could be an unintended reference to the project's rich prospects for strengthening the local travel and hospitality market.
Planners of the $10.7-million project on land owned by Linn County at the southeast corner of Highway 13 and County Home Road expect it to lift travel and tourism spending in Linn County by 9 percent by attracting about 60,000 outside visitors per year.
Perfect Game USA showcase events will allow players to demonstrate their running, throwing, hitting and fielding skills for baseball scouts. But the large multi-day events will have a secondary benefit of keeping players, coaches, parents and other support personnel in Corridor hotel rooms for thousands of room-nights per year.
Jack Roeder, president of Prospect Meadows, says the impact on hotel bookings will ripple throughout the Corridor.
"There will be times when we would need up to 2,000 rooms," said Mr. Roeder, former general manager of the Cedar Rapids Kernels. "There will be people staying in Iowa City, Mount Vernon, Cedar Falls, Waterloo – wherever they can find a room."
The extra visitors are projected to bring a $25 million boost to the local economy, based on estimates in a report prepared by Certec Inc., for the Cedar Rapids Area Convention & Visitors Bureau.
Although the projected 17 percent increase in lodging expenditures from 80,000 additional room nights would have a $4.25 million impact, the largest impact would be an $8.25 million projected increase in food and beverage sales. Other shopping expenditures are projected to increase $5.75 million.
All of this, of course, is contingent on Prospect Meadows raising the money it needs to complete the development, and on its success landing tournaments organized by Illinois-based GameDay USA and Colorado-based Triple Crown Sports.
Prospect Meadows announced Feb. 6 that it had raised $2.6 million in private funds, passing the halfway point to its private fundraising goal of $4.2 million. The nonprofit aims to raise $5.2 million in public funds.
"Getting to the halfway point on the private side was quite an accomplishment for us," Mr. Roeder said. "We need to complete the $4.5 million private drive."
The public drive is going slower, in part because public funding sources such as Vision Iowa grants are more likely to go to projects that already have significant private funding that can be leveraged to bring a project to fruition.
"We are still, hopefully, on track to be playing baseball and softball out here in 2016," Mr. Roeder said. "That's my goal as I sit here today."
One of the big public funding components that is not factored into the estimated project budget at this time is an application for a $1.2 million state transportation grant. The RISE grant from the Iowa Department of Transportation would fund a road through the 128-acre parcel of land with entrances on Highway 13 and County Home Road.
The simultaneous campaigns to fund Prospect Meadows and a 24-field complex proposed by Go the Distance Baseball for the filming site of the 1989 blockbuster movie Field of Dreams has been a source of some interest.
Mr. Roeder does not voice any serious concerns on the possibility that two such complexes will be more than the market can support.
"Our project is designed for 17 fields, and eight would be larger fields with 400-foot fences," he said. "Dyersville is gearing their complex toward younger age brackets. Half of our facility is for kids 14 and over. The majority of theirs is for kids 14 and under."
If both developments come together as planned, Mr. Roeder sees the potential for them to combine forces to host even larger tournaments than either could host separately.
The first four fields in an eventual 16-field baseball complex that Perfect Game USA will lease in the Atlanta metro area are expected to open in June, according to Jerry Ford, Perfect Game USA president. Atlanta was a good choice because it has a long outdoor sports season and some of the best air travel connections anywhere.
Creating Prospect Meadows in Iowa will have the potential to ease travel demands on players and teams from the Midwest during the months when outdoor play is possible.
"It will be a good thing for the area, for the kids and for us," Mr. Ford said.
Mr. Roeder gives much of the credit for the vision of Prospect Meadows to local baseball enthusiasts Rick Freese and Richard Bice. Richard Meisterling, vice president for advancement of Coe College, and Tim Strellner of the Strellner Insurance Agency in Cedar Rapids, are honorary co-chairs of the fundraising committee for Prospect Meadows.
Public support for the project emerged early on from Linn County, which agreed to lease 128 acres formerly leased for agricultural use to Prospect Meadows for 95 years at $1 per year.
Early private supporters included Hall & Hall Engineers of Hiawatha, TransAmerica and  Perfect Game USA.
Hall & Hall is working with Prospect Meadows on the design of the project. AMPERAGE, with offices in Cedar Falls and Cedar Rapids, is helping to market the project to potential supporters.
Perfect Game USA is a leading source of scouting events and data used by baseball
teams for prospecting and recruiting.
Such events have until now been distributed at available public fields throughout the region, meaning that tournament play must be coordinated at multiple locations. It can be inefficient for organizers and inconvenient for teams.
"We don't have a hub," Mr. Roeder said. "A lot of these other communities have a hub you can run a tournament out of.  Perfect Game spring league can be brought to one site. It's a lot easier to bring the scouts to one facility, where they can see any number of kids. You can't be three, four, or even five, places at a time."
Mr. Roeder works out of a temporary location in the Linn County Conservation Board offices near the Prospect Meadows site on loan from Linn County. He said joining the Prospect Meadows organization was an easy decision for him to make because it can bring so many elements of baseball and softball together under one umbrella.
One facet will be a Miracle Field equipped with cushioning and other accommodations for athletes with physical impairments. Mr. Roeder has been working with Camp Courageous near Monticello, a camp for individuals with disabilities, to coordinate efforts.
While the project would take cropland out of production, it would also create around 200 mostly-part time and seasonal jobs. About seven jobs would be full-time, Mr. Roeder said. They would include positions such as groundskeepers, concession operators and umpires.
Employment could go up in the second phase of the project, which is not covered in the current capital campaign. That phase would include construction of an indoor facility for baseball and softball skills, including batting and pitching.
Information on Prospect Meadows, including donating and other ways to get involved, is available at wwww.ProspectMeadows.com or by calling (319) 393-1684.