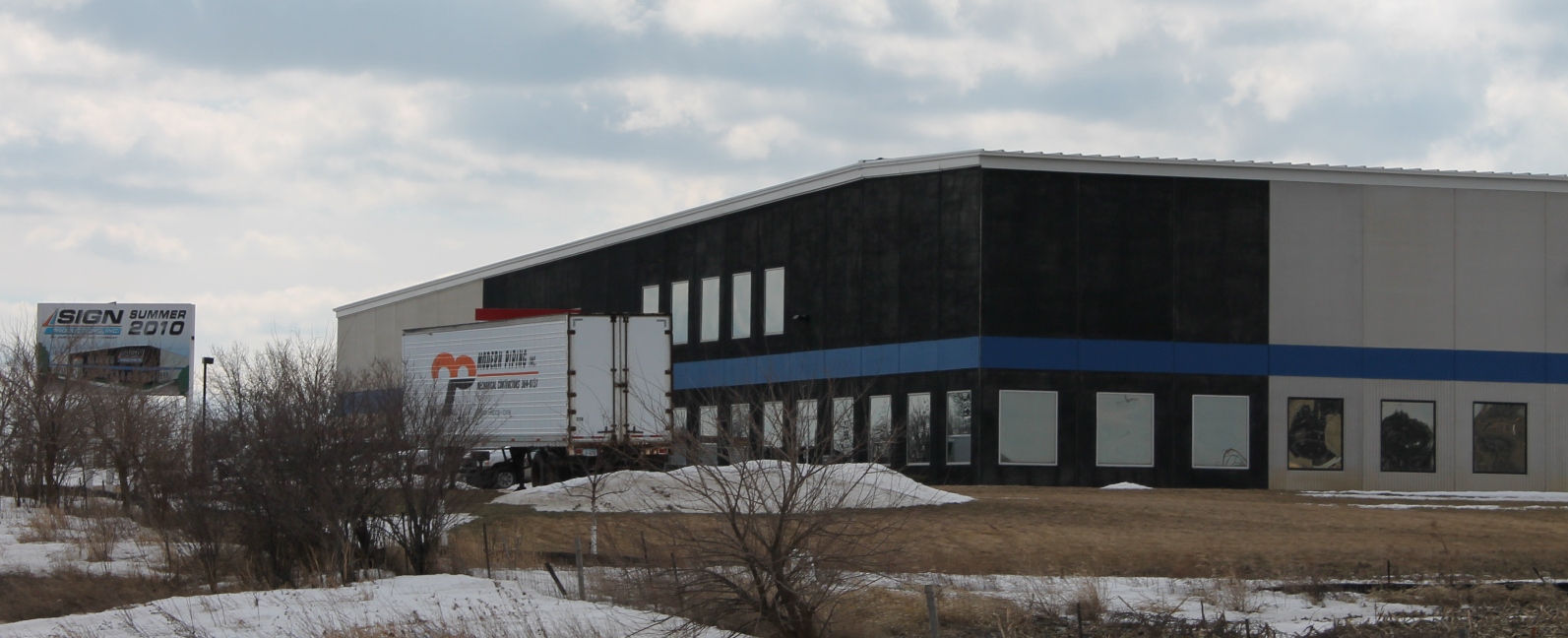 By Dave DeWitte
CEDAR RAPIDS –Modern Companies, the largest mechanical contractor in the Corridor, is tripling its space in Cedar Rapids with the purchase and planned renovation of the former Sign Productions building at 500 Walford Road.
The family-owned company, with subsidiaries specializing in piping, sheet metal, control systems and project services, reached an order peak during the flood recovery in Cedar Rapids, when it played a crucial role restoring mechanical systems to many buildings.
The company's book of contracts is now growing again with deals across the country, including three University of Iowa contracts alone totaling more than $51 million – mechanical portions of the new Hancher Auditorium, Children's Hospital and Museum of Art.
The need for more space is related to the increasing use of off-site fabrication of piping and ductwork assemblies, according to Modern Companies CEO Ken Brown. Fabricating the assemblies in a climate- and security-controlled facility and trucking them to the site at the specific times they are needed yields lower costs and improved quality, Mr. Brown said.
Modern Companies had been performing the work in 28,000-square-foot former Bob Mickey auto dealership location it purchased more than five years ago at 1919 Dodge Road NE, but needed more space for its current workflow.
Fabrication operations have already been moved into the former Sign Productions building, which became surplus when that company closed in March 2013. McGrath Automotive Group has an agreement to acquire the current Modern Companies location on Dodge Road on May 1, and is working with Modern Companies as it moves its office functions out to Walford Road.
An estimated $2.5 million will be spent to upgrade the former Sign Productions building to meet Modern Companies' needs, and Mr. Brown expects the company to request consideration from the city for tax incentives to reward the investment.
About 225 employees work for Modern Companies, a number that is expected to rise to about 300 by mid-summer.
Fabricating pipe and ductwork assemblies offsite saves time in the construction process, thereby lowering development costs for clients by reducing the amount of time they must cover debt service on a project before moving in, according to Mr. Brown.
"We're providing service the customer wants and needs to reduce the time it takes to build a building," Mr. Brown explained.
Besides fabricating metal assemblies for its own projects, Mr. Brown said Modern Companies provides fabrications for other contractors across the country. Water and sewer plant contractors, for example, "don't like to do the spaghetti pipe 24 inches and under," and frequently prefer to have the assemblies fabricated by a supplier.
Biopharmaceutical projects are another niche for Modern Companies, which has a large inventory of the high-purity welding setups needed to fabricate the piping systems for food- and pharmaceutical-grade plants.
Modern Companies is also a leader in adoption and development of technology-based tools to shorten project timetables and add quality. They include a pipe plasma cutting table for cutting pipe to exacting specifications and a "technology bin" developed in-house that can be deployed to project sites. The portable technology station provides on-site crews with access to project plans and the latest updates and revisions on a video screen via Wi-Fi, and software tools that create a 3-D visual environment of the building plans.
Treating customers so that they become repeat customers and good hiring decisions have been vital to Modern Companies' growth, Mr. Brown said.
"The key to our success is our people, without a doubt," said Mr. Brown, adding that the local workforce has been a strategic asset. He said Modern Companies will go to extra lengths to hire the best, even if it means leaving a position vacant until it finds the right fit in a candidate, or hiring an excellent candidate for an anticipated vacancy, even if they have to serve in a different capacity for a period of time.
A strong relationship with Plumbers and Pipefitters Local 125, based in Cedar Rapids, has helped the company field highly skilled and experienced crews for its local projects and find skilled union workers in other markets, Mr. Brown said.
Mr. Brown's preferred measure of business success is the ratio of repeat and referral customers, which he considers the best reflection of the company's performance. He said 85 percent of the company's contracts involve repeat business.
"Our goal is to be so good that we don't have competition," Mr. Brown said.
Modern Companies was founded as Modern Refrigeration in 1939, and merged with Puth Plumbing in the 1940s. Dave Brown, Ken's father, bought into the company in the 1966.
Over the years, the company expanded into sheet metal, ductwork, controls and project management support for the nuclear power industry.
Dave Brown retired in 1992, paving the way for Ken to take over.  A strong management team – including vice presidents Ken Burns, Mike Shive, and Ken Brown's brother, Modern Piping President and CEO Dave Brown, and Service Department General Manager Dan Wille – provides the day-to-day leadership needed to keep the business ahead of its competitors.
Mr. Brown believes it's impossible to make the right decision every time, so he strives to maintain an environment in which managers and employees are encouraged to question his decisions when they disagree.
"Feedback that's difficult to hear is the most valuable," he said.
Bob Brown, president Dave Brown's son, recently joined the company, becoming the first third-generation member of the family in the business. He was a four-year academic All-American on the Wartburg College soccer team.
From Ken Brown's perspective, the future looks bright for Modern Companies, but standing still is never an option.
"As a company, you have to keep evolving," he said. "You just hope you evolve in the right direction."
Customer satisfaction is the key, Mr. Brown says. He is constantly aware that even a $5,000 job that isn't done right can bring a factory churning out millions of dollars worth of product per hour to a halt.
Typically, the services Modern Companies provide are among the last to go into an economic downturn and one of the first to come out of it. With trends continuing, Mr. Brown expects sales of around $80 million this year, and an acceleration of the economic recovery could mean even better things in the future.