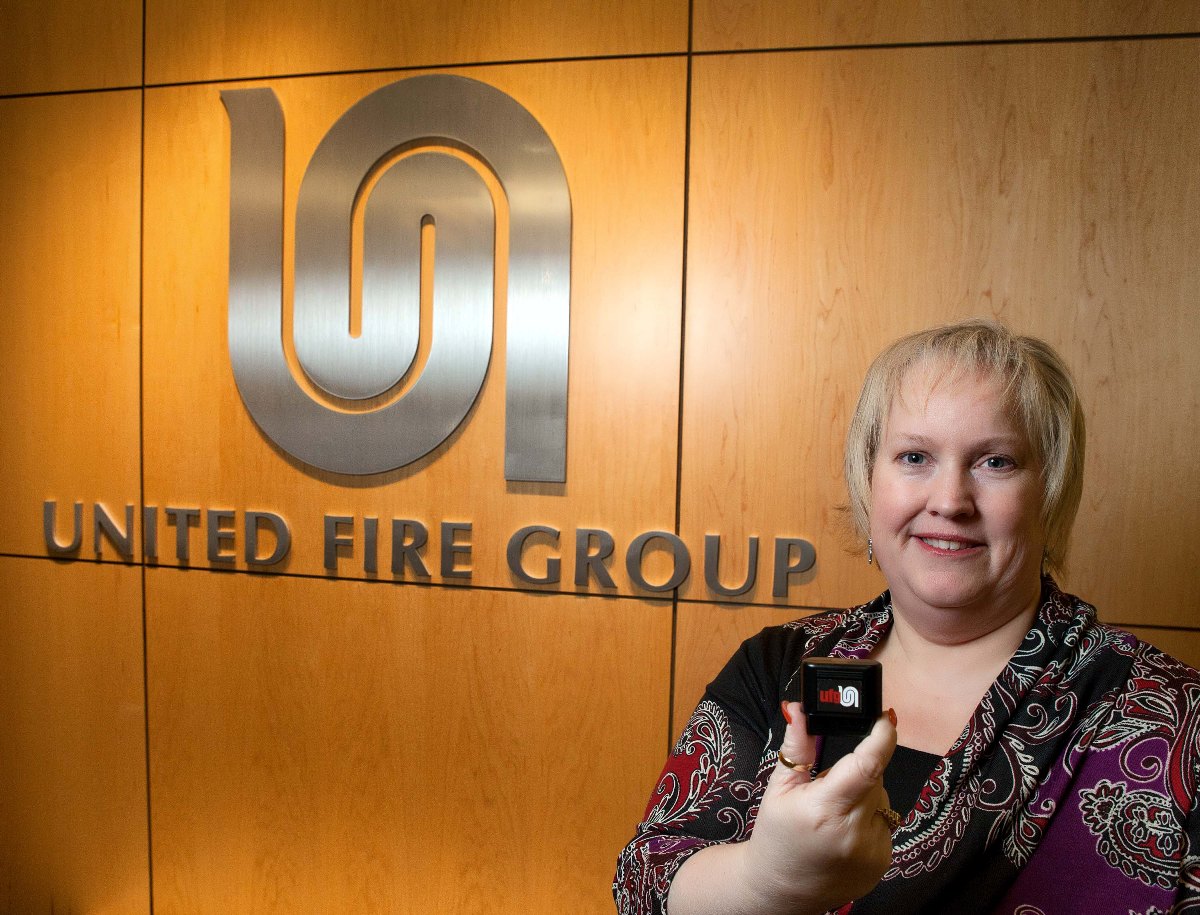 By Dave DeWitte
CEDAR RAPIDS – Technology is improving the way United Fire Group insures against risk, while adding some new twists for customers seeking the best insurance pricing.
The property and casualty insurance company is embracing digital tools that enable it to forecast catastrophic losses at the local level with much greater accuracy and reward auto insurance customers willing to prove they are good drivers by allowing their vehicle's movements to be automatically recorded.
On a recent afternoon, executive vice president Mike Wilkins received an e-mail alert on his computer.
"I just got an alert for my 18-year-old son's car a few minutes ago that he exceeded the speed threshold I set for his car," said Mr. Wilkins, who is leading a pilot project to test a system referred to as telematics, or usage-based insurance.
A small GPS-enabled device connected to the computer of the customer's vehicle tracks and transmits data about the vehicle's speed, location, acceleration and deceleration rates and sudden direction changes to a central computer.  The information is processed to tell the insurer if the driver, fundamentally, is staying within safe driving limits that warrant specially discounted rates.
The system is still in a pilot project with a select group of users. The next phase of the project will be to determine how successfully the driving patterns recorded by the system predict accidents and claims.
Privacy is one concern. E-mail alerts about unsafe driving occurrences would not go to the insurance company, according to Torie Hefel, assistant vice president in charge of personal lines. The insurance company will receive an aggregate score reflecting the overall driving score of the telematics-equipped vehicle, Ms. Hefel said.
Ms. Hefel has used telematics on her vehicles for about six months. She said it makes her more aware of her own driving behavior to know that an e-mail will be coming her way if the vehicle exceeds pre-set thresholds.
The "geofence" alert system that sends notices when a vehicle goes outside certain boundaries is a value-added option that would typically not be required by the insurance company, Ms. Hefel said. She has her own geofence alert set up so that she can tell when her husband will be arriving soon to pick her up.
A key benefit, United Fire Group President Randy Ramlo said, will be the ability to reward drivers with sharply lower rates based on the proof of their safe driving habits. The financial rewards are expected to build loyalty with those customers, Mr. Ramlo explained, reducing defections to other insurance providers.
The technology enables what is known in the industry as usage-based pricing of
insurance policies. It already has traction in the commercial vehicle insurance market, such as trucking companies that want to be sure their drivers are adhering to the company's driving policies, Mr. Ramlo said.
"If my boss is looking at my driving behavior every night, I know I'd better improve," he said.
Telematics can even provide a way to monitor non-driving behavior that reflects badly on a company, such as parking a marked company vehicle in a no-parking zone or at an adult entertainment establishment, he added.
In the consumer market, Mr. Ramlo expects a more gradual adoption because of the "big brother" aspect of monitoring driving patterns.
Although telematics is likely to encounter some resistance based on privacy concerns, the current system has also had its share of detractors. Decisions by insurers about whether to cover a risk and at what price are based largely on the insurance score.
It's a calculation based on obvious factors such as the driver's motor vehicle record, age and the type of car, but also less-obvious factors such as the driver's credit history. Although it's proven to be a good predictor of claims, it's drawn criticism that it unfairly penalizes lower-income individuals, and can make their existing credit challenges even worse by making their insurance cost more.
Participation in usage-based pricing will be voluntary, however.
"If you think you're a really good driver you might (enroll)," Mr. Ramlo said. "If you know you're a bad driver, you certainly wouldn't."
Another potential market, Mr. Ramlo said, could be parents who want to take advantage of the alert features Mr. Wilkins described to ensure that their teenage children covered by their auto insurance policies are driving safely.
While telematics is just joining the risk management toolkit of United Fire Group, a tool already in use for four years helps the company determine the claims impact of catastrophic events on its insured base of customers in specific geographic areas.
The software-based technology known as CATography is a property model to ensure that the insurance company's exposure to catastrophic losses are controllable. It can show, for instance, the probable damage an F-4 tornado would inflict on Springfield, Mo., or Cedar Rapids.
"We can analyze, if we write the business there, how it will impact our catastrophic exposure," Mr. Wilkins said. "We can use it to calculate our PML, or probable maximum loss."
Exposures are color-coded for the geographic area into a kind of traffic light sequence –green for acceptable exposure, yellow for exposures that may warrant careful exploration and red for high exposures.
CATography is used by United Fire to geographically evaluate the potential claims from hail, wind, tornadoes, earthquakes, floods, wildfire, coastal surge and even sinkholes caused by geographic or underground mining activity.
Knowing in advance the kind of damage a natural catastrophe could cause is a more proactive approach to managing risk tolerance than the traditional reactive approach, Mr. Wilkins said. That approach typically involved reviewing claims at the end of a fiscal year, then deciding on steps such as raising rates based on claims losses.
The information is not shared publicly, but with the reinsurance companies that United Fire contracts with to cover part of the loss from large catastrophic events and with the insurance rating companies, such as A.M. Best, that gauge the financial strength of insurance companies.
Some of the information is even shared with the investment community to help stock analysts and individual investors understand how much risk United Fire is covering.
Another technology that has become widely used by United Fire to manage risk scans buildings to look for significant thermal variations that could indicate a potential hazard.
Mr. Ramlo said thermography can identify risks ranging from a wiring defect in a building that could cause a fire, to water from a leaking roof that is collecting in an attic space and could leak through to cause roof damage.
The technology can not only help United Fire manage risk, but can also be used to alert policyholders or applicants in time to repair or replace failing systems such as roofs or wiring.
"All of our people in the field now have it," Mr. Ramlo said. "We do it in larger buildings and larger factories."
United Fire will continue to evaluate and selectively implement new technologies that allow it to serve customers better, Mr. Ramlo said, ranging from smart phone apps that help customers with their claims to data-crunching systems like CATography that the customer may never see.
And the fate of Mr. Wilkins' son after the speeding alert reached his father?
Mr. Wilkins checked with his son, who said he probably was above the speed limit, but only for a short time while passing a slower car.