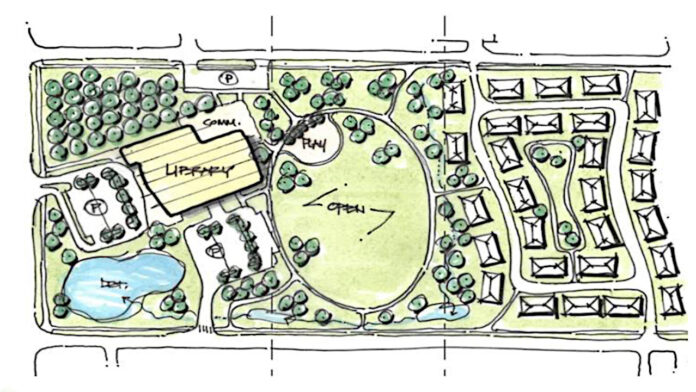 A new west side public library in Cedar Rapids is one step closer to becoming a reality.
At its meeting Oct. 25, the Cedar Rapids City Council approved allocating $6 million from the city's American Rescue Plan Act (ARPA) award to the design and construction of a permanent new public library on the city's west side.
The new $25 million facility, still in the planning phase, would be constructed on a 27-acre site recently acquired by the Cedar Rapids Library Foundation at the corner of 20th Avenue and Wiley Boulevard SW, just northwest of the existing Ladd Library.
In a presentation to the council, development director Jennifer Pratt noted that the ARPA program was designed "to enable local governments to lay the foundation for a strong and equitable economic recovery," and said a new west side library would comprise a "specific focus on serving low income and socially vulnerable communities that experienced the impact of the pandemic more severely."
Current Ladd Library opened in 2013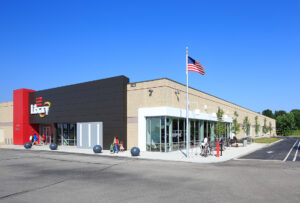 The Ladd Library was opened in 2013 in rented space in the eastern portion of a former Target store, Ms. Pratt said, and "we very quickly found out that it really does serve more than just as a library in that neighborhood. There are a lot of seniors who prefer it for the convenience (and) the easy parking … and we really saw after the derecho that this library became a resilience hub."
The new facility, at about 31,000 square feet, would be about 3,000 square feet larger than the existing Ladd Library, but would be more efficient in terms of space usage, Ms. Pratt said. Plans have been updated to include more space for adult and child/teen materials, as well as 10 computers for child and teen use, three to four community rooms and nine class/study rooms. A large green space would also be included on the property for enhanced walkability and recreational uses.
The new facility would also incorporate an expanded Opportunity Center. Originally established at the library through a grant from the Hall-Perrine Foundation and partnerships with Kirkwood Community College, the United Way, Urban Dreams and other organizations, the Opportunity Center provides a variety of community services, from crisis counseling, parenting classes and VITA tax preparation to just-in-time learning support, child wellness clinics, job training and WIC clinics for Spanish speakers.
"Getting a permanent location on the west side really ensures that we keep these services going (as a) welcoming, accessible space for our immigrant population to access workforce development and training, to increase access to broadband for those individuals in nearby affordable housing, and enhancing connectivity and walkability with more green space and sidewalks," Ms. Pratt said.
Project would include $10 million private fundraising campaign
So far, the project is being supported financially with $2 million from the Library Foundation, $4 million from Linn County's ARPA allocation and $6 million from the city's ARPA allocation. Officials plan to pursue another $3 million from state and federal grant programs.
The next step would involve launching a $10 million public "community investment campaign" to fund the remaining portion of the project's cost. Ms. Pratt said a fundraising feasibility study last month, which included informational meetings with over 80 businesses and community leaders as well as interviews with stakeholders and potential campaign supporters, indicated strong support for the library project. The study showed that 100% of respondents recognized the need for a permanent west side library, 94% had a positive attitude toward the library overall, and 85% were willing to consider a gift or pledge to a fundraising campaign.
Cedar Rapids Library Board member Elsabeth Hepworth, who also spoke at the Oct. 25 council meeting, said the new facility would fill an essential community need and would comprise the largest public-private partnership on the west side of Cedar Rapids in recent history.
"With 28% of households in southwest Cedar Rapids sitting below the poverty line, this quadrant of our community is in need of information, experiences and services that this facility will provide," Ms. Hepworth said. "The west side library project will make way for a public facility that everyone in our community will be able to enjoy without barriers to access, such as fees or memberships."
A timeline for the new library hasn't yet been announced.