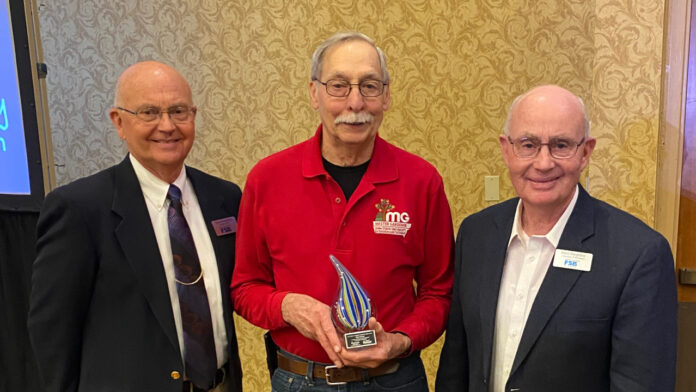 Phil Pfister has been named the 2023 Morris F. Neighbor Community Impact Award recipient for the city of Marion.
The announcement was made by Mayor Nick AbouAssaly during Marion's State of City address Wednesday, March 8.
Mr. Pfister has lived in Marion for about 40 years and has made long-term contributions to Marion as well as Linn County. Retired from Rockwell Collins, he devotes his time to the community as a Master Gardener volunteer through Iowa State University Extension and Outreach Linn County.
He manages the greenhouse at Lowe Park, plans and executes the annual Master Gardener plant sale and shares his knowledge at the farmers markets in the community.
Mr. Pfister is described as a leader, a planner, an engineer, a carpenter, a teacher, a coach, a mentor, an advisor and a doer. He became a Master Gardener in 2007 and is now a Lifetime Master Gardener, having accrued 10 or more years of service and 1,500 volunteer hours as an active Master Gardener.
One of his most impactful projects was the establishment of the Uptown Community Garden. Originally started as part of Blue Zones project, Mr. Pfister used his engineering, planning and carpentry skills to bring the vision to life.
The garden, located behind the Marion City Hall, offers accessible beds and a new greenhouse, which Mr. Pfister worked to replace after the 2020 derecho. He continues to spend countless hours planting and sowing the garden, which has provided thousands of pounds of fresh produce to the Marion Food Pantry.
"Phil's enthusiasm to share his expertise with audiences of all ages makes him an excellent nominee for this award," Marion City Council member Sara Mentzer wrote in nominating Mr. Pfister for the award. "His leadership and collaboration in building Marion's garden spaces are having a tremendous impact on the community."
The Community Impact Award is presented annually by the Marion Chamber of Commerce and the City of Marion. It honors longtime banker and community philanthropist Morris F. Neighbor, who began his career at Farmers State Bank in 1945 as a teller and in 1968, he and his wife, Betty, purchased the bank.
Throughout his career, Mr. championed the importance of volunteerism and dedication to community. Through his leadership, the Neighbor family has given to countless capital campaigns, community events and charitable organizations.
Mr. Neighbor passed away in 2019 at the age of 100, but his legacy lives on in part through the Community Impact Award presented in his name.